The chosen artwork has been loaned to the company and will be displayed at the organisation's head office, based at the Loughborough University Science and Enterprise Park (LUSEP).
Three oil paintings (Fitting, Eye of the Beholder and EUGOV) by Poppy Smith were selected from her final University project, The Dissonance of Self. Her work uses an experimental approach to presentation and painting and addresses the relationship with self.
Contemporary Visual Artist and recent graduate Jessamine Lynch also had three pieces of her work chosen to be displayed in the organisation's head office. The colourful artwork was created on canvases using oil and distemper paint. One of the pieces, A Dichotomous View of the Self, spans over 3 metres wide and 1.5m in height. Jessamine's work is inspired by her experience growing up with hearing loss and how she chooses to express her emotions and self-reflection visually as opposed to verbally.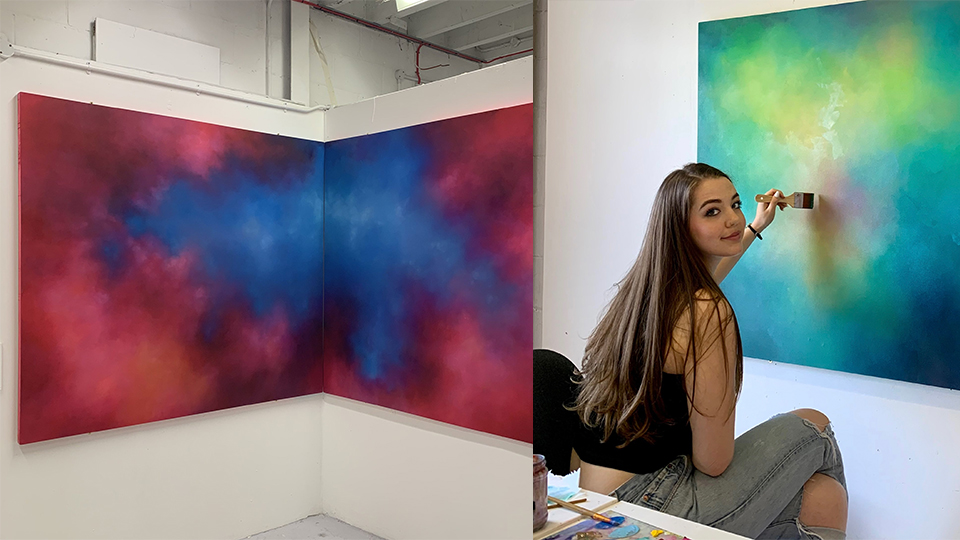 Images: By Jessamine Lynch
Next, the business management software company chose a more unique and interactive piece of art by Chun Hin Chan. The installation consists of an AR sculpture, in which individuals are required to download an app and point their camera at a flat horizontal space in order to view the sculpture. As part of their final project, Chun wanted to investigate the integration of technology and traditional sculptures, focusing on the space between the physical and the virtual whilst providing an experience for the audience.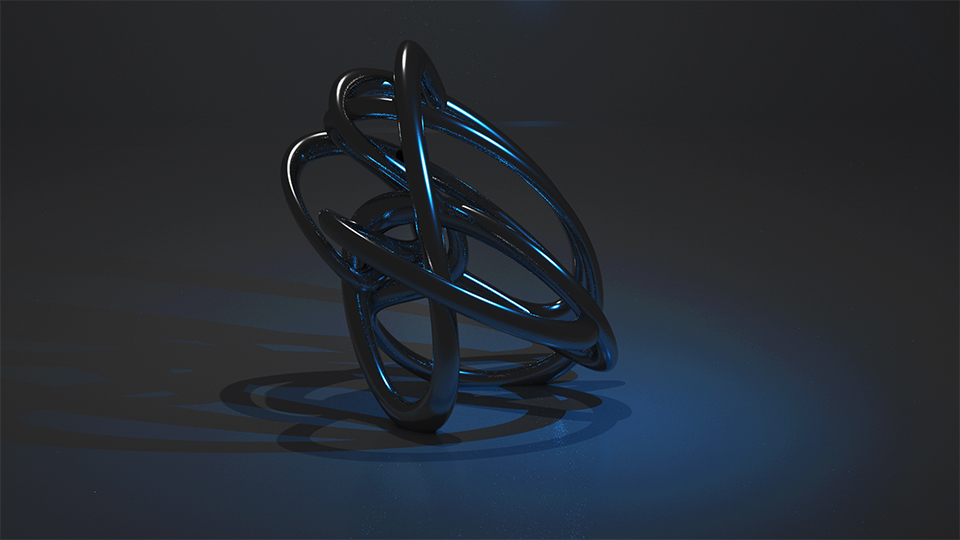 I‌mage: By Chun Hin Chan
Finally, three pieces by Megan Nurcombe named Combe Martin to Woolacombe were selected, inspired by the well-known coastal walk on the South West Coast Path. Megan's work is 'an exploration of place, landscape experience and the dialogue between world and body, engaging with abstract mark-making processes to express experience'.
Megan said: "It is a great privilege to have some of my work displayed in this building. I am very grateful for this opportunity, provided by The Access Group, to exhibit my visual explorations and evocations of the human experience of the natural world."
Jon Jorgensen, Chief Sales Officer for The Access Group commented: "This is the second year we've worked in collaboration with the University to display graduate artwork in our office building. We're delighted to showcase the great talent to come from Loughborough University and we look forward to working together on more projects in the future."
Technical Tutor Amerjit Young from the University's School of Design and Creative Arts added: "We are very excited to be working with The Access Group again. It's important for up-and-coming artists to exhibit their work and The Access Group has given our graduating artists a great opportunity to showcase their work in an exciting environment, allowing their work to be seen across multiple and diverse audiences. We are very fortunate to be working with The Access Group and are keen to further develop our partnership in the future."