It contains 40 pages of feminist thought, creativity and celebration to mark International Women's Day 2021, and features guest contributors made up of talented Loughborough University students and staff from both campuses who have shared artwork, feature pieces, poetry and interviews.
These articles uncover themes linked to the #MeToo movement, privilege and inequality, living in a patriarchal world, intergenerational feminism, women in sport, and the perception of women across the world.
The editorial team were keen to ensure WAVE Press was an inclusive publication that would entertain, educate, unite, showcase, and raise awareness of women and allies from all walks of life.
‌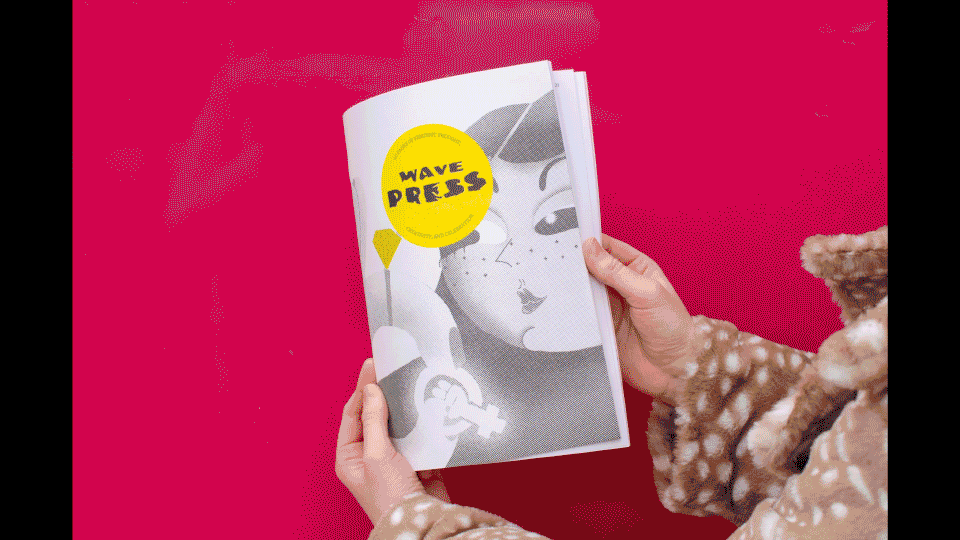 ‌
Numerous copies of the magazine will be available in locations across campus, including the Library and the Edward Herbert Building. An online version of the magazine and further information on WAVE Press and its contributors can be found on a dedicated webpage on the LU Arts' website.
WAVE Press would not have been possible without Lead Editor Hannah Bradfield, Assistant Editor Hannah Thompson, and Lead Designer Lauren Postlethwaite. The team were also supported throughout by LU Arts.
Despite printed magazines being few and far between in today's world, the editors were determined to pitch their idea to LU Arts during what has been a very strange and challenging time for everyone, as an opportunity to uplift and share stories and content by very talented and inspiring people for International Women's Day.
Speaking about the project, Hannah commented: "I love what we have been able to produce and feel so proud. I was definitely only a tiny part of the finished product – I have the fantastic contributors, LU Arts, Hannah Thompson, and Lauren's incredible eye for design to thank for the final magazine.
"It's definitely been a bit of a rollercoaster and I have had to learn to time manage, but I'm delighted it's all worked out. I hope WAVE Press will let people know that it's okay to still be learning about feminism, and I hope people feel uplifted and inspired by what they read and that they are provided with food for thought. There's some really useful resources included and the designs are beautiful, so I truly believe it's a lovely keepsake."
Finally, when asked what she hopes to see for the future of women staff and students at Loughborough, Hannah said: "I hope that they do not fall victim to imposter syndrome and that they know they're valued, and their experiences are valid. I hope that they will continue to be celebrated, supported, and always given equal opportunities."
WAVE Press is one of many initiatives the University is promoting to celebrate International Women's Day. Loughborough's dedicated website has further information on the programme of events taking place between 8-12 March, as well as a showcase of inspiring stories over the last month that celebrate the women in our community.