News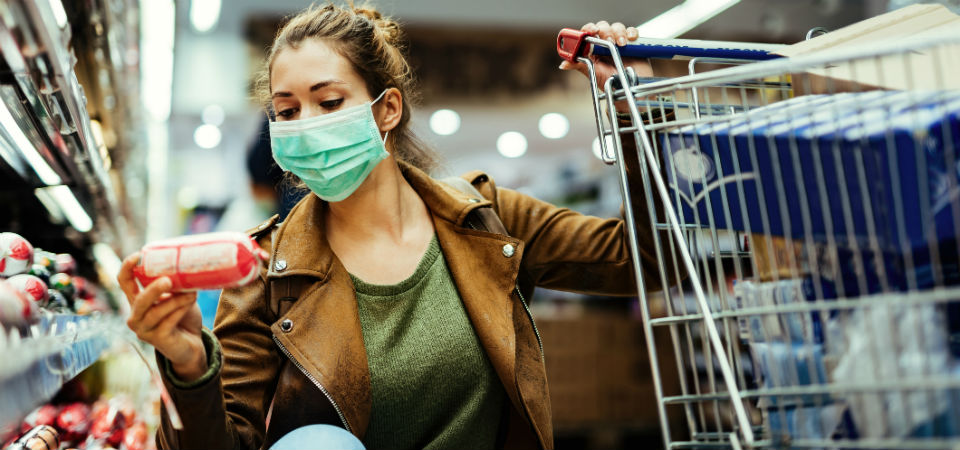 Key workers and vulnerable people struggled to buy basic goods when restrictions and panic buying hit supermarkets – new survey
Around 65% of key workers and 65% respondents in the vulnerable category reported difficulties fulfilling basic shopping needs during February and March
Important product categories for shoppers were fresh food, flour, pasta, household items and frozen items
Majority of people surveyed had experienced these categories being out of stock in-store as well as online
Half (53%) of all respondents bought essentials solely in-store. This was largely due to the lack of delivery slots as well as click and collect slots among the supermarkets
March is highlighted as the worst month in terms of the out-of-stock situation
People have shared their experiences of supermarket shopping following the recent phase of panic-buying and subsequent restrictions, with many reporting problems buying basic goods.
A new study‌ carried out last month asked consumers about the impact of the pandemic on their ability to purchase day-to-day food and goods during February and March – the height of the panic-buying phenomenon.
Key workers and vulnerable people reported being badly affected with around 65% of respondents in both categories struggling to buy essential items such as fresh food and household goods.
The most hard-to-get products included toilet roll, pasta, flour and eggs.
People in the vulnerable category also reported difficulties obtaining over the counter medicines.
Which item has been out-of-stock most?
Toilet roll: 14%
Pasta: 12%
Flour: 11%
Eggs: 11%
Rice: 10%
Kitchen towels: 8%
Canned goods: 8%
Milk: 7%
Bread: 7%
Meat: 5%
Cooking oil: 4%
Fish: 3%
Dr Uchitha Jayawickrama, of the School of Business and Economics (SBE), at Loughborough University, said: "Empty shelves we saw at the beginning of the pandemic was just the tip of the iceberg.
"This study gave some critical insights on which product categories and items were out of stock, and how this pandemic affected different consumer groups.
"One of the alarming findings was the problems pertaining to online grocery purchasing methods.
"This has been adversely affecting key workers and vulnerable groups."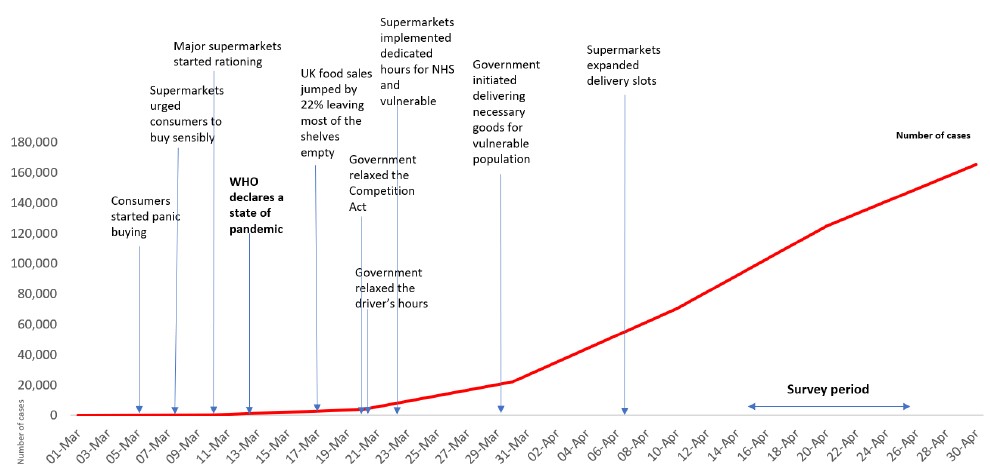 ‌Source: Gov.uk and BBC News
Participants in the survey also highlighted the difficulties they faced when it came to online grocery shopping – unavailability of online delivery slots (including click and collect slots), persistent out of stock, low-quality product delivery and unnecessary substitution.
More than 85% said packaged foods (e.g. flour, pasta, rice, etc.) were out-of-stock almost every time or frequently when they tried to buy their goods from supermarket websites.
Some 95% of the people also said they thought the restrictions on food and other actions taken to curb panic-buying were necessary.
However, the majority indicated that thought the measures took too long to put in place.
And 79% said it was necessary to ration pharmaceutical goods such as hand sanitizer and pain killers.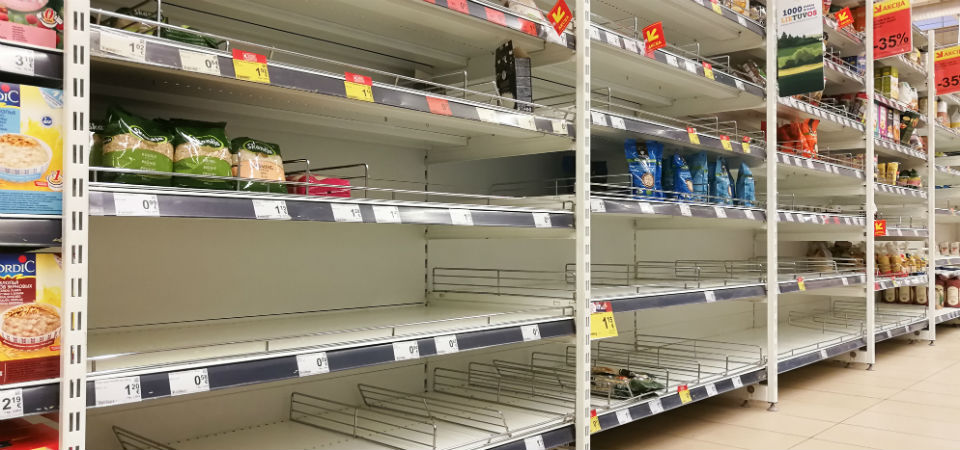 ‌Image: Getty
The most popular store used by participants was Tesco, with 71% of people shopping there during February and March.
Which supermarkets have you been using during the coronavirus crisis?
Tesco: 73.1%
Sainsburys: 39.4%
Aldi: 35.5%
Asda: 33%
Morrisons: 28.7%
Lidl: 24.4%
Co-op: 22.2%
M&S: 15.8%
Waitrose: 13.3%
Iceland: 11.1%
Spar: 2.5%
Other key findings included:
One out of every two shoppers bought solely in-store rather than online
The most important products highlighted were fresh food, packaged food (flour, pasta, rice), household items and frozen items
Most shoppers said many of these products were out-of-stock during February and March (both in-store and online)
More products were available in April, however, the most important items were still unavailable
Two out of every three key workers, and the same number of vulnerable people, said they found it difficult to fulfil their basic shopping needs during February and March
Six out of every 10 low-income shoppers also said they struggled to fulfil basic shopping needs
Eight out of every 10 shoppers said they were satisfied with steps taken by supermarkets to ration products
Seven out of every 10 participants did not know about any Government actions to assist with supplying food to supermarkets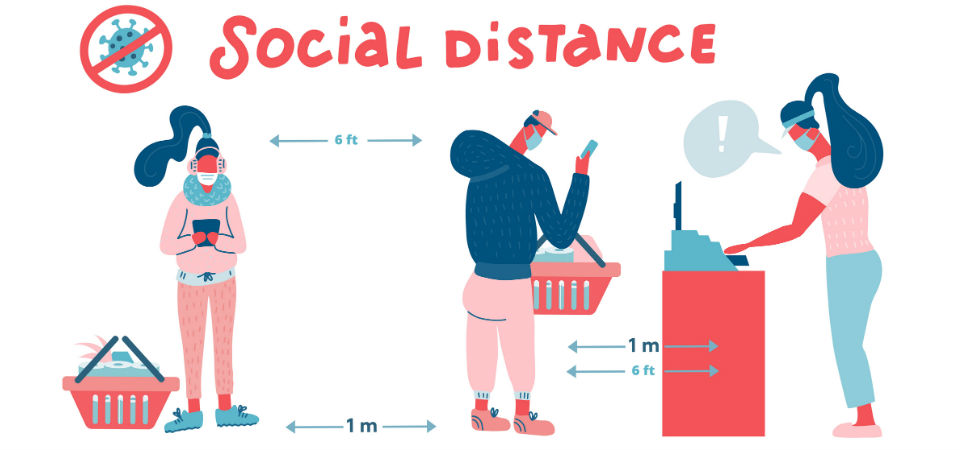 ‌Image: Getty
The study was carried out soon after the Government and food industry had taken steps to improve the reliability and function of food supply chains.
Earlier this month, the findings were submitted as evidence to the Environment, Food and Rural Affairs (EFRA) parliament committee as part of its investigation into 'COVID-19 and food supply'.
The next stage of the research will look at possible solutions for tackling the issues raised by shoppers.
Co-author Dr Samanthika Gallage, of Staffordshire Business School, said: "It is important to investigate this issue in depth to see how we can devise workable solutions to battle future problems of similar nature.
"Yet, this could be a mammoth task and we are currently in the process of designing the extended study and looking for funding".
ENDS
Notes for editors
Press release reference number: 20/82
Loughborough University is equipped with a live in-house broadcast unit via the Globelynx network. To arrange an interview with one of our experts please contact the press office on 01509 223491. Bookings can be made online via www.globelynx.com
Loughborough is one of the country's leading universities, with an international reputation for research that matters, excellence in teaching, strong links with industry, and unrivalled achievement in sport and its underpinning academic disciplines.
It has been awarded five stars in the independent QS Stars university rating scheme, named the best university in the world for sports-related subjects in the 2019 QS World University Rankings, University of the Year by The Times and Sunday Times University Guide 2019 and top in the country for its student experience in the 2018 THE Student Experience Survey.
Loughborough is in the top 10 of every national league table, being ranked 4th in the Guardian University League Table 2020, 5th in the Times and Sunday Times Good University Guide 2019 and 8th in The UK Complete University Guide 2020.
Loughborough is consistently ranked in the top twenty of UK universities in the Times Higher Education's 'table of tables' and is in the top 10 in England for research intensity. In recognition of its contribution to the sector, Loughborough has been awarded seven Queen's Anniversary Prizes.
The Loughborough University London campus is based on the Queen Elizabeth Olympic Park and offers postgraduate and executive-level education, as well as research and enterprise opportunities. It is home to influential thought leaders, pioneering researchers and creative innovators who provide students with the highest quality of teaching and the very latest in modern thinking.