The UK has faced a persistent threat from terrorism in recent years. Attacks have focused on busy public spaces, including highways, footpaths and local authority-controlled pedestrianized spaces.
Notable incidents, all occurring in 2017, have included Westminster Bridge, London Bridge and Borough Market.
These attacks were in close proximity to iconic locations: the Westminster Bridge attack being at the heart of Westminster and outside the Houses of Parliament; and the London Bridge and Borough Market attacks being in close proximity to one of London's busiest transport hubs and railway interchanges.
Close to Westminster Bridge, London Bridge and Borough Market are many independent businesses that can be classed as crowded places, namely: theatres and cinemas, shops, bars and restaurants, visitor attractions, and commercial centres - arguably what the City of London, located close to London Bridge, is renowned for.
Further afield, similar attacks on open public spaces have occurred in cities across Europe, most notably in Barcelona, Berlin and Nice.
Traditionally, the UK's high streets and public spaces located in town and city centres are brimming with people, out enjoying the array of shops, bars, cafes, restaurants and visitor attractions that the UK has to offer. However, since March, this has changed with the emergence of COVID-19 and the UK Government's decision to put the country into lock-down to try and slow the spread of the virus that has claimed thousands of fatalities.
The result of the lock-down and the restrictions on peoples' daily lives, has seen high streets and public spaces almost deserted, with most (non-essential) businesses forced to close.
Nevertheless, despite the empty high streets and public spaces occurring across the UK and initially appearing to reduce opportunities for terrorists to target, a further security challenge that this article explores appears to be emerging as a result of lock-down and the social distancing measures that have been implemented - large queues of people in public spaces and greater use of public spaces to help enable social distancing to reduce the transmission of COVID-19 – both of which could become attractive terrorist targets.
Terrorist attack methods
Historically, there has been an array of terrorist threats that have posed a risk to society. Previous attacks over the past few decades in the UK and across Europe have demonstrated that terrorists have different capabilities which undoubtedly influence the attack methods they employ.
The use of improvised explosive devices (IEDs), vehicle-borne improvised explosive devices (VBIEDs), person-borne improvised explosive devices (PBIEDs), firearms and bladed weapon attacks have all been widely used.
More recently, there has been a noticeable shift in terrorist capability and method of attack. Recent attacks that can be described as 'low-tech', which often require very little planning and feature weapons that are easily accessible have occurred. An example has been the increased use of vehicles as a weapon (VAW) that are driven into crowded public spaces.
This attack method has been seen in attacks in London on Westminster Bridge, London Bridge, and on La Rambla, Barcelona in 2017; and the attacks on the Christmas market in Berlin, and the promenade in Nice on Bastille Day in 2016.
The challenges of disrupting terrorist plots involving the use of vehicles are considerable due to vehicles being common on public roads, vehicles typically being inexpensive to obtain, and vehicles being easy to manoeuvre in public spaces towards crowds.
This attack method, likely to pose the greatest threat during the COVID-19 recovery, can present difficulties in trying to enhance protective security measures due to the volume of these locations and has presented security authorities such as the National Counter Terrorism Security Office (NaCTSO) and their Counter Terrorism Security Advisers (CTSAs) with additional challenges.
The attacks on the two bridges in London saw security authorities implement temporary hostile vehicle mitigation measures to protect pedestrians.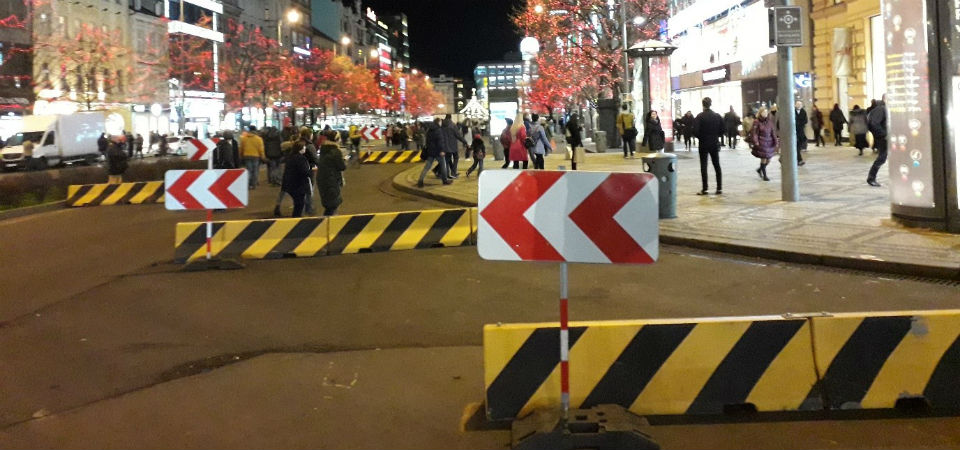 ‌Temporary hostile vehicle mitigation measures protecting crowds at a Christmas Market in Prague. Credit: Loughborough University
COVID-19 Recovery and the Potential Impact on Security of Public Spaces
There is acknowledgement across the political spectrum that whilst it is imperative that the health of the public is maintained, there is also the realisation that the UK economy is under strain and thus, there is a growing need to get businesses reopened safely.
To achieve this, the UK Government has recently published its recovery strategy to help rebuild the country during the pandemic. Included in the strategy is the intention to redesign public spaces to make them 'COVID-19 secure'.
It has been highlighted in the strategy that the risk of infection outside is significantly lower than inside, and consequently, people will be encouraged to utilise public spaces more.
But what impact will this have on security? It is still too early to assert exactly what the UK's public spaces will look like surrounding many businesses over the coming weeks and months. Nonetheless, it is evident that the greater use of open public spaces will be encouraged, and it is apparent that some businesses are starting to utilise public spaces outside of their premises.
For instance, shops have implemented queuing systems outside of their doors to restrict the number of customers entering and limiting opportunities for the virus to spread.
Although other businesses such as restaurants, cafes, bars and entertainment venues remain currently closed, there is likely to be a desire amongst these businesses to potentially expand outside of their immediate premises and utilise public spaces outside of their venues to set up tables and chairs for food and drink to be consumed.
This will allow for social distancing to be implemented and thus reduce the risk of the virus spreading. However, although this will help towards increasing public safety from a national health perspective, conversely, the response is likely to increase vulnerabilities towards the public from a terrorism perspective and this will need to be carefully considered and balanced.
Key considerations for protecting public spaces in the future
As towns and cities across the UK look to reopen their bars, cafes, restaurants, and shops, and local authorities and businesses look to pedestrianize public spaces to create new alfresco dining areas; businesses, local authorities and security professionals need to give careful consideration to the planning of how these areas are going to be kept secure from terrorist threats, such as vehicles being used as weapons and IEDs that often target public spaces that attract large volumes of people, and this applies to the queues of shoppers that are likely to become the new norm during the COVID-19 recovery phases to ensure social distancing.
The location of public spaces, where tables and chairs are located, the direction, location, and length of queues, and what additional protection, if any, will all need to be contemplated to ensure the safety and security of the public and this should form part of a businesses' overall risk assessment when assessing threat.
The threat of vehicles being used as weapons, IEDs and marauding firearms attacks to target crowds has not dissipated during the COVID-19 pandemic and public spaces remain an attractive target for terrorists.
The current UK terrorism threat level is substantial - meaning an attack is likely.
Further details can be found at: https://www.mi5.gov.uk/threat-levels
Previously, people gathering inside crowded places were afforded greater protection from a building's fabric, but this is likely to change due to the greater use of uncovered public spaces and ultimately increase vulnerability.
Whilst it is acknowledged that any protective security implemented needs to be proportionate to the threats faced and needs to be carefully planned to ensure that the public is not unnecessarily alarmed or dissuaded from visiting public spaces in the future, a carefully balanced approach is needed.
To manage this emerging security challenge, a collaborative and integrated approach from policy-makers, security professionals, local authority planners and businesses themselves, particularly when considering potential security solutions, such as hostile vehicle mitigation measures (HVM) will be required.
Local authorities and security professionals can be creative with a range of HVM measures, such as street furniture, planters, landscaping can be used in addition to traditional security measures such as bollards and barriers.
Crucially, it is important that businesses and local authorities know where to go to obtain protective security advice. Security going forward needs to be a key consideration and must not be overlooked or be an afterthought during the recovery phase of COVID-19, and it will be imperative that those encouraged to use public spaces are protected.
If businesses or local authorities want protective security advice during the COVID-19 pandemic on how to protect their businesses or public spaces from terrorist-related threats then further advice is available from the Centre for the Protection of National Infrastructure (CPNI) website (www.cpni.gov.uk), or through contacting directly their local police CTSAs in their local police force.
*Main photo caption: Temporary hostile vehicle mitigation barriers implemented on London Bridge, London to protect pedestrians from vehicle attacks. Credit: Loughborough University
ENDS