News
Women are given feedback that is likely to slow down their progression to senior roles, new research finds
Study based on a sample of more than 1000 respondents
Developmental feedback for men and women leaders differed despite men and women being rated equally on their overall performance
Male leaders advised to think about the 'bigger picture' and become visionary in their roles, whereas women advised to focus on specific technical expertise and to deliver, rather than develop vision
Women told to be more confident, painting them as fundamentally lacking self-belief, compared to men who were told how to develop their confidence in specific skills, portraying them as more 'fixable'
Women are given feedback that puts them on the wrong path to leadership, according to new research. The study, published in The Leadership Quarterly journal, examined how male and female leaders are advised to develop.
Drawing on a sample of over 1000 respondents, the researchers found ways in which the content of feedback for men and women leaders differed despite men and women being rated equally on their overall performance.
The findings, based on a unique methodological approach using qualitative data, show that male leaders were advised to think about the 'bigger picture' and become visionary in their roles, whereas women were advised to focus on specific technical expertise and to deliver, rather than develop vision.
Dr Elena Doldor, from Queen Mary University of London, Dr Madeleine Wyatt from Kent Business School at the University of Kent and Professor Jo Silvester from Loughborough University's School of Business and Economics collected over 1000 feedback comments given to male and female leaders from those who worked closely with them. The comments provided advice about how they should develop as leaders.
Women were told to be more confident, painting them as fundamentally lacking self-belief, with little advice about how to change this, compared to men who were told how to develop their confidence in specific skills, portraying them as more 'fixable'.
Men were also encouraged to get involved in the nitty gritty aspects of office politics by developing their networking and influencing skills to achieve their leadership ambitions, whereas women were told be more resilient to politicking at work and instead to focus on teamwork, cooperation and being deferential to others.
Overall, the feedback provides different developmental roadmaps for men and women. Men were encouraged to step forward and 'claim their space' as leaders and women were advised to take a narrower focus by developing specific areas of expertise and appeasing colleagues. These differences in feedback are likely to slow down women's progression to senior roles.
Dr Elena Doldor, author of the study from Queen Mary University of London, said "Strategic and political skills are critical in leadership roles. Our research demonstrates that the developmental advice given to women leaders is not conducive to developing these skills, essential for progression into senior leadership. Women can be visionary and politically astute leaders – but due to subtle gender bias, they are not directed toward this developmental path."
Dr Madeleine Wyatt, from Kent Business School, said: "Women are often told they lack confidence in themselves, but this advice is pretty useless as it offers women no tangible ways to develop. We need to stop telling women to be more confident and instead focus on specific ways in which women can develop their leadership skills."
Professor Jo Silvester, from Loughborough University, said: "If men are encouraged to be more strategic and political, whereas women are just told to develop a thick skin - men will continue to be seen as future statesmen and women as cheerleaders when it comes to achieving power at work."
Notes for editors
Press release reference number: PR 19/152
Loughborough University is equipped with a live in-house broadcast unit via the Globelynx network. To arrange an interview with one of our experts please contact the press office on 01509 223491. Bookings can be made online via www.globelynx.com
Loughborough is one of the country's leading universities, with an international reputation for research that matters, excellence in teaching, strong links with industry, and unrivalled achievement in sport and its underpinning academic disciplines.
It has been awarded five stars in the independent QS Stars university rating scheme, named the best university in the world for sports-related subjects in the 2019 QS World University Rankings, University of the Year by The Times and Sunday Times University Guide 2019 and top in the country for its student experience in the 2018 THE Student Experience Survey.
Loughborough is in the top 10 of every national league table, being ranked 4th in the Guardian University League Table 2020, 5th in the Times and Sunday Times Good University Guide 2020 and 8th in The UK Complete University Guide 2020.
Loughborough is consistently ranked in the top twenty of UK universities in the Times Higher Education's 'table of tables' and is in the top 10 in England for research intensity. In recognition of its contribution to the sector, Loughborough has been awarded seven Queen's Anniversary Prizes.
The Loughborough University London campus is based on the Queen Elizabeth Olympic Park and offers postgraduate and executive-level education, as well as research and enterprise opportunities. It is home to influential thought leaders, pioneering researchers and creative innovators who provide students with the highest quality of teaching and the very latest in modern thinking.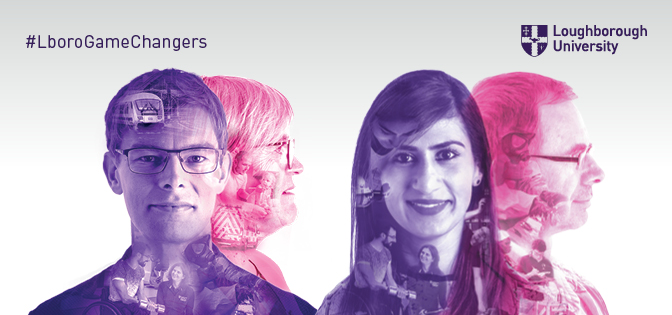 Loughborough staff, students and alumni make a real difference. They challenge convention, think creatively and find solutions to some of the biggest challenges facing society today and in the future.
Meet the #LboroGameChangers at lboro.ac.uk/lborogamechangers