News
The sound of the underground: Academic awarded £100,000 to develop technologies that can 'hear' the deterioration of buried infrastructures
A Loughborough University academic has been awarded £100,000 to develop new systems that can 'hear' when the ground under building, transport and energy networks is starting to deteriorate.
Dr Alister Smith, of the School of Architecture, Building and Civil Engineering, has been named as one of the winners of the sought-after Philip Leverhulme Prizes, which are given to researchers whose work has already attracted international recognition and whose future career is "exceptionally promising".
Dr Smith's research is focussed on developing new ways to make infrastructures more resilient and he is the Principal Investigator of an EPSRC (Engineering and Physical Sciences Research Council)-funded research programme, titled Listening to Infrastructure (LTI).
He will use the funding to build on LTI research, which is looking at enhancing acoustic emission monitoring systems – technology that can detect ground deterioration by picking up sounds caused by soil moving.
Infrastructure deterioration
Infrastructures and buildings are designed to rest on or in soil. However, soil behaviour is highly complex and its mechanical properties, such as strength, can change with time.
This means structures buried underground and supported by soil that have been stable for a long time – such as building foundations, tunnels and dams – can begin to move and collapse many tens of years after construction without warning.
Deterioration can have catastrophic economic, environmental and societal consequences, and the service of entire networks can be terminated.
Recent examples of deteriorated infrastructures include the Whaley Bridge dam at Toddbrook Reservoir in Derbyshire and the deadly collapse of a mining dam in the Brazilian state of Minas Gerais.
Existing infrastructure assets are rapidly deteriorating, the rate of which is accelerating with increasing pressures from climate change and population growth (e.g. flood levels, weight and frequency of trains).
New builds are also being designed and constructed to withstand largely unknown future conditions, so there is urgent need for a system that can detect early deterioration and warning signs.
The sound of soil moving
Soil, like many other materials made of small particles, releases energy in the form of an inaudible high frequency sound when it is deformed (caused to move due to a change in the environment, e.g. an increase of pressure).
This is known as 'acoustic emission' (AE) and infrastructure experts regularly use AE systems and sensors to monitor the integrity of materials, such as steel and concrete.
However, these systems are not widely used to monitor underground structures resting in or on soil - also known as 'geotechnical assets' – as it is extremely hard to interpret the AE generated by soil particles.
This is because soil deforms in unpredictable ways, unlike steel and concrete which follow a relatively predictable path (i.e. a crack develops and propagates).
A small volume of soil contains millions of particles of different shapes and sizes, so they interact and generate AE in different ways when the soil deforms.
Soil deforms in unpredictable ways as it made up of a huge amount of different sized particles.
New technologies, such as fibre optics, are beginning to provide valuable data on these assets, however retrofitting underground structures with these types of sensors would be intrusive and expensive.
The advantage of the AE approach is that sensors can be installed at discrete locations and at spacings of hundreds of metres apart.
Turning to AI
Dr Smith's research is looking at how artificial intelligence (AI) can be used to overcome the challenges presented by soil AE data.
He is exploring if intelligent sensors (sensors with AI capabilities) can be used to automatically extract knowledge on the health of deteriorating buried infrastructure systems from the raw AE data they generate.
The end goal is to develop a continuous real-time AE monitoring system that can be distributed at discrete locations along infrastructure systems.
He envisages the systems being made up of sensors connected to infrastructure assets that are constantly 'listening' to it and the surrounding soil.
AI will be embedded in the sensors to automatically extract knowledge from the raw AE data; for example, to detect the onset of accelerating ground failure processes, and locate the position that these processes are taking place along the asset.
This information will then be compared to a series of warning criteria, in real-time.
If the system deems the data to be a warning, this will be communicated to users, possible via mobile phone or directly to existing control systems, so action can be taken.
Illustration of the Listening to Infrastructure AI monitoring concept.
"If we can listen to geotechnical assets with intelligent sensors – analogous to a stethoscope being used to listen to a patient's heartbeat – we will be able to provide information on the condition of infrastructure and early warning of deterioration in real-time", explained Dr Smith.
"Infrastructure is vital for economic growth and quality of life, with networks covering vast geographical areas to transport people and products, such as water, oil and gas.
"Society urgently needs to be better prepared to face the grand challenges that threaten the longevity of our infrastructures, such as climate change and population growth, by exploiting technology to increase understanding of asset deterioration, and improve decision-making and asset management."
He continued: "The Philip Leverhulme Prize is an exciting opportunity to make a step-change in our understanding of the acoustic emission generated by deteriorating buried infrastructure systems and to exploit these scientific advances in asset health monitoring systems.
"Our vision is of a family of AE sensors distributed globally, protecting people and infrastructure worldwide by providing an early warning that will enable interventions to be put in place.
"These interventions could be an emergency evacuation or preventing traffic from accessing part of the network (actions which protect people), or they could be in the form of maintenance and remediation, which prevents catastrophic failures and extends an asset's lifespan.
"This research has the potential to revolutionise infrastructure stewardship and it is an honour to have my past research achievements and ideas for the future recognised by receiving this Prize."
More information on Dr Smith's research and the Listening to Infrastructure programme can be found here.
For more on Loughborough University's infrastructure safety research, including Slope ALARMS and the Community Slope SAFE project, click here.
Notes for editors
Press release reference number: 19/166
The Leverhulme Trust
The Leverhulme Trust was established by the Will of William Hesketh Lever, the founder of Lever Brothers. Since 1925 the Trust has provided grants and scholarships for research and education. Today, it is one of the largest all-subject providers of research funding in the UK, currently distributing £100 million each year. For more information about the Trust, please visit www.leverhulme.ac.uk and follow the Trust on Twitter @LeverhulmeTrust
Loughborough University
Loughborough University is equipped with a live in-house broadcast unit via the Globelynx network. To arrange an interview with one of our experts please contact the press office on 01509 223491. Bookings can be made online via www.globelynx.com
Loughborough is one of the country's leading universities, with an international reputation for research that matters, excellence in teaching, strong links with industry, and unrivalled achievement in sport and its underpinning academic disciplines.
It has been awarded five stars in the independent QS Stars university rating scheme, named the best university in the world for sports-related subjects in the 2019 QS World University Rankings, University of the Year by The Times and Sunday Times University Guide 2019 and top in the country for its student experience in the 2018 THE Student Experience Survey.
Loughborough is in the top 10 of every national league table, being ranked 4th in the Guardian University League Table 2020, 5th in the Times and Sunday Times Good University Guide 2020 and 8th in The UK Complete University Guide 2020.
Loughborough is consistently ranked in the top twenty of UK universities in the Times Higher Education's 'table of tables' and is in the top 10 in England for research intensity. In recognition of its contribution to the sector, Loughborough has been awarded seven Queen's Anniversary Prizes.
The Loughborough University London campus is based on the Queen Elizabeth Olympic Park and offers postgraduate and executive-level education, as well as research and enterprise opportunities. It is home to influential thought leaders, pioneering researchers and creative innovators who provide students with the highest quality of teaching and the very latest in modern thinking.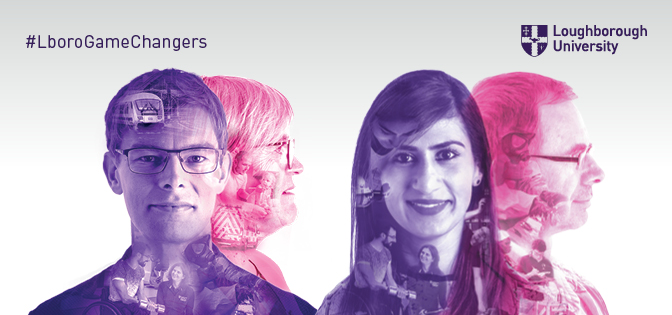 Loughborough staff, students and alumni make a real difference. They challenge convention, think creatively and find solutions to some of the biggest challenges facing society today and in the future.
Meet the #LboroGameChangers at lboro.ac.uk/lborogamechangers