News
Experts in Sport: Let's talk about the menstrual cycle
The menstrual cycle has for too long been a taboo subject when it comes to sport.
However, with new attitudes, technological developments, and the latest research, things may be about to change.
In the latest episode of Loughborough University's 'Experts in Sport' podcast, Dr Richard Blagrove, Lecturer in Physiology, meets with Dr Georgie Bruinvels, Research Scientist at Orreco and co-creator of FitrWoman – the world's first app developed to provide daily training and nutrition suggestions tailored to the menstrual cycle.
Hosted by Applied Sport Management Lead Martin Foster, Richard and Georgie discuss how performance can be affected and the methods coaches and managers can use to approach the subject without fear of embarrassment.
"Historically people haven't wanted to talk about the mensural cycle as it's been deemed an area of significant embarrassment…from a practitioner perspective the first thing I would say is 'let's get the conversation going'," Georgie said.
Georgie also explained how the rise in technology has paved the way for easier communication between athlete and coach:
"We've now developed a free app, FitrWoman, that helps athletes track their cycle and understand more about it. We've also got a coach platform – FitrCoach – where athletes can link their app to their coaches, providing a way of having a more discreet conversation.
"Effectively it informs women about their physiology - what's going on in their body - and what training has been demonstrated to be best at certain times in the menstrual cycle. Also, whether there are any cautions around injury risk and what nutrition should be advised at certain times in the cycle."
The podcast also touches on contraception methods and how these may affect an athlete.
Georgie, who is also a research associate at St. Mary's University and has worked closely with the US Women's soccer team, added:
"I am delighted that the importance of this aspect of female health is being appreciated and I hope that this podcast will help encourage people to discuss this topic and whet their appetite to learn more."
Following the recording, Dr Blagrove concluded:
"'The focus for many years in sport science was placed upon the negative consequences that excessive exercise might have on female reproductive function.
"However, in the modern era practitioners are using an understanding of female physiology to help optimise exercise training programmes and performance for women.
"Georgie is at the forefront of research, education and applied practice in this area, so it was fantastic to speak with her about some of the most important issues relating to health and performance in exercising females."
Listeners can subscribe to the podcast and download the latest episode by visiting iTunes, Spotify, and TuneIn. All subscribers will receive an alert once new episodes are published.
The Experts in Sport podcast is a regular series that brings together experts from across Loughborough University with external thought leaders to discuss the latest research and hot topics in sport and academia with new episodes launched every two weeks.
Notes for editors
Press release reference number: 19/164
Loughborough University is equipped with a live in-house broadcast unit via the Globelynx network. To arrange an interview with one of our experts please contact the press office on 01509 223491. Bookings can be made online via www.globelynx.com
Loughborough is one of the country's leading universities, with an international reputation for research that matters, excellence in teaching, strong links with industry, and unrivalled achievement in sport and its underpinning academic disciplines.
It has been awarded five stars in the independent QS Stars university rating scheme, named the best university in the world for sports-related subjects in the 2019 QS World University Rankings, University of the Year by The Times and Sunday Times University Guide 2019 and top in the country for its student experience in the 2018 THE Student Experience Survey.
Loughborough is in the top 10 of every national league table, being ranked 4th in the Guardian University League Table 2020, 5th in the Times and Sunday Times Good University Guide 2020 and 8th in The UK Complete University Guide 2020.
Loughborough is consistently ranked in the top twenty of UK universities in the Times Higher Education's 'table of tables' and is in the top 10 in England for research intensity. In recognition of its contribution to the sector, Loughborough has been awarded seven Queen's Anniversary Prizes.
The Loughborough University London campus is based on the Queen Elizabeth Olympic Park and offers postgraduate and executive-level education, as well as research and enterprise opportunities. It is home to influential thought leaders, pioneering researchers and creative innovators who provide students with the highest quality of teaching and the very latest in modern thinking.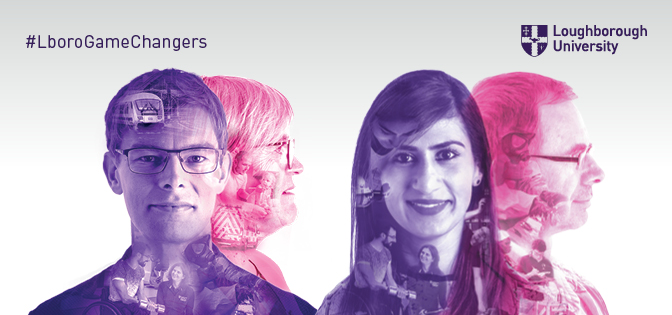 Loughborough staff, students and alumni make a real difference. They challenge convention, think creatively and find solutions to some of the biggest challenges facing society today and in the future.
Meet the #LboroGameChangers at lboro.ac.uk/lborogamechangers