News
How will Brexit impact the Premier League?
As the British government braces itself to leave the European Union on October 31st - unless something different happens before the end of the month - question marks remain over the true lasting impact, if any at all, that this will have on UK businesses and its assets.
Sport is of course no different and the Premier League - with its record revenue of £4.5bn - could seriously feel the pinch according to Loughborough University's Senior Lecturer in Sport Management and Policy, Dr Borja García.
Speaking in the latest instalment of Loughborough University's 'Experts in Sport' podcast, Dr García highlights how new legislation could seriously harm arguably our greatest export of all.
This includes how the end of the freedom of movement of workers could result in a reduced talent pool, with the best players choosing to ply their trade elsewhere in other European leagues.
"British people involved in football…may not be able to go and work freely in Europe. Similarly, of course, players and coaches may not be able to come to the United Kingdom to work freely in the area of football," Borja explained.
Joined in the studio by host Martin Foster, Dr García also spoke about the potential of a breakaway European 'Super League' due to Brexit:
"Brexit certainly increases the chance of the creation of a breakaway Super League…we have clubs in the Premier League who will see their income reduce and their value reduce. They will need to make up that loss somehow, so how can they do it? One way is certainly joining a European Super League, a new competition that will give them more money and more value."
The full episode can be found below and is also available to download from iTunes, Spotify, and TuneIn. Listeners can also subscribe to the channel and will receive an alert once new episodes are published.
This podcast features research findings of the project '28+ Perspectives on Brexit', funded by the Economic and Social Research Council (ESRC) through the Brexit Priority Grants as part of the ESRC's UK in a Changing Europe initiative.
The Experts in Sport podcast is a regular series that brings together experts from across Loughborough University with external thought leaders to discuss the latest research and hot topics in sport and academia with new episodes launched every two weeks.
Notes for editors
Press release reference number: 19/149
Loughborough University is equipped with a live in-house broadcast unit via the Globelynx network. To arrange an interview with one of our experts please contact the press office on 01509 223491. Bookings can be made online via www.globelynx.com
Loughborough is one of the country's leading universities, with an international reputation for research that matters, excellence in teaching, strong links with industry, and unrivalled achievement in sport and its underpinning academic disciplines.
It has been awarded five stars in the independent QS Stars university rating scheme, named the best university in the world for sports-related subjects in the 2019 QS World University Rankings, University of the Year by The Times and Sunday Times University Guide 2019 and top in the country for its student experience in the 2018 THE Student Experience Survey.
Loughborough is in the top 10 of every national league table, being ranked 4th in the Guardian University League Table 2020, 5th in the Times and Sunday Times Good University Guide 2019 and 8th in The UK Complete University Guide 2020.
Loughborough is consistently ranked in the top twenty of UK universities in the Times Higher Education's 'table of tables' and is in the top 10 in England for research intensity. In recognition of its contribution to the sector, Loughborough has been awarded seven Queen's Anniversary Prizes.
The Loughborough University London campus is based on the Queen Elizabeth Olympic Park and offers postgraduate and executive-level education, as well as research and enterprise opportunities. It is home to influential thought leaders, pioneering researchers and creative innovators who provide students with the highest quality of teaching and the very latest in modern thinking.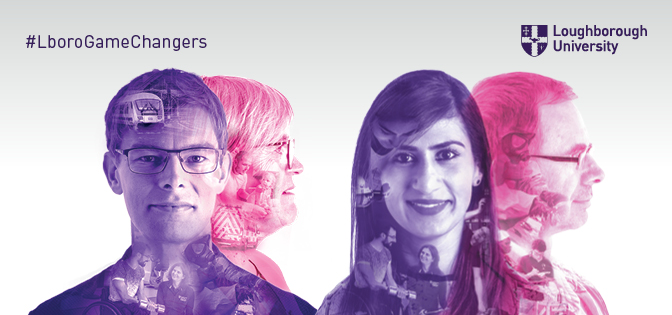 Loughborough staff, students and alumni make a real difference. They challenge convention, think creatively and find solutions to some of the biggest challenges facing society today and in the future.
Meet the #LboroGameChangers at lboro.ac.uk/lborogamechangers