News
Dunelm offers a helping hand to care leavers joining Loughborough University
Loughborough has joined forces with the homeware store Dunelm to give care leavers starting at the University this academic year an extra helping hand.
Dunelm has provided the University with special 'starter packages' that contain quilts and pillows, cooking essentials and towels, as well as a Dunelm gift card.
The packages have been designed to ensure the new students have all the essentials they need for campus life.
Rachel Third, Head of Philanthropy at Loughborough University added: "I was shocked by a quote from a national charity for care leavers that said a young person leaving care is statistically more likely to go to prison than university. So those who have joined us at Loughborough this month have overcome enormous challenges and done extremely well to take up a place in higher education.
"We want to send a message that care leavers are welcome at Loughborough and that we recognise the additional challenges they might face compared to their peers. While many undergraduates come to university having gone shopping with mum and dad for new sets of kitchenware, bedding, stationery etc to take with them to university, or at least can borrow these items from their parents' or carers' homes, care leavers often will not have any of these things.
"We would like to thank Dunelm for their kind support, which will help ensure students joining Loughborough from care have everything they need to start their university journey."
Angela Porter, Marketing Director at Dunelm said: "Our brand purpose is to help everyone create a home they love, and we really hope these starter packages will give Loughborough students the opportunity to have the best start for the future."
Veronica Moore, Loughborough's Head of Student Wellbeing and Inclusivity said: "We know that starting university is exciting for all students, but it can also be an anxious time, particularly if there isn't the support of family to help with the planning and expense. The starter packages from Dunelm will mean that there is one less thing for these students to worry about and will contribute to care leavers at Loughborough experiencing a successful transition to student life."
As well as providing the starter packs, Dunelm also offers students from the University placement opportunities at its Leicester headquarters.
Care leavers interested in joining Loughborough can apply for bursaries and access a range of support packages. Further information on this can be found here.
Notes for editors
Press release reference number: PR 19/150
Loughborough University is equipped with a live in-house broadcast unit via the Globelynx network. To arrange an interview with one of our experts please contact the press office on 01509 223491. Bookings can be made online via www.globelynx.com
Loughborough is one of the country's leading universities, with an international reputation for research that matters, excellence in teaching, strong links with industry, and unrivalled achievement in sport and its underpinning academic disciplines.
It has been awarded five stars in the independent QS Stars university rating scheme, named the best university in the world for sports-related subjects in the 2019 QS World University Rankings, University of the Year by The Times and Sunday Times University Guide 2019 and top in the country for its student experience in the 2018 THE Student Experience Survey.
Loughborough is in the top 10 of every national league table, being ranked 4th in the Guardian University League Table 2020, 5th in the Times and Sunday Times Good University Guide 2019 and 8th in The UK Complete University Guide 2020.
Loughborough is consistently ranked in the top twenty of UK universities in the Times Higher Education's 'table of tables' and is in the top 10 in England for research intensity. In recognition of its contribution to the sector, Loughborough has been awarded seven Queen's Anniversary Prizes.
The Loughborough University London campus is based on the Queen Elizabeth Olympic Park and offers postgraduate and executive-level education, as well as research and enterprise opportunities. It is home to influential thought leaders, pioneering researchers and creative innovators who provide students with the highest quality of teaching and the very latest in modern thinking.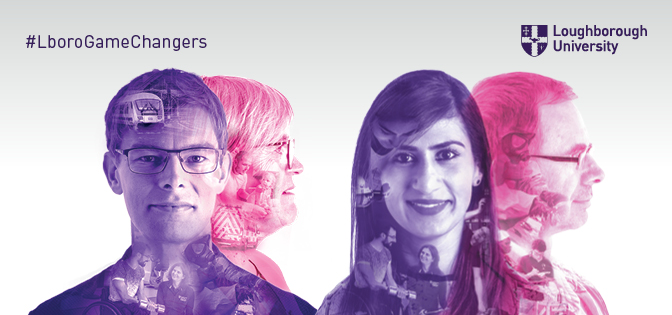 Loughborough staff, students and alumni make a real difference. They challenge convention, think creatively and find solutions to some of the biggest challenges facing society today and in the future.
Meet the #LboroGameChangers at lboro.ac.uk/lborogamechangers