These projects are part of the School of Design and Creative Arts Degree Show – an annual event that celebrates the work of graduands and gives them a platform to raise their profile prior to starting their careers.
Have you ever wondered if spiders go on holiday or what cats are really thinking? Miriam Pritchard's Bonkerz Questions for Brilliant Kids answers these questions and more in her book inspired by her three nieces.
The book aims to encourage the imaginations of both children and adults and spark discussions about the world around them.
Image from Miriam Pritchard's book
The illustrations are mixture of hand drawn sketches, collage and digital art, inspired by Quentin Blake and Beatrice Alemagna. It took Miriam 12 weeks to complete her final year project and she said: "I really enjoyed the freedom of the project. Coming up with the questions was really fun and helped me to push my visual language to the best it could be."
Because of Covid-19 health and safety measures, visitors to the physical Degree Show are unable to pick up and flick through the book. To solve this, Miriam has created a video with her nieces where they look through the questions together, answering some of them along the way.
She has also self-published Bonkerz Questions and you can pre-order the book by contacting Miriam on Instagram or via email.
Ella Tysome tackled a more serious topic in her book Why Granny Forgets which introduces the subject of dementia to a young audience. Whilst Ella does not have personal experience with dementia, she did a lot of primary research to ensure she represented it accurately.
The book follows Granny as she looks for her house keys, with lift-the-flap features to make it more interactive. Along the way they find other objects that spark memories for Granny, introducing the memory loss that is sometimes associated with dementia.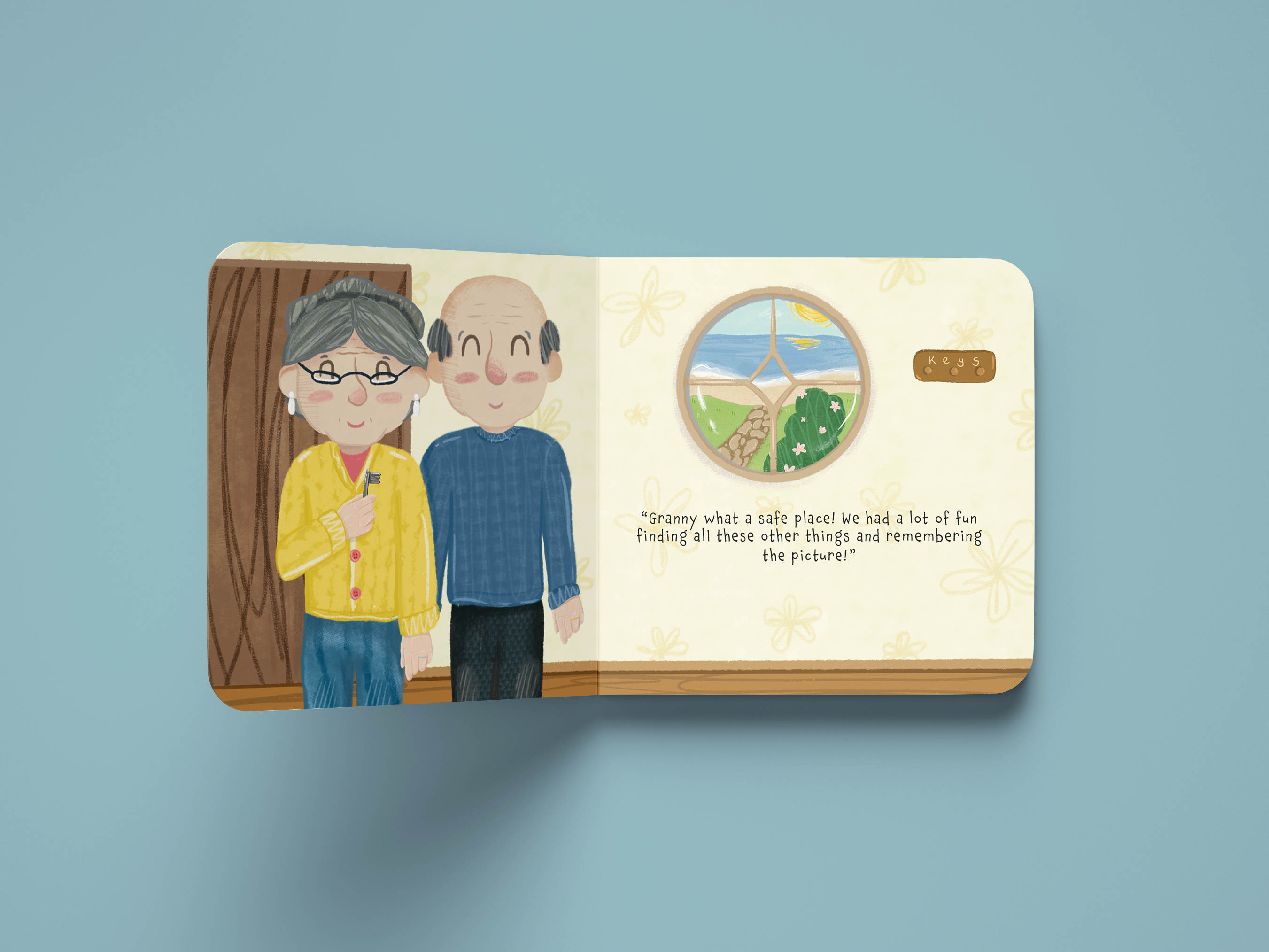 Image from Ella Tysome's book
It took Ella two months to write and plan the book and she focused a lot of the characterisation of Granny, drawing lots of different variations until she found one she thought was the most relatable. She has developed her own personal style of digital art during her degree and she enjoys using texture to add interest to her work.
Books were a big part of Ella's childhood and she wanted to create a project that would be entertaining for children but also broaches trickier topics. She has also written a children's book on anxiety and hopes to send both to publishers when she finishes university.
On being able to display her work at the University's School of Design and Creative Arts Degree Show exhibition she said: "It is very exciting and it is also great to be able to see everyone's work all together as we have not been able to before now."
Adelaide Radbourne also chose to create a children's book for her final project. Inspired by her family dog Winnie, Are Poodles Made Out of Noodles? follows Pom the Poodle who has different fur to the other dogs. The story teaches children an important message about accepting people who are different to you but remains light-hearted and funny.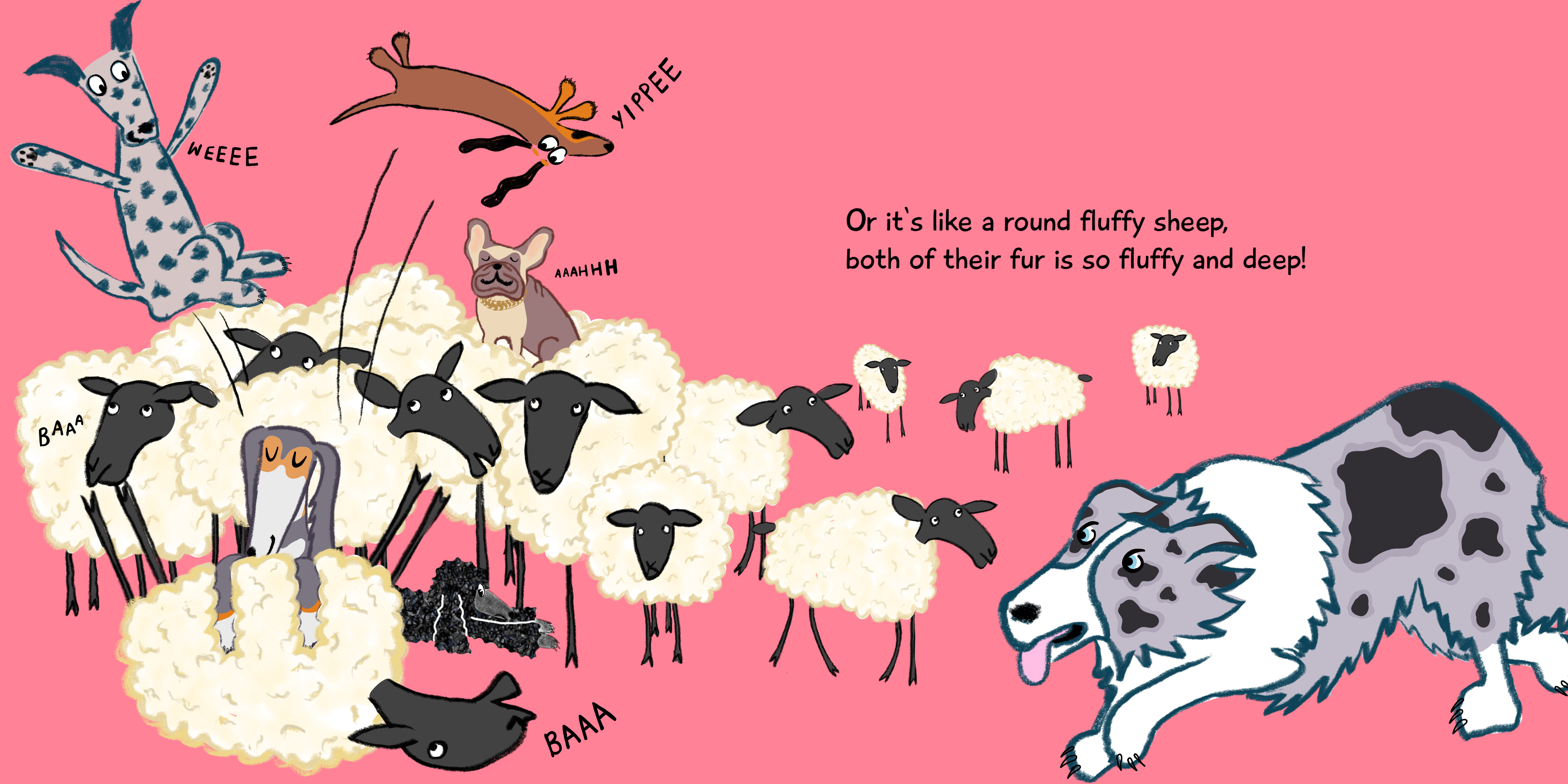 Image from Adelaide Radbourne's book
She uses a combination of hand drawn sketches, digital art and textures to bring the pack of dogs to life and similarly to Miriam she is inspired by Quentin Blake and Saul Steinberg. Adelaide said she enjoyed developing the poodle character the most because it felt personal due to the inspiration coming from her own poodle.
She added: "I hope the book puts a smile on people's faces, as well as taking away the important message of acceptance."
The Degree Show is running until 27 June in-person, with a digital exhibition available to view here.
ENDS