Dr Travers, of the School of Business and Economics, at Loughborough University, set up the Facebook group Pets of the Pandemic as a way of helping others through the coronavirus crisis.
She has previously used social media to gather information for academic research on working from home during Covid, work-life balance and well-being. However, she said the newest group – which has around 300 members – was more of a personal project.
Dr Travers, who has three dogs Daphne, Queenie and Winnie (main image), said she set up the group as a "beacon of hope" for people who shared a common interest and hoped they could help each other through the pandemic.
She said: "I think our general isolation and disengagement from society due to Covid restrictions has had a lot to answer for and its impact has been extreme in many cases.
"People have felt that they have struggled to make and maintain connections this last year. But having a pet has given many people the excuse to get outdoors for exercise, walking the dog for example, and the accompanying benefits of talking to people in the 'real' world rather than just virtually.
"I'm speaking as a dog owner here, it's something wonderful that happens when you have to walk your pet – but it's not just outside on walks, it's also sharing pets with social media friends.
"Pets give us something to talk about, pets give us communication with other people."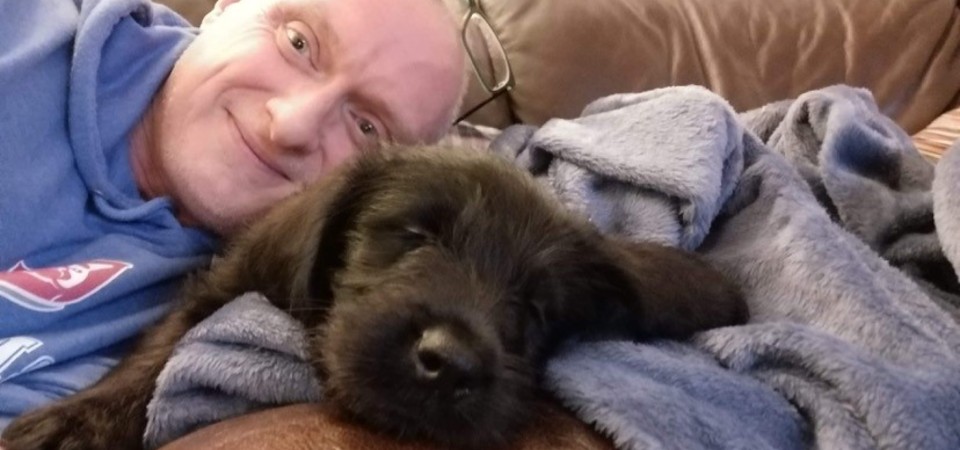 Among the group members is Alan Wheeler (pictured above), who bought Ray the puppy during the lockdown – a trend followed by lots of people who felt they needed some extra company.
He posted: "I've always had pets, but Ray was our lockdown puppy and my best decision as a grown-up.
"I love him so deeply, so completely, so without any reservation and reason, that it's frankly ridiculous. He makes my day EVERY day!"
Caroline Sudale posted a picture of parrot Eric (inset).
She wrote: "He is my rock. Not only helped me through the pandemic. He gets me though every day.
"He (was) abandoned by his owner some years ago. He was not nice