Press releases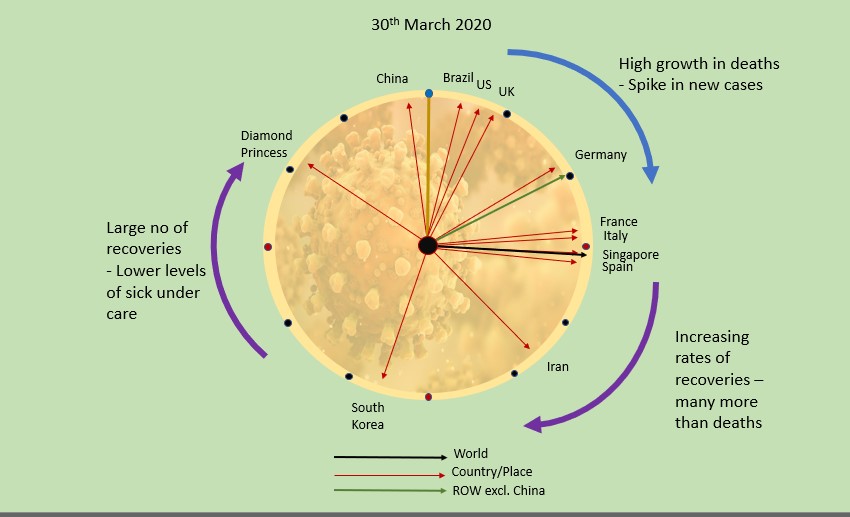 The coronavirus 'Doomsday' clock: How close are we to midnight?
Britain has only just begun its battle with COVID-19, according to a new coronavirus clock which shows the various stages of pandemic faced by countries around the globe.
The ever-changing gauge reveals the journey to recovery of numerous states including China, America, Germany and the UK.
It shows periods of high infection (between noon and 3pm), increased recovery and fewer deaths (3pm – 6pm) and low-levels of illness (6pm – midnight).
Reaching midnight means the virus has been eradicated - with peak recovery time being between quarter past and quarter to the hour.
It does not necessarily give a prediction as to the amount of time it will take the pandemic to disappear for each nation.
However, China sits at 57.86 minutes and its journey began on November 17, 2019 – 134 days, or 4.5 months, ago.
The clock was created by Dr Jon Seaton, of Loughborough's School of Business and Economics.
He said: "In good time, possibly around four months, the hand will get round the clock.
"The time taken could be longer for some countries, and certainly the hands can go backward, due to sudden surges in cases.
"But this does give us a great graphic to show how far we are getting, who is in front (China) and that we really are only at the beginning of the journey.
"It's telling that us that Italy and Spain are only at around quarter past – where they are experiencing this surge in deaths - although Spain is also getting a lot of recoveries now.
"We should be mindful that this is not an accurate prediction of what will happen as early on the hands can go backward if cases spike.
"It's more to give us an idea of the situation faced by the planet as a whole given the large amount of data we are faced with."
Coronavirus clock times – March 30, 2020
| | |
| --- | --- |
| Area/Region | Minutes passed |
| China | 57.86 |
| Diamond princess | 51.66 |
| South Korea | 33.45 |
| Iran | 23.54 |
| Spain | 16.11 |
| World | 15.42 |
| Japan | 15.37 |
| Singapore | 15.28 |
| Italy | 14.62 |
| France | 14.49 |
| Hong Kong | 11.42 |
| ROW excl China | 9.99 |
| Germany | 9.37 |
| Taiwan | 8.63 |
| Iceland | 8.06 |
| Switzerland | 7.67 |
| India | 7.23 |
| Netherlands | 5.63 |
| Canada | 5.04 |
| Greece | 4.72 |
| UK | 4.19 |
| Australia | 3.73 |
| Denmark | 3.39 |
| USA | 3.09 |
| Russia | 2.82 |
| Sweden | 2.04 |
| Brazil | 2.00 |
| Portugal | 1.63 |
Formula: 60(mins)*(recoveries+deaths)/cases
The clock updates constantly.
It is based on data from the John Hopkins University Coronavirus Resource Centre.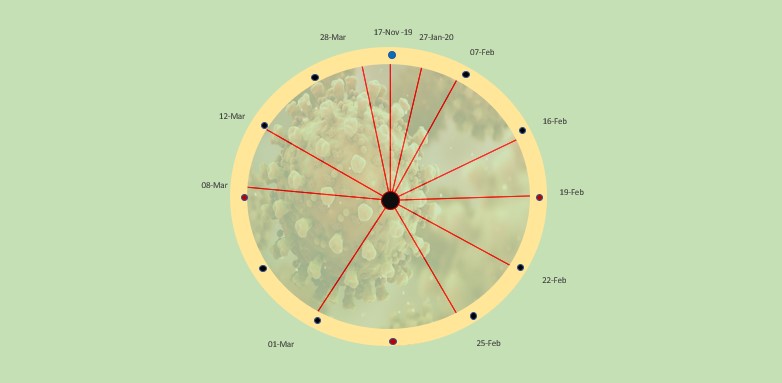 ‌China's coronavirus recovery clock
ENDS
Notes for editors
Press release reference number: 20/43
Loughborough University is equipped with a live in-house broadcast unit via the Globelynx network. To arrange an interview with one of our experts please contact the press office on 01509 223491. Bookings can be made online via www.globelynx.com
Loughborough is one of the country's leading universities, with an international reputation for research that matters, excellence in teaching, strong links with industry, and unrivalled achievement in sport and its underpinning academic disciplines.
It has been awarded five stars in the independent QS Stars university rating scheme, named the best university in the world for sports-related subjects in the 2019 QS World University Rankings, University of the Year by The Times and Sunday Times University Guide 2019 and top in the country for its student experience in the 2018 THE Student Experience Survey.
Loughborough is in the top 10 of every national league table, being ranked 4th in the Guardian University League Table 2020, 5th in the Times and Sunday Times Good University Guide 2019 and 8th in The UK Complete University Guide 2020.
Loughborough is consistently ranked in the top twenty of UK universities in the Times Higher Education's 'table of tables' and is in the top 10 in England for research intensity. In recognition of its contribution to the sector, Loughborough has been awarded seven Queen's Anniversary Prizes.
The Loughborough University London campus is based on the Queen Elizabeth Olympic Park and offers postgraduate and executive-level education, as well as research and enterprise opportunities. It is home to influential thought leaders, pioneering researchers and creative innovators who provide students with the highest quality of teaching and the very latest in modern thinking.