Press releases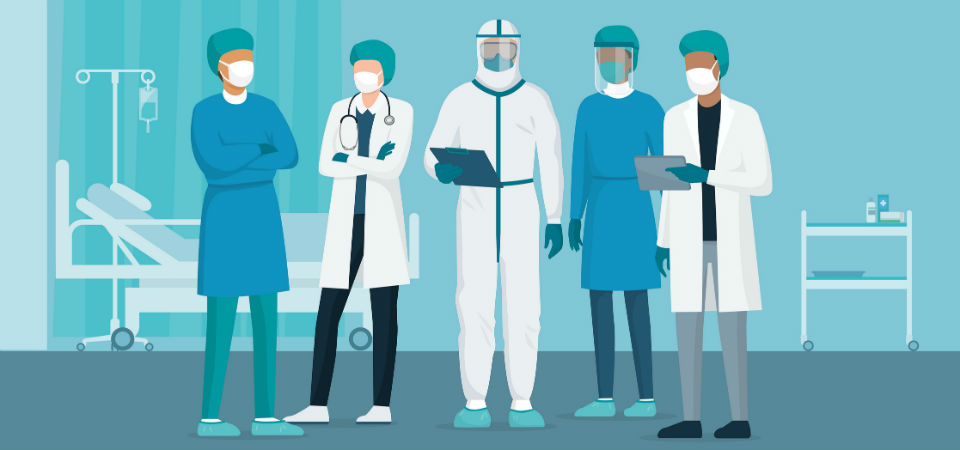 Women clinicians report significant difficulties with coronavirus PPE: "Apparently masks for smaller faces don't exist!"
PPE needs to be designed for the people who wear it - differences between women and men
PPE needs to support communication – seeing, hearing, talking
PPE needs to be included in task design – loss in dexterity with double gloves, risk of errors
PPE injures healthcare workers – heat stress, skin breakdown, musculoskeletal injuries
A new report which looks at how hospital PPE supplied to protect against the threat of COVID-19 has found that women experience significantly more issues than men.
Researchers from Loughborough University and the University Hospitals of Leicester NHS Trusts surveyed more than 400 clinicians and found that masks, visors, gloves and glasses in particular were creating problems for female staff members.
Hospital workers reported PPE-related injuries for skin breakdown from wearing masks, as well as overheating and dehydration from wearing multiple layers of gowns and aprons.
More than 33,000 people, including 300 health and social care staff, died in the UK during the first COVID-19 wave – between April and May, 2020.
Professor Sue Hignett, of the Loughborough Design School, who led the study, said: "Even with the intense demands on clinical staff during this period we received responses from over 400 clinicians, and importantly from 292 women (72%) which is representative of 70% NHS workforce.
"Women reported significantly more difficulty with communication than men when wearing surgical masks and visors.
"They told us, "Apparently masks for smaller faces don't exist!".
"We also found significant differences for women in the fit of safety glasses – including over prescription glasses.
"Other issues for both women and men included problems in operating clinical equipment due to double gloves, such as sutures, central line insertion, as well as using touch screens to record information and change drug doses."
Prof Hignett added that NHS staff should be supported to tackle infections in the same way firefighters are protected against occupational hazards.
She said: "Firefighters have special training for working in PPE and are trained to managed fatigue and overheating.
"Our NHS staff do not seem to have been supported in this way and I am really worried that they have suffered avoidable occupational injuries.
"There needs to be Human Factors/Ergonomics research to design better PPE for our NHS staff."
Read the full report, published in the journal Anaesthesia: https://onlinelibrary.wiley.com/doi/full/10.1111/anae.15198
ENDS
Notes for editors
Press release reference number: 20/125
Loughborough is one of the country's leading universities, with an international reputation for research that matters, excellence in teaching, strong links with industry, and unrivalled achievement in sport and its underpinning academic disciplines.
It has been awarded five stars in the independent QS Stars university rating scheme, named the best university in the world for sports-related subjects in the 2020 QS World University Rankings and University of the Year by The Times and Sunday Times University Guide 2019.
Loughborough is in the top 10 of every national league table, being ranked 4th in the Guardian University League Table 2020, 5th in the Times and Sunday Times Good University Guide 2020 and 6th in The UK Complete University Guide 2021.
Loughborough is consistently ranked in the top twenty of UK universities in the Times Higher Education's 'table of tables' and is in the top 10 in England for research intensity. In recognition of its contribution to the sector, Loughborough has been awarded seven Queen's Anniversary Prizes.
The Loughborough University London campus is based on the Queen Elizabeth Olympic Park and offers postgraduate and executive-level education, as well as research and enterprise opportunities. It is home to influential thought leaders, pioneering researchers and creative innovators who provide students with the highest quality of teaching and the very latest in modern thinking.