New laws unveiled this week aimed at allowing the businesses to start up again after months of lockdown, will loosen the restrictions on drinking, dining and shopping outdoors.
Pubs and bars will be able to transform car parks and other outdoor spaces into beer gardens, and markets will not be required to obtain planning permission, giving small shops and boutiques – which would otherwise struggle to adhere to social distances rules – the opportunity to extend outside.
However, the greater use of open public spaces to accommodate the large crowds of people expected to flood back to city centres will bring new challenges for policing and security authorities, according to Dr Booth – a specialist in counter-terrorism protective security at Loughborough University.
He says, that as the hospitality industry prepares for the influx of costumers on July 4, the measures which will be put in place to reduce the risk of spreading coronavirus will in-turn increase the public's vulnerability to terrorist attacks.
He said: "Although the measures will help towards increasing public safety from a national health perspective, conversely, the response is likely to increase vulnerabilities towards the public from a terrorism perspective and this will need to be carefully considered and balanced.
"Previously, people gathering inside crowded places were afforded greater protection from a building's fabric, but this is likely to change due to the greater use of uncovered public spaces and al fresco dining, and ultimately increase vulnerability.
"To manage this emerging security challenge, a collaborative and integrated approach from policymakers, security professionals, local authority planners and businesses themselves, particularly when considering potential security solutions, such as hostile vehicle mitigation measures (HVM) will be required for certain locations.
"Local authorities and security professionals can be creative with a range of HVM measures, such as street furniture, planters, landscaping can be used in addition to traditional security measures such as bollards and barriers.
"Crucially, it is important that businesses and local authorities know where to go to obtain protective security advice.
"Security needs to be a key consideration and must not be overlooked, or be an afterthought, during the recovery phase of COVID-19, and it will be imperative that those people who are being encouraged to use public spaces are protected. "
Low-tech attacks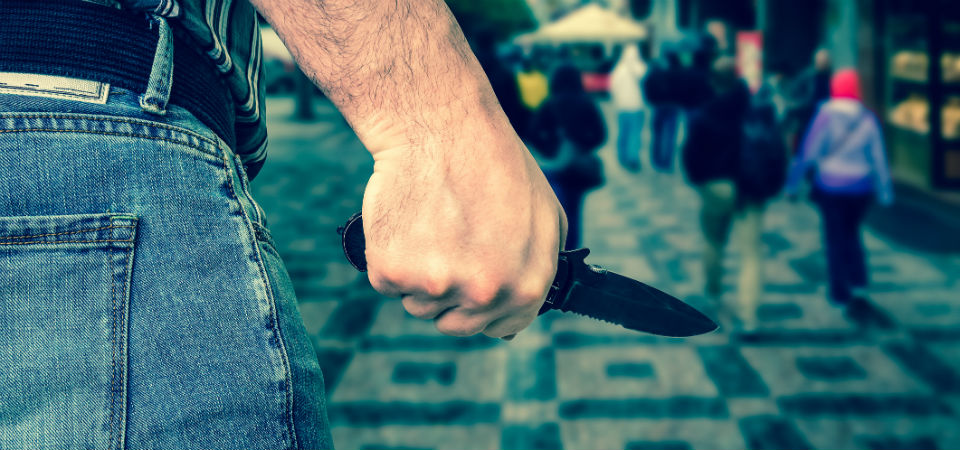 ‌Knives are becoming more common in terror attacks as they are difficult to detect. Credit: GETTY
Dr Booth highlighted low-tech attacks – such as Reading and Glasgow – as a concern as they require little planning, minimal or no communication with other attackers and smaller weapons such as knives are easier to conceal.
He said: "The dreadful attacks in Glasgow and Reading are what I would describe as 'low-tech' in which attackers use low-level methods – in these two examples attackers both used a bladed weapon.
"Low-tech style attacks can typically be difficult to protect against due to the ease of a terrorist being able to quickly carry out an attack, they often require little planning, and weapons used to carry out the attack can be easily concealed upon a terrorist.
"They can also be difficult for security authorities to detect. Traditionally, the UK has seen attacks carried out by groups of individuals, for example, the 2005 bombings on the London transportation network and the recent London Bridge and Borough Market attacks.
"However, more recently attacks appear to have been carried out by individuals. This makes it harder and there can be little communication with others about plans or intentions and plans can at times go undetected."
Vehicles as weapons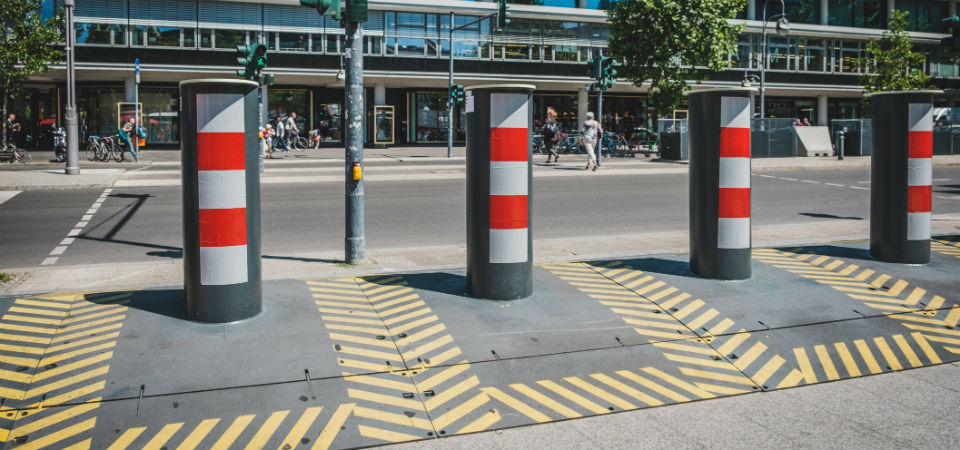 Barriers installed in Berlin to prevent vehicles being used as weapons. Credit: GETTY
In the last five years, the UK and further afield across Europe, the security services have seen a new terrorist threat emerge where vehicles have been used to target crowded places and public spaces – for example, Nice, Las Ramblas (Barcelona) and a Berlin Christmas market.
Due to the popularity of these busy tourist attractions, more than 100 people were killed in all three incidents and more than 640 were injured.
Dr Booth said: "Since these attacks, efforts have been made by UK security authorities to mitigate this attack method by implementing physical security measures to protect the public – for example, anti-terrorism barriers.
"This week, the UK Government has advocated the greater use of spaces and relax certain laws to enable al-fresco dining outside of establishments.
"Although this will help support businesses, it appears that the security of patrons – particularly from terrorist threats involving the use of vehicles as weapons, such as during the London Bridge and Westminster Bridge attacks – has been overlooked during the recovery strategy."
Dr Booth is available for interviews.
ENDS