Press releases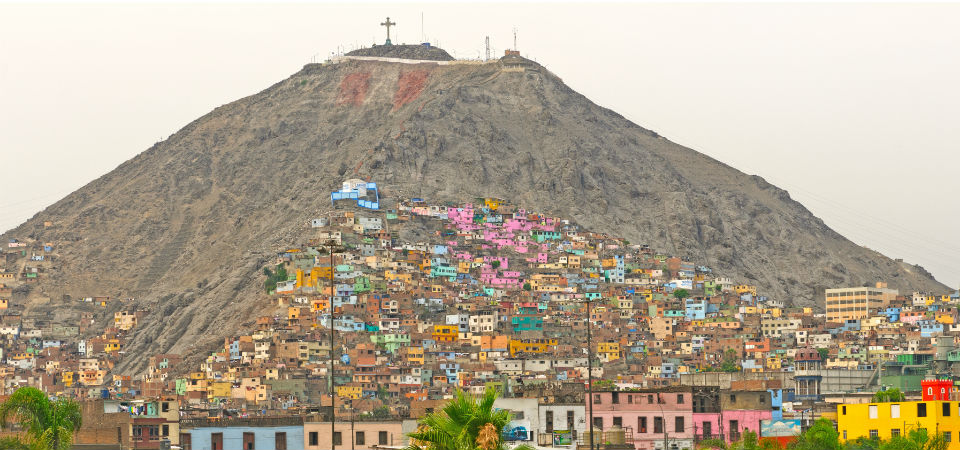 New project in Peru aims to reduce the impact of coronavirus as mothers struggle to feed their infants and young children
Mothers in some of the poorest communities in Peru are at risk of being unable to adequately feed their babies with nutritious foods because of the impact of coronavirus.
Even before the pandemic, 40% of children under three had anaemia in the South American country and in the youngest children (6-12 months of age) almost 60% were anaemic.
One of the leading causes of anaemia is a lack of iron in the diet, which is likely to have worsened since the outbreak and anaemia prevention is a priority health target for Peru.
Now, a new project funded by UK Research and Innovation (UKRI) and led by Loughborough University, will examine how COVID-19 has affected the nutrition of mothers and infants in two specific communities – one peri-urban location in the capital city of Lima, and another in the highland city of Huánuco situated in the Andean mountains.
Working in partnership with the Instituto de Investigación Nutricional, (Nutrition Research Institute) (IIN) in Peru, the project will run until March 2022 and aims to help health and nutrition services to adapt their programmes according to the needs of families with young children resulting from the pandemic.
Principal investigator Dr Emily Rousham, of Loughborough's School of Sport, Exercise and Health Sciences (SSEHS), said: "There are concerns that household food insecurity is worsening because of the COVID-19 pandemic.
"And the practice of breastfeeding infants might be declining because of the lack of support for mothers.
"Also, iron supplements might not be accessible to children who need them to combat the high prevalence of anaemia.
"The conditions of lockdown and need for social distancing may also impact negatively on the wellbeing of mothers and their infants and deterioration in infant nutrition will lead to much poorer health outcomes for the next generation.
"Over the next 18 months, we will track the emerging nutritional challenges for households in low-income communities and identify potential solutions through our engagement with governments health services and stakeholders in other sectors.
"With these insights, we will co-create support systems for adapted delivery of health and nutrition services for mothers and infants.
"This might include remote or virtual methods for providing nutritional counselling to mothers, growth monitoring of infants, and the provision of iron supplementation for infants and young children using information and communication technologies or socially-distanced health services."
The £216,000 project, called Strategies to Mitigate Nutritional Risks among mothers and infants under 2 years in low-income urban households in Peru during COVID-19 (STAMINA), will also involve colleagues from Cardiff University.
It is part of a larger £14.5m initiative known as the Global Challenges Research Fund (GCRF) and the Newton Fund, which was announced today.
The project supports research into COVID-19 and its impact on some of the world's most disadvantaged people and aims to develop solutions to mitigate the short and long-term social, economic and health consequences of the pandemic.
In total, 39 partnerships are working across every part of the Global South investigating everything from improving health systems in Africa to how the pandemic is affecting fishing communities.
Professor Andrew Thompson, UKRI's International Champion, said: "COVID-19 is demonstrating just how interconnected our world is and how our biggest challenges transcend rich and poor countries.
"To find lasting, sustainable solutions to the current pandemic and its aftermath, as well as to make us more resilient for the future, we require global thinking, the mobilisation of global expertise and a global response.
"That is exactly what these projects provide.
"Working together, researchers across the UK and the Global South are combining their knowledge and experience to develop innovative solutions to empower local communities to overcome the wide-ranging challenges created by COVID-19."
ENDS
Notes for editors
Press release reference number: 20/204
Loughborough is one of the country's leading universities, with an international reputation for research that matters, excellence in teaching, strong links with industry, and unrivalled achievement in sport and its underpinning academic disciplines.
It has been awarded five stars in the independent QS Stars university rating scheme, named the best university in the world for sports-related subjects in the 2020 QS World University Rankings and University of the Year by The Times and Sunday Times University Guide 2019.
Loughborough is in the top 10 of every national league table, being ranked 7th in the Guardian University League Table 2021, 5th in the Times and Sunday Times Good University Guide 2020 and 6th in The UK Complete University Guide 2021.
Loughborough is consistently ranked in the top twenty of UK universities in the Times Higher Education's 'table of tables' and is in the top 10 in England for research intensity. In recognition of its contribution to the sector, Loughborough has been awarded seven Queen's Anniversary Prizes.
The Loughborough University London campus is based on the Queen Elizabeth Olympic Park and offers postgraduate and executive-level education, as well as research and enterprise opportunities. It is home to influential thought leaders, pioneering researchers and creative innovators who provide students with the highest quality of teaching and the very latest in modern thinking.