The World Bank estimates that global growth will contract by between 5% and 8% globally in 2020, and that COVID-19 will push between 71-100 million into extreme poverty.
Sub-Saharan Africa is expected to be hit hardest. In developed countries health, leisure, commercial, educational and work practices are being reorganised – some say for good – in order to facilitate the forms of social distancing being advocated by experts and (sometimes reluctantly) promoted by governments.
Each of us has been affected by the changes wrought by COVID-19 in different ways. For some, the period of isolation has afforded time for contemplation. How do the ways in which our societies are currently structured enable crises such as this? How might we organise them otherwise? How might we use this opportunity to address other pressing global challenges, such climate change or racism?
For others, including those deemed vulnerable or "essential workers", such reflections may have instead been directly precipitated from a more visceral sense of their exposure to danger. Had adequate preparations been made for events such as COVID-19? Were lessons being learnt not only to manage crises such as these when they happen again, but to prevent them from happening in the first place? Is the goal of getting back to normality adequate, or should we instead be seeking to refashion normality itself?
Such profound questions are commonly prompted by major events. When our sense of normality is shattered, when our habits get disrupted, we are made more aware that the world could be otherwise. But are humans capable of enacting such lofty plans? Are we capable of planning for the long-term in a meaningful way? What barriers might exist and, perhaps more pressingly, how might we overcome them in order to create a better world?
As experts from three different academic disciplines whose work considers the capacity to engage in long-term planning for unanticipated events, such as COVID-19, in different ways, our work interrogates such questions. So is humanity in fact able to successfully plan for the longterm future?
Dr Chris Zebrowski, an emergency governance specialist from Loughborough University, contends that our lack of preparedness, far from being natural, is a consequence of contemporary political and economic systems. Robin Dunbar, an evolutionary psychologist at the University of Oxford, argues that our obsession with short-term planning may be a part of human nature – but possibly a surmountable one. Per Olsson, sustainability scientist and expert in sustainability transformations from the Stockholm Resilience Centre at Stockholm University, reflects on how crisis points can be used to change the future – drawing on examples from the past in order to learn how to be more resilient going into the future.
The power of politics - Chris Zebrowski
Where size and scale is concerned, it doesn't get much bigger than the Rideau canal. Stretching over 202 kilometres in length, the Rideau canal in Canada is regarded as one of the great engineering feats of the 19th century. Opened in 1832, the canal system was designed to act as an alternative supply route to the vital stretch of the St Lawrence river connecting Montreal and the naval base in Kingston.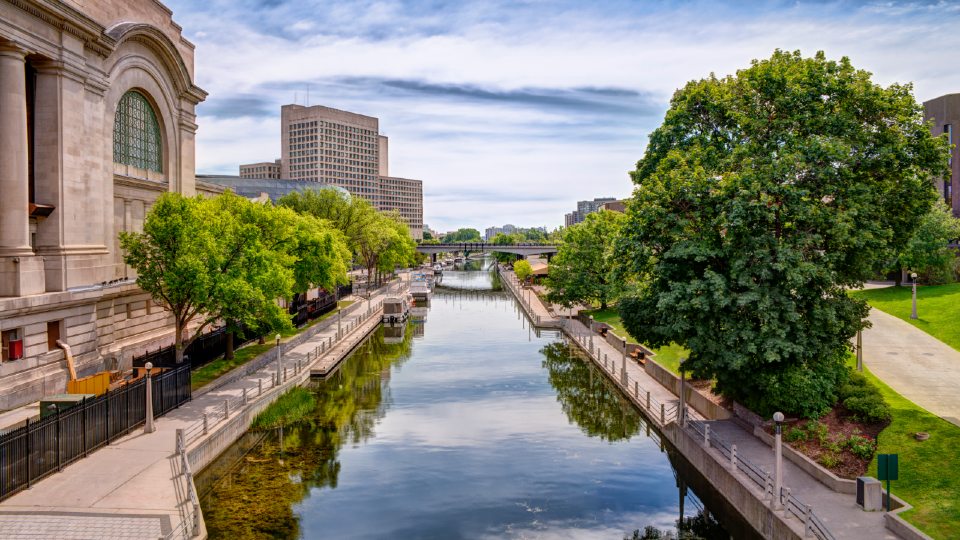 The Rideau canal. Image courtesy of Getty Images.
The impetus for this project was the threat of resumed hostilities with the Americans following a war fought between the United States, the United Kingdom and their allies from 1812-1815. While the canal would never need to be used for its intended purpose (despite its considerable cost), it is just one example of human ingenuity being paired with significant public investment in the face of an uncertain future threat.
"Discounting the future" may well be a common habit. But I don't think that this is an inevitable consequence of how our brains are wired or an enduring legacy of our primate ancestry. Our proclivity to short-termism has been socialised. It is a result of the ways we are socially and politically organised today.
Businesses prioritise short-term profits over longer term outcomes because it appeals to shareholders and lenders. Politicians dismiss long-term projects in favour of quick-fix solutions promising instant results which can feature in campaign literature that is distributed every four years.
At the same time, we are surrounded by examples of highly sophisticated, and often well-financed, tools for risk management. The major public works projects, vital social security systems, sizeable military assemblages, complex financial instruments, and elaborate insurance policies which support our contemporary way of life attest to the human capacity to plan and prepare for the future when we feel compelled to do so.
In recent months, the vital importance of emergency preparedness and response systems in managing the COVID-19 crisis has come into full public view. These are highly complex systems which employ horizon scanning, risk registers, preparedness exercises and a variety of other specialist methods to identify and plan for future emergencies before they happen. Such measures ensure that we are prepared for future events, even when we are not entirely sure when (or if) they will materialise.
While we could not predict the scale of the outbreak of COVID-19, previous coronavirus outbreaks in Asia meant we knew it was a possibility. The World Health Organization (WHO) has been warning about the risks of an international influenza pandemic for many years now. In the UK, the 2016 national preparedness project Exercise Cygnus made abundantly clear that the country lacked the capacity to adequately respond to a large-scale public health emergency. The danger was clearly identified. What was required to prepare for such a calamity was known. What was lacking was the political will to provide adequate investment in these vital systems...
Read the rest of Dr Zebrowski's piece, plus the write-ups from Robin Dunbar and Per Olsson, here.
This article is part of Conversation Insights. The Insights team generates long-form journalism derived from interdisciplinary research. The team is working with academics from different backgrounds who have been engaged in projects aimed at tackling societal and scientific challenges.
‌