Press releases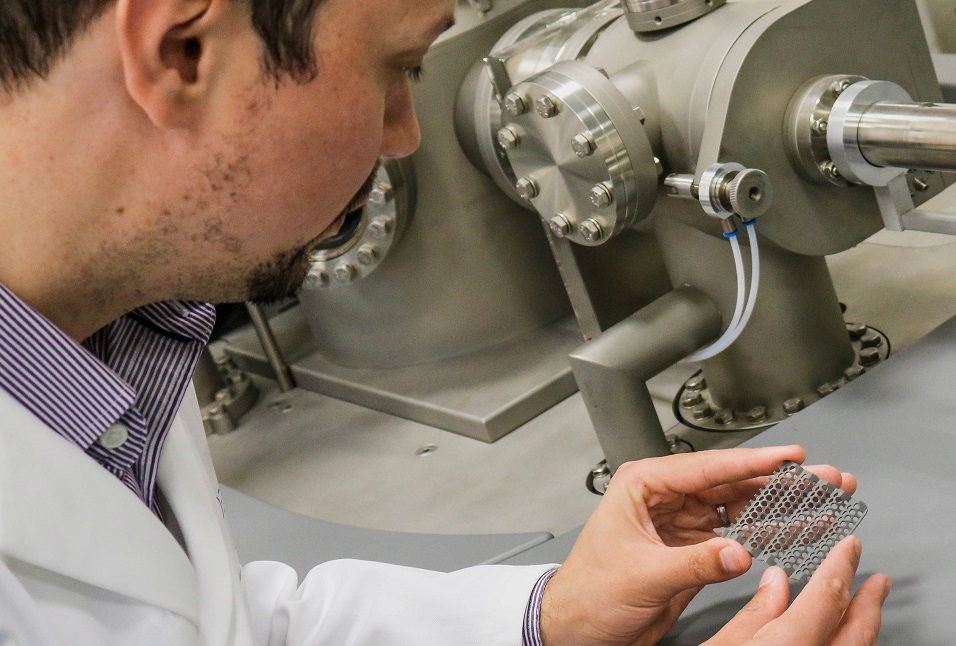 Government funding helps advanced ceramics take shape in the Midlands
Government funding provided through UK Research and Innovation's flagship 'Strength in Places Fund' has helped unlock plans to put the Midlands on a unique footing as a global centre for advanced technical ceramics.
The Midlands Industrial Ceramics Group (MICG) – of which Loughborough University is a member – has successfully bid for funding in the latest round of awards announced by the public body.
With a focus on positioning the Midlands as a world leader in advanced ceramics, the MICG is drawing on industry and academia to make the region a magnet for international investment.
According to the group, this will ultimately contribute towards growth of 4,200 jobs in the region by 2030.
Membership of the MICG comprises blue chip companies and SMEs including Rolls-Royce, JCB, Morgan Advanced Materials and Lucideon – as well as the Universities of Loughborough, Birmingham and Leicester.
News of the successful application to the Strength In Places (SIP) Fund has been warmly received by Sir John Peace, Chairman of the Midlands Engine, who recently attended a MICG meeting to demonstrate support for the project.
Sir John said: "The Midlands has always been a global leader in ceramic design, cutting edge product development with global research organisations, and innovative manufacturing technology.
"Advanced ceramics are critical to increase the competitiveness of key high-value advanced manufacturing industries in the region, and vital to the nation's economic recovery and self-sufficiency.
"Through the collaboration of the MICG partners, the researcher, manufacturer and end-user will be connected, enabling effective problem-solving, 'de-risking' of innovation and faster commercialisation - leading to regional and national growth.
"As part of Midlands Engine's role as an ambassador for transformational economic opportunities at scale within our region, we've been able to support MICG in their ambitious bid for investment.
"We are delighted that SIP funding has been secured allowing work to progress and we will continue to work with MICG as they advance plans to accelerate and grow our region's advanced ceramics sector."
A key element of the project will be the delivery of improvements to manufacturing processes, making advanced ceramics more energy-efficient, faster and cheaper - boosting growth and productivity across the supply chain and benefitting customers across a wide range of industry sectors.
An Advanced Ceramics Campus in North Staffordshire is also proposed, to unify the knowledge and strengths of academia and industry for the benefit of the Midlands region and the wider UK stakeholders.
Alan Newby, Director, Aerospace Technology & Future Programmes, Rolls-Royce, believes the MICG will have a significant impact on the Midlands ceramic economy.
He said: "We want to bring innovation to the marketplace quickly and the MICG has the potential to do that.
"We can build on the strength of the universities, alongside companies like Morgan Advanced Materials and Lucideon, to concentrate that knowledge locally and nationally, as well as around the world.
"We can see that this group will provide a platform for knowledge-sharing to bring the development of concepts to commercialisation, under a fast-track process."
Loughborough's Professor Bala Vaidhyanathan has played a key role in the academic element of the MICG. He said: "Loughborough University is extremely delighted to be part of this strong SIP bid led by Lucideon.
"This project deals with the development of energy efficient, agile manufacturing processes that will give the Midlands advanced ceramics sector a very strong competitive advantage and will provide the state-of-the-art training to the next generation skilled workforce.
"Furthermore, these developments will provide an integrated platform of digitally intuitive manufacturing enabling the UK to lead, adopt and adapt to the emerging Industrial Revolution 4.0."
UK Research and Innovation is the public body that distributes UK government funding for research and innovation across the UK, and works in partnership with universities, research organisations, businesses, charities, and government to create the best possible environment for research and innovation to flourish.
David Sweeney, UK Research and Innovation lead on the Strength in Places Fund, said: "I am delighted to be able to award early-stage funding to this bid which has great potential to benefit the local area through supporting innovation and sustained growth, and strengthen collaboration between industry and our world-class research base."
Strength in Places Fund panel chair, Dame Kate Barker, added: "The Strength in Places panel was pleased to recommend this bid for early-stage funding.
"It provides evidence of excellent research that meets business need and great potential for collaboration, by bringing together a consortia to contribute to increased growth and productivity in areas of local economic activity."
More details about the MICG can be found at https://micg.org.uk/
Notes for editors
Press release reference number: PR 20/143
About Loughborough University
Loughborough is one of the country's leading universities, with an international reputation for research that matters, excellence in teaching, strong links with industry, and unrivalled achievement in sport and its underpinning academic disciplines.
It has been awarded five stars in the independent QS Stars university rating scheme, named the best university in the world for sports-related subjects in the 2020 QS World University Rankings and University of the Year by The Times and Sunday Times University Guide 2019.
Loughborough is in the top 10 of every national league table, being ranked 4th in the Guardian University League Table 2020, 5th in the Times and Sunday Times Good University Guide 2020 and 6th in The UK Complete University Guide 2021.
Loughborough is consistently ranked in the top twenty of UK universities in the Times Higher Education's 'table of tables' and is in the top 10 in England for research intensity. In recognition of its contribution to the sector, Loughborough has been awarded seven Queen's Anniversary Prizes.
The Loughborough University London campus is based on the Queen Elizabeth Olympic Park and offers postgraduate and executive-level education, as well as research and enterprise opportunities. It is home to influential thought leaders, pioneering researchers and creative innovators who provide students with the highest quality of teaching and the very latest in modern thinking.
The Midlands Industrial Ceramics Group (MICG):
The Midlands Industrial Ceramics Group (MICG) has been established to ensure advanced ceramics help drive the competitiveness and success of Midlands advanced manufacturing by tackling key innovation challenges.
Advanced ceramics are vital to fulfil the growing need for high performance materials in ever more demanding conditions across a wide variety of manufacturing sectors.
The MICG combines tried-and-trusted industrial and academic expertise to create a unified process for the development and commercialisation of new and enhanced processes and products.
The aims of the MICG are to:
Make the Midlands the go-to location for the global R&D and production of advanced ceramics
Increase the competitiveness of the Midlands industrial base
Enhance industrial ability to develop innovative ceramic technologies with speedy marketplace adoption
Deliver a multi-sectoral approach with rapid translation of new technologies for the advantage of a whole range of industrial sectors
Strengthen the UK advanced ceramics supply chain for the benefit of the Midlands advanced manufacturing sector.
The MICG will drive technological breakthroughs in advanced ceramic materials and their manufacturing processes, leading to the development of lower energy and cost routes for functional and structural advanced ceramics.
Its partners are clear that to continue to compete internationally there is an urgent need to constantly enhance current processes and develop future manufacturing techniques, in the area of advanced ceramics.
Partners
Rolls Royce
Morgan Advanced Materials
JCB
Vesuvius (Foseco)
Trelleborg Retford
Lucideon
McGeoch Technology (Precision Ceramics)
Prince Minerals
AEON Engineering
CDS
University of Birmingham
University of Leicester
Loughborough University
UK Research and Innovation:
UK Research and Innovation works in partnership with universities, research organisations, businesses, charities, and government to create the best possible environment for research and innovation to flourish. We aim to maximise the contribution of each of our component parts, working individually and collectively. We work with our many partners to benefit everyone through knowledge, talent and ideas.
Operating across the whole of the UK with a combined budget of more than £7 billion, UK Research and Innovation brings together the seven research councils, Innovate UK and Research England. www.ukri.org
The Strength in Places Fund:
Led by UK Research and Innovation, Strength in Places Fund (SIPF) is a competitive funding scheme that takes a place-based approach to research and innovation funding, to support significant local economic growth.
About the Midlands Engine Partnership
The Midlands is a region of pioneering minds, thriving industry, great beauty, inspiring heritage and incredible people; of vibrant cities, bustling towns, flourishing rural areas and welcoming communities.
The Midlands is a region to be proud of. It is a region of huge potential, driving a quarter of England's exports and the country's largest economic area outside London and the South East. It is the place that over 10 million people call home.
The Midlands Engine Partnership brings voice and vision to the Midlands. We exist to convene and connect; to act as a focal point and a unifying force to accelerate growth by operating at scale; enabling economic transformation and promoting our region at home and abroad. We bring together public and private sector partners in order to amplify our capacity; enhance our capabilities and create added value for the greater benefit of our region's places, people, businesses and communities. Together, we are stronger.
Midlands Engine Communications Team contact details comms@midlandsengine.org