Press releases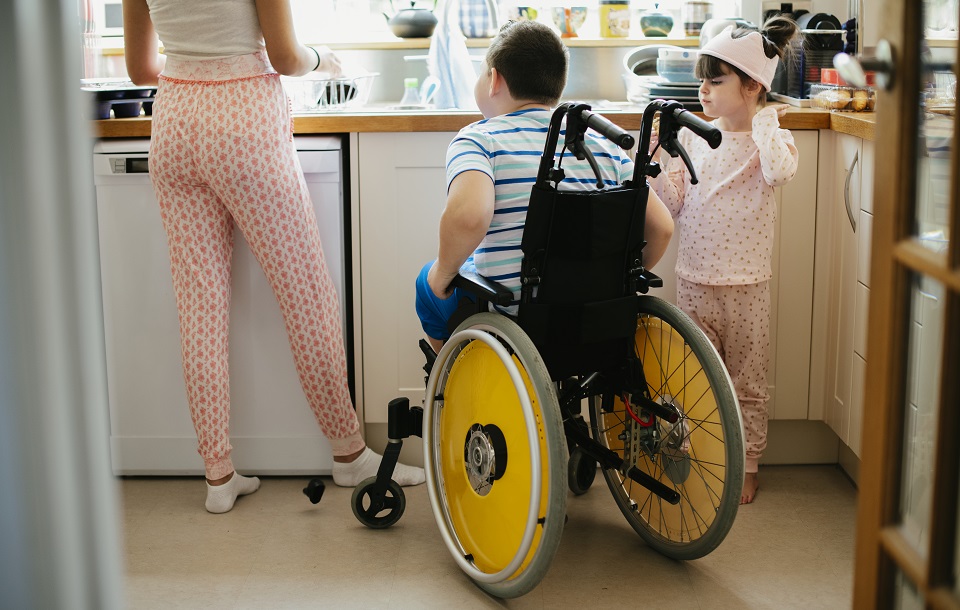 Research to investigate impact of COVID-19 pandemic on family carers
The experience of family carers during the COVID-19 pandemic will be explored in a new international study by Loughborough University and several universities across the world.
The 'Caring through Coronavirus' project will seek to understand how family carers are coping during the pandemic and whether changes in policy, legislation, and health and social care provision are impacting their wellbeing and caring responsibilities.
Nearly nine million Britons provide unpaid care for family members and friends with long-term illnesses and disabilities, including those most vulnerable to the virus. Many carers also have their own underlying health conditions.
Loughborough's Professor Jo Aldridge is working with Dr Siobhan O'Dwyer, from the University of Exeter, and others on the study, which will involve a series of weekly interviews conducted over the next three months.
Findings from the study will be shared each week with key Government departments and charities.
Speaking about the research Professor Aldridge, Director of Research for Social and Policy Studies at Loughborough University, said: "Family carers often struggle to juggle caring with their paid work; life is also often hard for them financially, emotionally and in so many other ways. This was the case for so many before the pandemic. Now the situation is much harder as schools are closed, so many essential services are cancelled and access to food and medication is limited.
"We need to focus now on the needs of carers and their families to find out the effects of the pandemic on their lives and to avert a future care crisis. It was good to see new guidance for carers published this week, as well as £750 million announced for charities, but so much more needs to be done."
Dr O'Dwyer, a Senior Lecturer in Ageing and Family Care at the University of Exeter, said: "Research usually takes years before it benefits the community. But by documenting carers' experiences in real time and sharing the findings as soon as we have them, we can help the government, social care providers, and charities tailor the support they're providing to carers right now."
Julia Melluish cares for her 12-year-old son, who has spastic quadriplegia, is doubly incontinent and is registered blind. She said: "When schools closed and support services stopped, the breaks that usually safeguard our wellbeing disappeared.
"We've been catapulted into 24/7 caring and it's relentless. If I'm caring for my son around the clock, I'm unable to meet the needs of other family members. On top of everything I normally do, I've now had to take on all the roles that other people usually play – teacher, occupational therapist, physiotherapist – and it's only going to get harder as the weeks go on."
Mrs Melluish has joined the study as a co-investigator to help the researchers ensure their methods and materials are suitable for carers.
She added: "I'm proud to be involved with this study. People having been clapping for doctors and nurses, but family carers have been forgotten. This research is something positive that's finally recognising the essential work we do."
The study includes people caring for parents, partners, and children with a range of conditions, including dementia, autism, cerebral palsy, and chronic fatigue. Carers will be interviewed every week for the next three months, with the potential for the project to also interview carers later in the year to explore longer-term impacts and the transition to life after the pandemic.
The project is led by the University of Exeter in partnership with Loughborough University, the University of Southern Denmark; University of Tennessee Knoxville; Cardiff University; and Northumbria University.
Notes for editors
Press release reference number: PR 20/57
Loughborough University is equipped with a live in-house broadcast unit via the Globelynx network. To arrange an interview with one of our experts please contact the press office on 01509 223491. Bookings can be made online via www.globelynx.com
Loughborough is one of the country's leading universities, with an international reputation for research that matters, excellence in teaching, strong links with industry, and unrivalled achievement in sport and its underpinning academic disciplines.
It has been awarded five stars in the independent QS Stars university rating scheme, named the best university in the world for sports-related subjects in the 2019 QS World University Rankings, University of the Year by The Times and Sunday Times University Guide 2019 and top in the country for its student experience in the 2018 THE Student Experience Survey.
Loughborough is in the top 10 of every national league table, being ranked 4th in the Guardian University League Table 2020, 5th in the Times and Sunday Times Good University Guide 2019 and 8th in The UK Complete University Guide 2020.
Loughborough is consistently ranked in the top twenty of UK universities in the Times Higher Education's 'table of tables' and is in the top 10 in England for research intensity. In recognition of its contribution to the sector, Loughborough has been awarded seven Queen's Anniversary Prizes.
The Loughborough University London campus is based on the Queen Elizabeth Olympic Park and offers postgraduate and executive-level education, as well as research and enterprise opportunities. It is home to influential thought leaders, pioneering researchers and creative innovators who provide students with the highest quality of teaching and the very latest in modern thinking.