Press releases
Families juggle work and rising costs as school holidays loom
Low income families are finding it ever harder to reconcile rising holiday costs with their pay and benefits, a Loughborough University study has found.
With free school meals unavailable in the holidays and the cost of children's holiday clubs – which provide essential childcare for working parents – rising above £130 a week, the summer can become a time of anxiety rather than relaxation.
The study from Loughborough's Centre for Research in Social Policy finds that two parents with children aged four and seven each need to earn a minimum of £20,600 a year to pay for costs including food, transport, leisure, housing and childcare, in order to reach what the public consider to be a minimum acceptable living standard. This "Minimum Income Standard" allows people to meet their basic material needs and also to take part in the society around them, for example by being able to take a gift to a birthday party or participate in an after-school activity.

The research coincides with the launch of an enquiry into holiday poverty by the House of Commons Work and Pensions Committee.
For families with too little income, the summer is getting increasingly expensive. In the past decade, the cost of an after-school club has risen by 50%, and the cost of a package holiday by 30%, while many people's wages and benefits have barely changed.
Parents are faced with a stark dilemma: if they work too few hours, they may not be able to afford the basics of life but working long hours can add to the cost of finding appropriate childcare cover in the holidays. And going away on holiday can seem prohibitively expensive to those on modest means: even a basic one-week self-catering holiday in the UK costs nearly £800 for a family of four.
The report also finds that while the families on the lowest wages have had substantial pay increases through the National Living Wage (i.e. the minimum wage for over-25s), for many this has been more than offset by cuts in working benefits. For example, a lone parent working full time, with children aged four and seven, now falls £80 a week, or 21%, short of the disposable income they need for a minimum living standard, double the shortfall in 2015 before the National Living Wage was introduced.
Couples with children are also falling ever further short of meeting their needs if they rely on only one earner. Even dual-earner parents on the National Living Wage still do not have enough to meet the Minimum Income Standard for themselves and two children, although the amount they fall short has reduced: from £86 a week in 2015 to £47 in 2019.
Report author Professor Donald Hirsch, Director of the University's CRSP, said: "Most of us think of the summer as a time to wind down, relax and take a break. But for more than one in three families, who have less than they need for a decent living standard, summer risks bringing stress and additional hardships.
"Meeting your children's needs when they are at home all day long, taking time off or paying for a holiday club, and going away even for the simplest of holidays, can add to everyday financial strains. The very worst-off families, those on the breadline, who have had the comfort of knowing their children will get a decent hot meal once a day at school (or two meals if they attend a breakfast club), will struggle to meet the additional grocery bills over this six week period.
"Prices have continued to creep up, but benefits have been frozen for the past four years. This policy comes to an end next April, and this Autumn's Budget will be a time for the next Prime Minister and Chancellor to think about how to help the UK's worst-off families, who have been losing ground for a decade."
The full report can be found here.
Notes for editors
Press release reference number: 19/94
About the Minimum Income Standard
The Minimum Income Standard (MIS), carried out by the Centre for Research in Social Policy at Loughborough University and funded by the Joseph Rowntree Foundation (JRF), acts as a barometer of living standards in the UK. It is based on what members of the public think we all need to achieve a decent minimum living standard, regularly updated as society and the economy changes.
About Loughborough University
Loughborough University is equipped with a live in-house broadcast unit via the Globelynx network. To arrange an interview with one of our experts please contact the press office on 01509 223491. Bookings can be made online via www.globelynx.com
Loughborough is one of the country's leading universities, with an international reputation for research that matters, excellence in teaching, strong links with industry, and unrivalled achievement in sport and its underpinning academic disciplines.
It has been awarded five stars in the independent QS Stars university rating scheme, named the best university in the world for sports-related subjects in the 2019 QS World University Rankings, University of the Year by The Times and Sunday Times University Guide 2019 and top in the country for its student experience in the 2018 THE Student Experience Survey.
Loughborough is in the top 10 of every national league table, being ranked 4th in the Guardian University League Table 2020, 5th in the Times and Sunday Times Good University Guide 2019 and 8th in The UK Complete University Guide 2020.
Loughborough is consistently ranked in the top twenty of UK universities in the Times Higher Education's 'table of tables' and is in the top 10 in England for research intensity. In recognition of its contribution to the sector, Loughborough has been awarded seven Queen's Anniversary Prizes.
The Loughborough University London campus is based on the Queen Elizabeth Olympic Park and offers postgraduate and executive-level education, as well as research and enterprise opportunities. It is home to influential thought leaders, pioneering researchers and creative innovators who provide students with the highest quality of teaching and the very latest in modern thinking.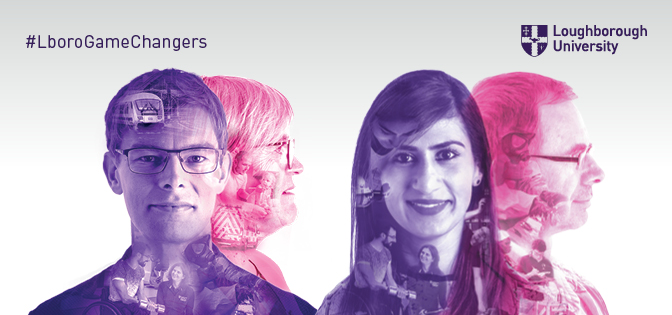 ‌
Loughborough staff, students and alumni make a real difference. They challenge convention, think creatively and find solutions to some of the biggest challenges facing society today and in the future.
Meet the #LboroGameChangers at lboro.ac.uk/lborogamechangers