Press releases
Drone expert to develop technology that can measure objects as small as 0.5cm through water in a bid to understand how climate change is impacting rivers
A Loughborough University academic is developing drone technology to measure the size of small, underwater sediments in a bid to understand how rivers are responding to environmental drivers such as climate change.
Physical Geographer Dr Amy Woodget, of the School of Social Sciences, is hoping her research using drone imagery and machine learning will allow sediments as small as 0.5cm to be measured accurately, providing valuable scientific data that will reveal how rivers are behaving.
Monitoring how river habitat sediment (matter that settles at the bottom of the water) is changing is important for several reasons.
Sediment sizes can have different and drastic effects on rivers. Large sediment accumulations can cause upstream flooding or deflect the flow to adjacent land, streams or critical habitats, and increased fine sediment can affect the penetration of light into the water and result in algal blooms.
By studying patterns of sediment size, experts can understand changes that are occurring in rivers as a result of environmental factors.
These patterns can also reveal how the shape and size of river channels are changing, which is important as it means the amount of water a channel can hold can be calculated and then experts can assess how susceptible a river is to flooding.
Sediment size is also important to ecologists as it gives an indication of what kind of habitats are available in a river.
Dr Woodget says drones allow environments to be studied in much more detail than previously possible and this is likely to become very important for helping make the right decisions to manage environments effectively.
Previous footage captured by Dr Woodget:
She explained: "This research project aims to measure the size of underwater river sediments using a novel technological approach using drone imagery and machine learning.
"We need to know how to accurately measure underwater sediment sizes in fine detail in order to improve our understanding of how rivers and their resident animal and plant life are changing and responding to big environmental drivers like climate change.
"Using drones is a bit like the difference between driving with your glasses on instead of off, if you're short-sighted. The detail revealed by wearing the glasses – or in this case from the detailed drone imagery – helps us make better decisions to ensure our safety and that of others.
"So, this means that if we care about our economies, homes, industries, agriculture, transport networks, recreational and environmental spaces and how they might be threatened by climate change, then we need to be able to measure and monitor physical parameters like sediment size accurately and with our glasses 'on'."
Dr Woodget will undertake fieldwork at two river sites – in the Lake District and along the England-Wales border – which both experienced serious flooding in 2015 as a result of Storm Desmond.
Her research project is funded by the British Sedimentological Research Group and is expected to run for up to two years.
Notes for editors
Press release reference number: 19/101
Loughborough University is equipped with a live in-house broadcast unit via the Globelynx network. To arrange an interview with one of our experts please contact the press office on 01509 223491. Bookings can be made online via www.globelynx.com
Loughborough is one of the country's leading universities, with an international reputation for research that matters, excellence in teaching, strong links with industry, and unrivalled achievement in sport and its underpinning academic disciplines.
It has been awarded five stars in the independent QS Stars university rating scheme, named the best university in the world for sports-related subjects in the 2019 QS World University Rankings, University of the Year by The Times and Sunday Times University Guide 2019 and top in the country for its student experience in the 2018 THE Student Experience Survey.
Loughborough is in the top 10 of every national league table, being ranked 4th in the Guardian University League Table 2020, 5th in the Times and Sunday Times Good University Guide 2019 and 8th in The UK Complete University Guide 2020.
Loughborough is consistently ranked in the top twenty of UK universities in the Times Higher Education's 'table of tables' and is in the top 10 in England for research intensity. In recognition of its contribution to the sector, Loughborough has been awarded seven Queen's Anniversary Prizes.
The Loughborough University London campus is based on the Queen Elizabeth Olympic Park and offers postgraduate and executive-level education, as well as research and enterprise opportunities. It is home to influential thought leaders, pioneering researchers and creative innovators who provide students with the highest quality of teaching and the very latest in modern thinking.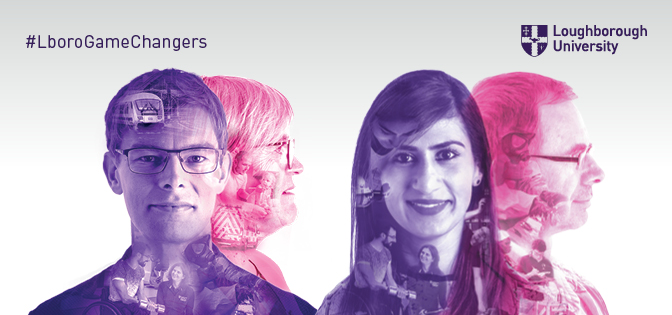 Loughborough staff, students and alumni make a real difference. They challenge convention, think creatively and find solutions to some of the biggest challenges facing society today and in the future.
Meet the #LboroGameChangers at lboro.ac.uk/lborogamechangers