Press releases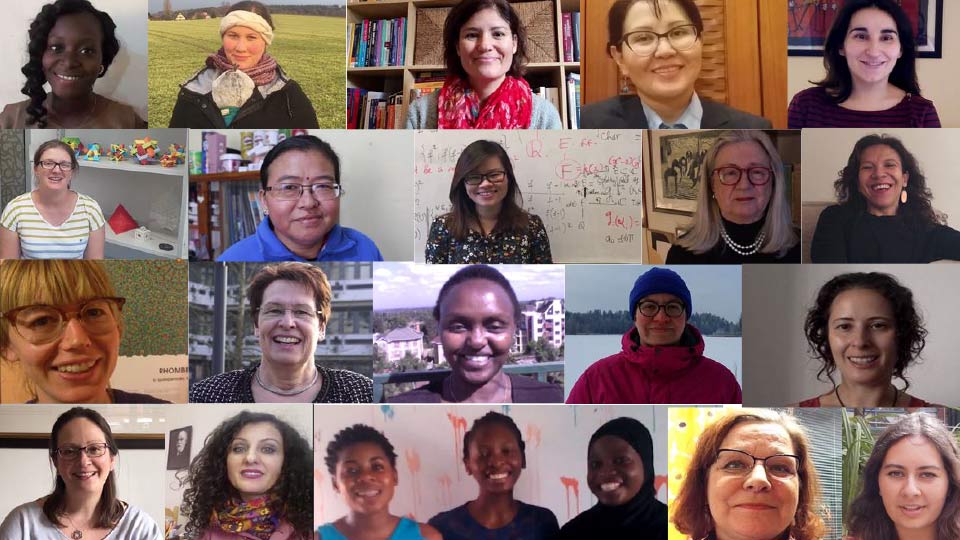 International Women's Day: Loughborough academic puts female mathematicians in the spotlight in short film
A Loughborough University mathematician and her filmmaker sister have created a video for International Women's Day 2018.
Senior Lecturer Dr Eugénie Hunsicker, of the Department of Mathematical Sciences, and cinematographer Dr Irina Linke have released 'Faces of Women in Mathematics' today (Thursday 8 March).
The 13-minute film comprises 146 clips of 243 women from around the world stating their name, nationality and that they are a mathematician.
It features 36 different countries and 31 languages – including Runyankole (Uganda), Malayalam (India) and Tagalog (Philippines) – and was made possible thanks to an online 'casting call'.
Dr Hunsicker, who chairs the London Mathematical Society's Women in Mathematics Committee, said: "We didn't expect to get nearly as many people send in their clips as we did, it's been phenomenal but busy as we've done it all in just over a month.
"The International Mathematical Union's Committee for Women in Mathematics, which I have worked with informally, sees women all over the world work together to ensure information is shared with people in various countries and I was inspired by this.
"I wanted the focus of the film to be on proud, strong women that are actively doing maths, but I also wanted to emphasize that it's not unusual for women to work in mathematics; there's so many everywhere that enjoy it and do it as a profession.
"I also saw this as an opportunity for people to see images of strength and pride from developing countries. Yes, it's a film about women, but it's also about expanding people's ideas of who and where is involved in intellectual pursuits."
Dr Linke added: "Faces of Women in Mathematics was an enjoyable project to work on. It was interesting to see women moved to pursue maths in different countries.
"There are women in the film speaking Chinese in the US, Greek in the Netherlands and there's a clip of a Russian woman speaking Tatar in Germany. There's also one clip from the UK in which Hebrew, Brazilian, German and English are spoken."
Faces of Women in Mathematics was funded by the International Mathematical Union.
There are plans to show the film at various women in mathematics events and women's film festivals in the future.
Notes for editors
Press release reference number: 18/38
Loughborough University is equipped with a live in-house broadcast unit via the Globelynx network. To arrange an interview with one of our experts please contact the press office on 01509 223491. Bookings can be made online via www.globelynx.com
Loughborough is one of the country's leading universities, with an international reputation for research that matters, excellence in teaching, strong links with industry, and unrivalled achievement in sport and its underpinning academic disciplines.
It has been awarded five stars in the independent QS Stars university rating scheme, named the best university in the world to study sports-related subjects in the 2018 QS World University Rankings and top in the country for its student experience in the 2016 THE Student Experience Survey.
Loughborough is in the top 10 of every national league table, being ranked 6th in the Guardian University League Table 2018, 7th in the Times and Sunday Times Good University Guide 2018 and 10th in The UK Complete University Guide 2018. It was also named Sports University of the Year by The Times and Sunday Times Good University Guide 2017.
Loughborough is consistently ranked in the top twenty of UK universities in the Times Higher Education's 'table of tables' and is in the top 10 in England for research intensity. In recognition of its contribution to the sector, Loughborough has been awarded seven Queen's Anniversary Prizes.
The Loughborough University London campus is based on the Queen Elizabeth Olympic Park and offers postgraduate and executive-level education, as well as research and enterprise opportunities. It is home to influential thought leaders, pioneering researchers and creative innovators who provide students with the highest quality of teaching and the very latest in modern thinking.