Race Equality Charter
On Friday 30 July, Loughborough University submitted its application for the Race Equality Charter (REC) Bronze Award.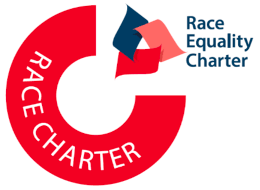 The REC is underpinned by five fundamental guiding principles and will form one section of a prospective overarching Loughborough University Race Equity Strategy that is under development.
Signing up to the REC enabled important investigations, consultations, and actions that will support the University's aim of becoming an anti-racist institution committed to racial equity.
The last eighteen months have highlighted the wider context for why such significant work needs to be undertaken. Coverage and reaction to tragic events such as the murders of George Floyd, Nicole Smallman and Bibaa Henry, and the associated international protests in the Movement for Black Lives, have influenced important and overdue discussions about institutional racism. The disproportionate impact of COVID-19 on people from racial and ethnic minority backgrounds has also amplified the need for societal inequalities to be addressed.
The University has committed to implementing its REC Action Plan by 2024 with a focus on eliminating racist harm, sharing knowledge, greater transparency, and upskilling the whole organisation in order to ensure that every member of the University community feels safe, welcome and has a sense of belonging.
The provision of additional resource to support Equality, Diversity and Inclusion (EDI) work at Loughborough and specifically our race equity work has been approved in order to facilitate this work. Plans will evolve as roll-out of the actions take place but any changes will take place with full discussion with our University community.
Co-Chairs of the Race Equality Action Group James Esson and Richard Taylor commented:
We would like to express our sincere thanks to all the colleagues and students involved in the REC process. In particular, we would like to acknowledge staff members from the Black, Asian and Minority Ethnic Staff Network, and students from the Afro-Caribbean Society and the Ethnic Minorities Network.