Staff
Dr Yi Liu BEng, MEng, PhD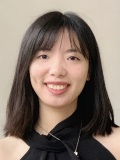 Lecturer in Polymer Processing
+44 (0)1509 223156
S2.048
Background:
Dr. Yi Liu obtained her MEng and PhD at Queen Mary University of London, focusing on smart multifunctional nanocomposites and flexible self-regulating heating devices. Prior to her current lectureship, Yi was a research associate in the Department of Materials at Imperial College London, working at Shell-Imperial Advanced Interfacial Materials Science (AIMS) Centre, with the research focus on the degradation of polymers, specifically refers to the physical interactions with service fluid in oil and gas industry.
Dr. Yi Liu joined Loughborough University in 2020, as a Lecturer in Polymer Processing. Her research expertise is in multifunctional polymer composites. The multifunctionality of conductive polymer composites she worked on includes: (i) strain, damage and degradation sensing; (ii) thermoresponsive resistive heating; (iii) EMI shielding etc. Her work has been carried out in collaboration with industrial and academic partners through various EU and UK collaborative projects.
Qualifications:
BEng (Beihang University, China)
MEng (Queen Mary University of London, UK)
PhD (Queen Mary University of London, UK)
Current teaching responsibilities:
MPA220 – Introductory Materials Science and Processing
MPP566 – Advanced Processing of Polymers
Current administrative responsibilities:
Outline of main research interests:
Yi Liu's research focus is on the Processing-Structure-Property relationship in polymeric materials. Her current research areas include:
Conductive Polymer Composites (PTC Composites)

Flexible self-regulating heating devices.
Safety batteries with PTC layer.
Switch type temperature sensor.
Strain sensor and degradation sensor.
Energy efficient sustainable manufacturing of composite materials.
Hierarchical Composites

on-line SHM and sensing based on electrical methods.
self-healing and easy repairing with preserved original properties.
Multi-scale mechanical reinforcement, i.e. toughening and out-of-plane properties.
Polymers for Energy

Flexible and stretchable self-powered multi-sensor.
Ferroelectric polymer.
Liu, Y., Asare, E., Porwal, H., Barbieri, E., Goutianos, S., Evans, J., Newton, M., Busfield, J.J.C., Peijs, T., Zhang, H., Bilotti, E. (2020) The effect of conductive network on positive temperature coefficient behaviour in conductive polymer composites. Composites Part A: Applied Science and Manufacturing, 139. 10.1016/j.compositesa.2020.106074
Liu, Y., van Vliet, T., Tao, Y., Busfield, J.J.C., Peijs, T., Bilotti, E., Zhang, H. (2020) Sustainable and self-regulating out-of-oven manufacturing of FRPs with integrated multifunctional capabilities. Composites Science and Technology, 190. 10.1016/j.compscitech.2020.108032
Kernin, A., Wan, K., Liu, Y., Shi, X., Kong, J., Bilotti, E., Peijs, T., Zhang, H. (2019) The effect of graphene network formation on the electrical, mechanical, and multifunctional properties of graphene/epoxy nanocomposites. Composites Science and Technology, 169. 10.1016/j.compscitech.2018.10.036
Li, Y., Zhang, H., Liu, Y., Wang, H., Huang, Z., Peijs, T., Bilotti, E. (2018) Synergistic effects of spray-coated hybrid carbon nanoparticles for enhanced electrical and thermal surface conductivity of CFRP laminates. Composites Part A: Applied Science and Manufacturing, 105. 10.1016/j.compositesa.2017.10.032
Liu, Y., Zhang, H., Porwal, H., Tu, W., Evans, J., Newton, M., Busfield, J.J.C., Peijs, T., Bilotti, E. (2017) Universal Control on Pyroresistive Behavior of Flexible Self-Regulating Heating Devices. Advanced Functional Materials, 27(39). 10.1002/adfm.201702253
Zhang, H., Liu, Y., Huo, S., Briscoe, J., Tu, W., Picot, O.T., Rezai, A., Bilotti, E., Peijs, T. (2017) Filtration effects of graphene nanoplatelets in resin infusion processes: Problems and possible solutions. Composites Science and Technology, 139. 10.1016/j.compscitech.2016.12.020
Zhang, H., Liu, Y., Kuwata, M., Bilotti, E., Peijs, T. (2015) Improved fracture toughness and integrated damage sensing capability by spray coated CNTs on carbon fibre prepreg. Composites Part A: Applied Science and Manufacturing, 70. 10.1016/j.compositesa.2014.11.029
External Collaborators:
Imperial College London
Queen Mary University of London
Nanoforce Technology Ltd.
LMK Thermosafe Ltd.
University of Warwick
Queen's University Belfast
London Centre for Nanotechnology
Eindhoven University of Technology
Suzhou Institute of Nano-Tech and Nano-Bionics (SINANO), CAS
China University of Geosciences
Beihang University