Staff
Dr Noreen Thomas MA, PhD, FIMMM, C.Eng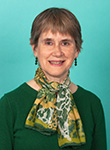 Visiting Fellow in Polymer Science & Technology
Background:
Noreen is a Visiting Fellow in Polymer Science and Technology at the Department of Materials. She retired as Reader in Polymer Science in September 2019. From 2009 she was Programme Director of the MSc Programmes in the Department of Materials. She taught polymer science, industrial polymers, melt rheology and mechanical properties at masters' level, and general materials' properties (metals, polymers and ceramics) and materials selection at undergraduate level. Currently, her research is focussed on biodegradable and bio-derived polymers, nanotechnology and nano-fibres. Before joining Loughborough as a lecturer in 2003, she worked in applications development and technical service for a PVC producer, European Vinyls Corporation (now Ineos Chlor Vinyls) and prior to that as a research scientist for ICI. She has an MA and PhD from Cambridge University and was a Junior Research Fellow at Wolfson College, Oxford.
Qualifications:
MA, Materials Science, Cambridge
PhD, Cambridge
FIMMM, C.Eng
Outline of main research interests:
Biopolymers and Biodegradable polymers
Polymer nanocomposites
Biodegradable Polymer Blends
Electrospinning
Water permeability through polymer films
Recycling of polymers - particularly packaging & building products
Weathering and degradation of polymers
PVC applications - foams, composites, novel additives
Grants and contracts:
CASE Award for New Academics, EPSRC, 2005-2007
Improving Sustainability of PVC through Novel Materials, Processes and Life Cycle Methodologies, EPSRC, 2005-2009
Assessing the Environmental Impact of Oxy-Degradable Plastics across their Life Cycle, DEFRA, 2009-2010
Novel Biopolymers for Packaging Applications, PepsiCo, 2009-2012
Advanced Surface Treated, Mineral Fillers for Plastics and Paint, TSB, EPSRC, Viaton Industries, 2011-2013
The Impact of Aqueous Phase Degradation Products from PVC Additives on Radioactive Waste Management, AMEC Nuclear Ltd. 2013-2016
Recent publications:
C Huang and N L Thomas, Fabrication of porous fibers via electrospinning: strategies and applications, Polymer Reviews, 2019, DOI: 10.1080/15583724.2019.1688830.
Y Deng, C Yu, P Wongwiwattana, N L Thomas, Optimising Ductility of Poly (Lactic Acid)/Poly (Butylene Adipate-co-Terephthalate) Blends Through Co-continuous Phase Morphology, Journal of Polymers and the Environment, 2018, 26, 3802–3816.
C Huang and N L Thomas, Fabricating porous poly(lactic acid) fibres via electrospinning, European Polymer Journal, 2018, 99, 464 - 476.
Y Dong, N L Thomas, X Lu, Electrospun dual-layer mats with covalently bonded ZnO nanoparticles for moisture wicking and antibacterial textiles, Materials & Design, 2017, 134, 54-63.
W Zhang, C Huang, O Kusmartseva, N L Thomas, E Mele, Electrospinning of polylactic acid fibres containing tea tree and manuka oil, Reactive and Functional Polymers, 2017, 117, 106-111.
B Tan and N L Thomas, Tortuosity model to predict the combined effects of crystallinity and nano-sized clay mineral on the water vapour barrier properties of polylactic acid,Applied Clay Science, 2017, 141, 46-54.
B Tan and N L Thomas, A review of the water barrier properties of polymer/clay and polymer/graphene nanocomposites, Journal of Membrane Science, 2016,514, 595–612.
R Casasola, N L Thomas, and S Georgiadou, Electrospinning of poly(lactic acid): Theoretical approach for the solvent selection to produce defect-free nanofibers. J. Poly. Sci, Part B, Polymer Physics, 2016, 54, 1483–1498.
Y Dong, J Kong, C Mua, C Zhao, N L Thomas, X Lu, Materials Design towards Sport Textiles with low Friction and Moisture-wicking Dual Functions, Materials and Design, 2015, 88, 82–87.
Y Deng and N L Thomas, Blending Poly(butylene succinate) with Poly(lactic acid): Ductility and Phase Inversion Effects, European Polymer Journal, 2015, 71, 534 – 546.
External Collaborators:
EPSRC
DEFRA
Ineos Chlor Vinyls
Solvay Advanced Functional Fillers
Huntsman Tioxide
The Co-op Group
PepsiCo
A & O FilmPac
Manchester University (CEAS)
PQ Corporation
Roles and appointments:
Assessor DTI Technology Programme
External PhD Examiner (Swansea, Manchester & Brunel)
External Examiner for the MSc in Advanced Materials Science and Engineering at Imperial College, London.