Staff
Dr Noreen Thomas MA, PhD, FIMMM, C.Eng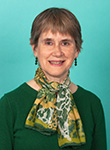 Visiting Fellow in Materials
Background:
Noreen graduated with 1st class honours degree in Materials Science from Newnham College, Cambridge. She also studied for PhD at the Department of Materials at Cambridge University on the subject of non-Fickian (Case II) diffusion in glassy polymers. Noreen then joined ICI and was immediately seconded to Oxford University to carry out post-doctoral research at the Department of Materials on hydration mechanisms of Portland cement. She obtained junior research fellowship at Wolfson College, Oxford. She then moved to Runcorn, Cheshire to work at ICI's Technical Centre at The Heath and carried out research on bio-inorganic materials, corrosion inhibitors and novel paint coatings. In 1990 Noreen joined the research department of European Vinyls Corporation (now INEOS ChlorVinyls) as a project leader, developing new applications for PVC and providing technical support for customers. She joined the Department of Materials in 2003 as a Lecturer in Polymer Technology, became Senior Lecturer in 2006 and became Reader in Polymer Science and Technology in 2013. Following this, Noreen became a Visiting Fellow in 2019.
Qualifications:
MA, Materials Science, Cambridge
PhD, Cambridge
FIMMM, C.Eng
Outline of main research interests:
Biopolymers and Biodegradable polymers
Polymer nanocomposites
Biodegradable Polymer Blends
Electrospinning
Water permeability through polymer films
Recycling of polymers - particularly packaging & building products
Weathering and degradation of polymers
PVC applications - foams, composites, novel additives
Grants and contracts:
CASE Award for New Academics, EPSRC, 2005-2007
Improving Sustainability of PVC through Novel Materials, Processes and Life Cycle Methodologies, EPSRC, 2005-2009
Assessing the Environmental Impact of Oxy-Degradable Plastics across their Life Cycle, DEFRA, 2009-2010
Novel Biopolymers for Packaging Applications, PepsiCo, 2009-2012
Advanced Surface Treated, Mineral Fillers for Plastics and Paint, TSB, EPSRC, Viaton Industries, 2011-2013
The Impact of Aqueous Phase Degradation Products from PVC Additives on Radioactive Waste Management, AMEC Nuclear Ltd. 2013-2016
Recent publications:
Y Dong, N L Thomas, X Lu, Electrospun dual-layer mats with covalently bonded ZnO nanoparticles for moisture wicking and antibacterial textiles, Materials & Design, 2017, 134, 54-63.
W Zhang, C Huang, O Kusmartseva, N L Thomas, E Mele, Electrospinning of polylactic acid fibres containing tea tree and manuka oil, Reactive and Functional Polymers, 2017, 117, 106-111.
B Tan and N L Thomas, Tortuosity model to predict the combined effects of crystallinity and nano-sized clay mineral on the water vapour barrier properties of polylactic acid, Applied Clay Science, 2017, 141, 46-54.
B Tan and N L Thomas, A review of the water barrier properties of polymer/clay and polymer/graphene nanocomposites, Journal of Membrane Science, 2016,514, 595–612.
R Casasola, N L Thomas, and S Georgiadou, Electrospinning of poly(lactic acid): Theoretical approach for the solvent selection to produce defect-free nanofibers. J. Poly. Sci, Part B, Polymer Physics, 2016, 54, 1483–1498.
R. Othman, G. T. Vladisavljević, N. L. Thomas, & Z. K. Nagy, Fabrication of composite poly(d, l-lactide)/montmorillonite nanoparticles for controlled delivery of acetaminophen by solvent-displacement method using glass capillary microfluidics. Colloids and Surfaces B: Biointerfaces, 2016, 141, 187-195.Y Dong, J Kong, C Mua, C Zhao, N L Thomas, X Lu, Materials Design towards Sport Textiles with low Friction and Moisture-wicking Dual Functions, Materials and Design, 2015, 88, 82–87.
Y Deng and N L Thomas, Blending Poly(butylene succinate) with Poly(lactic acid): Ductility and Phase Inversion Effects, European Polymer Journal, 2015, 71, 534 – 546.
L M Barge, S S S Cardoso, J H E Cartwright, G J T Cooper, L Cronin, A De Wit, I J Doloboff, B Escribano, R E Goldstein, F Haudin, D E H Jones, A L Mackay, J Maselko, J J Pagano, J Pantaleone, M J Russell, C I Sainz-Díaz, O Steinbock, D A Stone,Y Tanimoto and N L Thomas, From Chemical Gardens to Chemobrionics, Chem Rev, 2015, 115, 8652−8703.
External Collaborators:
EPSRC
DEFRA
Ineos Chlor Vinyls
Solvay Advanced Functional Fillers
Huntsman Tioxide
The Co-op Group
PepsiCo
A & O FilmPac
Manchester University (CEAS)
PQ Corporation
Roles and appointments:
Assessor DTI Technology Programme
External PhD Examiner (Swansea, Manchester & Brunel)
External Examiner for the MSc in Advanced Materials Science and Engineering at Imperial College, London.