9 Aug 2023
Final-year students from AACME come together for the last time to celebrate their successes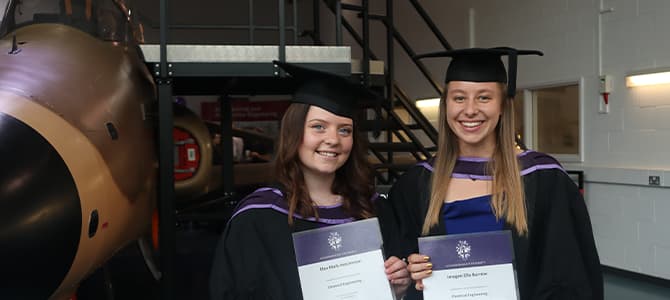 Last month we brought together our final-year students across the School for the last time to celebrate their hard work, dedication, and exceptional achievements.
The ceremony showcased the remarkable progress made across these diverse engineering fields, highlighting the groundbreaking research, innovative projects, and outstanding contributions made by the students.
Some awards and award winners include:
Imogen Burrow, Annaliese Hambleton, Lucas Hateley, Malti Hutchinson, Michael Leonard, Leo Kirkpatrick Baird, Shannon Rainer and James Smith for achieving the highest marks in their projects or overall course.
Asa Confrey, Anton Fenyk, Annaliese Hambleton, Ellen Hori, Michael Leonard, Tehraym Parmar, Henry Pipes and Suraj Sapukotanage for awards surrounding best performances on projects and literature reviews.
Annaliese Hambleton, Tara Nefdt, Vaibhav Shankar and Rachael Shodeinde for making positive contributions to the School and demonstrating passion for their subjects.
The event not only recognized the students' academic accomplishments but also acknowledged their ability to tackle real-world problems, foster collaboration, and spark advancements in their fields. It was a day that celebrated the future leaders of engineering, inspiring everyone present to reach for the stars and strive for excellence in their endeavours.
Congratulations to you all, we can't wait to see the impact you will make as the future generation of engineers!