3 Aug 2022
Loughborough University and Caterpillar reinforce strategic collaboration to accelerate innovative technologies for a reduced carbon future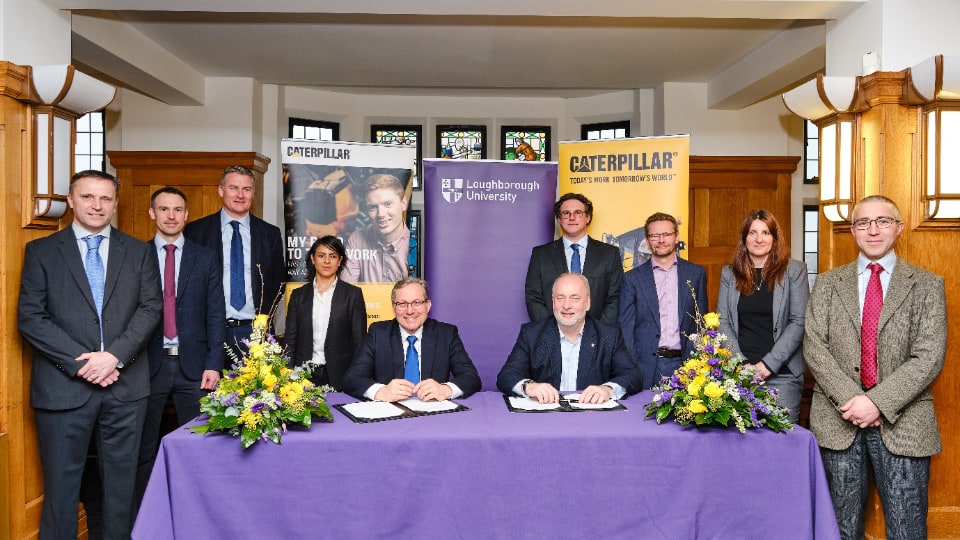 We are pleased to announce we are continuing our strategic collaboration with our industry network, Caterpillar, aiming to accelerate innovative technologies within the off-highway powertrain sector.
The collaboration began over 25 years ago and led to the establishment of the Innovation Research Centre (IRC) with world-class facilities and expertise in the field of engines, engine sub-systems and hybrid powertrain systems development.
Over the years the IRC's many projects spanning control, thermal management and more recently hybridisation, materials and data analytics and digestion have earned international academic respect, delivering commercial value as well as far-reaching economic and societal impact.
Our collaboration with Caterpillar is having a profound impact on the provision of industrial skills, providing invaluable professional development to all levels of engineers in the company through bespoke courses, as well as recruiting more UK-based graduates from Loughborough than any other University.
Adrian Spence, Professor in Thermal-fluid Mechanics at Loughborough University and Director of the Innovation and Research Centre comments "Loughborough and Caterpillar are committed to accelerating solutions for a more sustainable future and enabling an inclusive and diverse workforce. Through the IRC, we look forward to another five years of pushing boundaries in research and innovation to keep pace with the rapidly changing heavy-duty vehicles sector."
David Goldspink, Caterpillar Vice President and General Manager added: "It is rare that we are able to step back and appreciate the excellent work that the Loughborough and Caterpillar teams have achieved. We look forward to working together to ensure the synergy between great technical research and future talent continues long into the future."