Young carers
It is estimated that there are over 314,000 young adult carers in England and Wales, equating to 1 in 20 young people aged 16- 25. There are also a significant number of students aged under 16 who also have caring roles within their home environment, bringing the total estimate to over 700,000.
At Loughborough University we recognise the additional responsibilities and challenges students who are young carers face. We work across multiple departments to ensure our young adult carers are supported to enjoy the best possible student experience. This includes encouraging young carers to believe in their own potential, providing flexibility wherever possible for academic deadlines and helping them to develop a timetable to manage all of their own commitments.
We also work with a number of local and national charities including Barnardo's, the Learning and Work institute, and the Carers Trust, who have a wealth of information on their webpages to support young adult carers progress to university.
We encourage young adult carers to believe in their own potential, with our support measures including flexible student timetables, reserved parking on campus, and tailored support through our dedicated Student Services team to ensure these students thrive.
For organisations and schools supporting young adult carers, we offer a range of on campus activities designed to show what life at Loughborough is like, please see our Schools and College Liaison activity guide for more information.
Izzy is currently studying Drama and English at Loughborough. Find out more about her experience of being a young carer and a student in the short film below.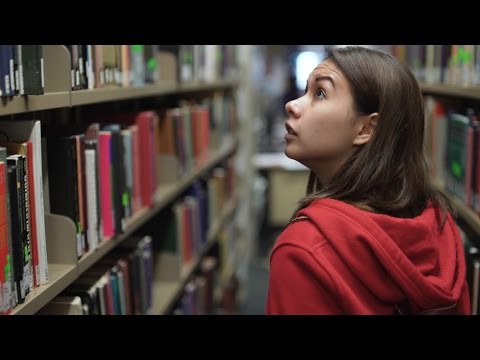 Drama Student and young carer, Izzy, from Loughborough University shares her experience of Higher Education.
Additional information for young carers
Application support
Supporting a student's application to Higher Education can be a complicated and lengthy process. Our School and College Liaison team have developed a range of free resources that can be used within your own institution to help structure this process, including a range of short videos and supporting handouts.
In addition to this we also recognise the key role that parents/carers can play in the decision making process and that for some families this can be a daunting prospect. To help facilitate these conversations we have created a downloadable guide for families. If you would like to request a printed copy please contact us.
Once a student has made a successful application to Loughborough University and accepted their place via UCAS track, we will supply them with a What's next guide. This outlines the remaining key dates associated with UCAS, details on how to choose and apply for accommodation and information on student finance packages available. It also includes a range of contact details for staff within the University who can answer any queries that a student may have in the lead up to the start of their studies with us.
Events at Loughborough University
Explore more: Young carer celebration event – On July 4th , 2018, Loughborough University will be hosting an event in recognition of the commitment of young carers across the country. Throughout the course of the day we will be providing a selection of fun activities and workshops for students to choose from which will include access to our sports facilities, Students' Union and a welcome from our Vice Chancellor. We want to celebrate the achievements of the students and give them an opportunity to relax and enjoy a day away from their responsibilities. If you would like more information about this event please contact WP@lboro.ac.uk
Young carer respite support - We recognise the importance respite support can play for a young carer, allowing them to spend time with their peers and to provide short, but welcome relief from their daily responsibilities.
Our School and College Liaison team have devised a number of activities that can be delivered within your own institution/organisation* to complement existing programmes of support. These activities can help develop a number of skills such as team work, communication and leadership; provide advice and guidance about Higher Education options and introduce them to areas of academic study that they may not previously been aware of. If you would like to discuss these opportunities in further detail please contact WP@lboro.ac.uk
*Please note we can support institutions/groups based more than 50 miles from Loughborough University through a range of activities designed to be delivered by your own staff. All activity materials and instructions are provided by Loughborough University.
Inspiring Minds - Throughout the course of the academic year the School and College Liaison team run the Inspiring Minds event programme. This is a series of one day taster days which allow students to experience undergraduate learning first hand through a range of taster lectures, workshops and activities. Lead by our academic staff we want to give students the opportunity to explore potential degree courses associated with their favourite subject areas and to understand the potential careers that they can lead to. To find out more about the event contents or to book a student onto one of these free one day courses please click here.
Support services at Loughborough University
Loughborough University recognises that our campus is made up of diverse students, each with their own individual backgrounds and needs. In response to this our Student Services team offer a varied package of support which is easily accessible for all. Provision is divided up into key areas to allow students to easily contact the team who will be best placed to help them.
Counselling - All students are entitled to an individual, confidential assessment which will allow our team to determine the most appropriate way to support their specific circumstances.
Mental health support - Once evidence of a mental health issue has been provided students will be invited to attend an individual, confidential assessment to agree any adjustment that might be required. This may include additional time during exams, extensions on course work and helping a student to access additional funding through the Disabled Students Allowance.
Study skills support - Students can access this service to gain additional study skills support. This can include screening for specific learning differences; educational psychology reports and one to one study support when required.
Maths support - The Mathematics Learning Support Centre (MLSC) provides award-winning mathematics and statistics support. Our services are available to every Loughborough student, and last year we had over 5,400 visits by students from 19 departments.
We operate two well-resourced Centres. Students are welcome to use these as study spaces, and to use of the one-to-one drop-in help offered by experienced mathematics lecturers. Workshops are available on employers' numeracy tests, using calculators, and mathematical computing. The Eureka Centre offers one-to-one help for students who lack confidence with mathematics or statistics
Practical and academic support - Students can access this service to gain additional support in developing their academic skills in areas such as note taking and revision. When required students can also ask for support in developing their day to day, living tasks.
Careers advice and guidance - The Careers Network offer a daily drop in service (no need to book) for any student who wishes to speak to a consultant about their future.
Students can book sessions to gain support with mock interviews, job applications/CV writing and compiling presentations for interviews.
Disability mentoring - For those in receipt of the Disabled Students Allowance or with evidence of a disability, this mentoring service provides one to one support to optimise social and academic aspects of the university experience. It ensures that all students can make the most of the opportunities being offered to them.
Confide - A service that allows students to report any instances of bullying or harassment that they may have experienced.
Warden service - For some students the thought of moving away from home and settling in to accommodation in an unfamiliar location away from family and friends can be a daunting prospect. All of Loughborough University's halls of residence are supported by a live in Warden and their team, who provide 24 hour support in the case of emergency and general support to ease the transition of moving away from home. They aim to secure an enjoyable living environment for all students and any concerns or problems that are shared with a member of the warden team are treated in confidence.
Leaving care bursary: Care leavers are usually considered as independent students for the purpose of student finance and are often eligible for the highest levels of bursary and scholarship support.
In terms of the Loughborough Scholarship Programme, care leavers are entitled to an enhanced package of support. This includes an additional £1,500 bursary and £3,000 tuition fee waiver in each year of a standard three-year degree programme. This means could equate to up to £6,500 support a year.
This bursary is only available to those students who are under the age of 25 when registering for the start of their undergraduate degree course.
A complete overview of these services can be viewed here.
Support from Loughborough Students' Union
Loughborough University's award winning Students' Union offers over 300 societies and sports teams, fundraising initiatives and volunteering opportunities. The variety on offer represents the diverse nature of our students' interests and allows cohorts of individual with similar passions to come together. If the Students' Union does not currently provide a society or sports team to reflect a particular area/activity, they have a process in place to help get one set up.
Nightline - An out of hours, confidential and anonymous listening service that provides support for students by telephone and email. Staffed by our current students this term time service allows those with concerns to talk to one of their own peers about the changes and challenges that they may be facing.
Health and wellbeing - As part of our commitment to ensuring that our students have healthy lifestyles Loughborough Students Union run regular campaigns encouraging students to review their eating, sleeping and exercise habits.
We also run a number of events focused on mindfulness, relaxation and methods for beating stress (which includes the opportunity to pet puppies!) to help our students cope with the pressures of academic study.
Better decisions - This campaign aims to encourage students to make better decisions, especially with regards to knowing their drinking limits and the decisions that they make once drunk. Work focuses on aspects of student safety, for example, the University operates a free night bus from the Union to their home to ensure students get home safely after a night out. Sexual health is promoted and the Union offer free contraceptives and confidential screening for STIs.
Kickstart a campaign - If our students are passionate about a cause that isn't currently represented by the Union then they are invited to launch their own via the Kickstart platform. Previous examples include campaigns looking at eating a balanced diet on a tight budget, eradicating racism and breaking down gender stereotypes.
National support services
Young carers awareness day (January) and awareness week (June) are annual national events to recognise the 700,000+ young carers in the UK. Schools/colleges are encouraged to ensure that they have the right support in place for this cohort and that they are aware and know how to access it. For more information on resources available please click here.
The Learning and Work Institutehave a range of printed and downloadable resources to help identify young carers in your institution and raise awareness of the support available to them. The Really Useful Book of Learning and Earning (RUBLE) is a particularly useful resource for young carers and offers advice on money management, legal advice and balancing caring responsibilities with day to day life.
The Carers Trust provides a variety of online support for young carers relating to all aspects of their daily lives. This is a valuable source of information for those students who are trying to ascertain the services that they can access to aid them with their caring responsibilities.
A range of local services may well be in place to help you support young carers within your own institution. For example, in Leicestershire support is available through VASL, Barnardos and the Leicestershire and Rutland Age UK. Making contact with representatives in your own local authority will help you identify the services operating in that area.
Student Finance England have created a range of short films to outline the support available to those wishing to study a degree level course. As part of this suite there are those that focus on funding available for mature students, those with dependents and those wishing to apply for the Disabled Students Allowance. The films clearly outline the kind of funds available and processes required for applying for them.