AMRG Group
Dr Ian Campbell PhD MSc BEng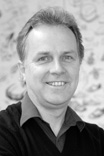 Reader in Computer Aided Product Design
+44 (0)1509 228312
LDS1.11
Academic/Professional Background:
2007 - present Reader in Computer Aided Product Design, Design School, Loughborough University, UK.
2000 – 2007 Senior Lecturer, Loughborough University, UK.
1993 – 2000 Lecturer, University of Nottingham, UK.
1998 PhD in Manufacturing Engineering, University of Nottingham, UK.
1994 MSc in Engineering by Research, University of Warwick, UK.
1985 BSc Special Engineering Programme, Brunel University, UK.
Summary/Biography:
After graduating from Brunel University in 1985 with a BSc in the Special Engineering Programme, Dr Campbell worked as a design engineer, first in Ford Motor Company, and later in the Rover Group. Most of his design experience in both companies was with internal combustion engines. In 1989, he was appointed as a Senior Teaching Fellow for CAD/CAM at the University of Warwick. This gave him the opportunity to raise his awareness of CAD/CAM technology and practices. He remained in this position for four years, during which time, he undertook a part-time MSc degree by research. In 1993, he obtained a lectureship at the University of Nottingham where he was a member of the Rapid Prototyping Research Group. His principle area of research was the integration of rapid prototyping into the design process and he gained his PhD in 1998. He moved to Loughborough University in October 2000. His publications include four edited books, thirty academic journal articles and over seventy other research outputs.Funding sources for his research have included EPSRC, the Royal Society, EC Framework V, the Commonwealth Scholarship Commission and the National Research Foundation of South Africa.
Research Interests:
Design for Additive Manufacturing
Consumer Design
Additive Manufacturing and Customisation
Digital Archaeological Restoration
Publications
Research Projects:
Digital Archaeological Restoration Decision Support Tool - £60,000 – Enterprise Projects Group
Additive Manufacturing in the European Research Area (AdM-ERA) – 90,000 Euro – European Council