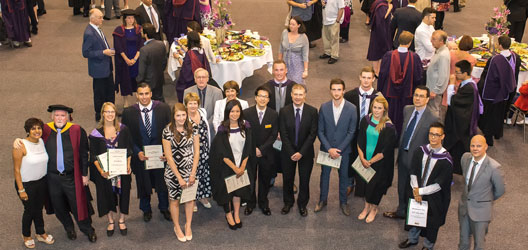 Companies reward student engineering excellence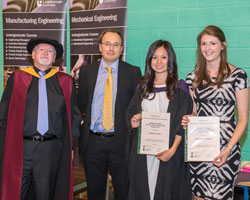 Increased recognition and support from business means high-achieving students at Loughborough University's Wolfson School of Mechanical and Manufacturing Engineering gained additional prizes at this year's summer graduation ceremonies.
The prizes are an important feature of the School's commitment to recognising academic excellence in engineering. They are awarded to each year's best students for individual and group projects, overall academic merit for a specific year or the entire course, and outstanding performance while on an industrial placement.
The creation of new prizes this year is testament to the School of Mechanical and Manufacturing Engineering's strong regional, national and international reputation among leading businesses for the quality of its students and graduates and the relevance to industry of its degree courses.
In addition to existing external prize supporters including adidas, JCB Excavators Ltd, the Institution of Mechanical Engineers, and the Institution of Engineering and Technology, the School and the University's Development and Alumni Relations Office (DARO) recently helped bring in new backers.
"The Wolfson School of Mechanical and Manufacturing Engineering at Loughborough University has celebrated the academic and other achievements of its students for many years," said the School's Dean, Professor Robert Parkin.
"Recently, however, the School made a concerted effort to re-invigorate its summer graduation prizes. This year we have been pleased to welcome our friends at Intelligent Energy and The Manufacturing Technology Centre (MTC) to the list of supporters. We also continue to enjoy support from a number of charitable organisations and professional bodies.
"In addition to the substantial cash contributions that have been generously made by our industrial supporters, their recognition of our graduates' efforts is extremely valuable and confirms the quality and relevance of the education that the School offers."
Both new supporters explained their decisions to give financial backing to these prizes.
"The success of manufacturing in the UK – and ultimately the recovery of the UK economy – relies upon being able to recruit young people with the desired skill sets together with a good work ethic," said Leigh Carnes, Operations Director of The Manufacturing Technology Centre.
"Many professions are experiencing skills shortages, engineering in particular. We believe it is important to support young people who demonstrate significant talent and commitment in these vital disciplines which underpin the UK manufacturing sector.
"The Manufacturing Technology Centre is proud to be associated with Loughborough University and is keen to support its engineering students, who are vital to the recovery of the manufacturing sector in the UK."
"Intelligent Energy are very proud and honoured to support these awards, due to the close links we have with the University," said Dr Paul Adcock, Director of Research and Technology at Intelligent Energy. "The foundations of our business today were built out of the University and we feel it's very important to be able to show our support and continued commitment."
Some existing sponsors have further increased their commitment to the Prizes this year.
Dr Tim Lucas, Engineering Director at adidas, said: "adidas is pleased to be able to support the Wolfson School summer graduation prizes that acknowledge students' academic achievements; we do this as Sports Technology is a vital part of our business.
"We value Loughborough University as a partner and recognise the importance of its role in developing high quality graduates, several of whom work within the adidas-Group brands today.
"While adidas and Loughborough have a long standing relationship based on quality research in the field of sports technology, another important aspect is talent identification for industrial career opportunities.
"To encourage the next generation of talents, we recently increased our support for the Sports Technology Overall Merit and Project Prizes. This increase is in recognition of the long-standing relationship between adidas and the Sports Technology Institute and the importance we place on connecting ourselves directly to top emerging individuals in the discipline of sports technology."
These Prizes bring significant benefits to the hard-working students receiving them. They encourage continued effort and can help guide students and graduates in deciding what direction their future careers might take.
One prize-winner, Rebecca Grant (Product Design Engineering (PDE) Part C), said: "I was very surprised to receive the Intelligent Energy PDE Project Prize for the best individual project – it still hasn't sunk in!
"It means all the hard work has paid off and this has given me confidence to pursue metrology in my final year research and as a future career path. Thank you to all who helped and supported me through the project!"
Another winner, Reuben Bligh (Sports Technology BSc, Part C), said: "I am elated to have received the Adidas Sports Technology Merit Prize as it reflects the hard work, dedication and effort I have put into the past four years of my degree programme.
"Achieving the best overall grade in Sports Technology is a testament not only to my individual efforts, but also to all of the people supporting me along the way including friends, family and members of staff throughout the University."
For more information about prizes at the Wolfson School of Mechanical and Manufacturing Engineering at Loughborough University and last year's winners, please see: www.lboro.ac.uk/departments/mechman/undergraduate/supportfromtheschool/ugprizes