Press releases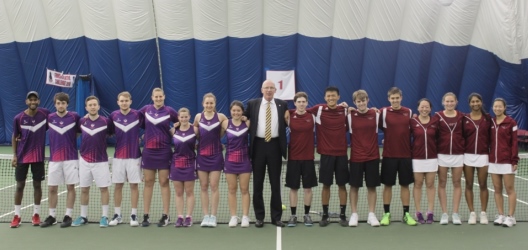 MIT host Loughborough University in Trans-Atlantic sport challenge and academic exchange
Loughborough University and the Massachusetts Institute of Technology have competed in the latest Trans-Atlantic sporting challenge - a three day tennis match taking place on MIT's iconic campus in Cambridge, Boston.
Following on from the success of last year's Women's Lacrosse match played at the University Stadium, Loughborough Tennis retained the Challenge Trophy for the visitors with a thrilling 13-3 victory.
The two teams competed across three days in men's, women's, mixed doubles matches, playing in total over 10 hours of outstanding match-play tennis Current student Ryan Lambert shared his thoughts by saying:
"I think the whole experience has been brilliant. Winning the tennis and beating MIT is obviously one highlight, but then you've got the experience of Boston and the hospitality that we've enjoyed, which was brilliant."
The focus of the Trans-Atlantic challenge was not just about sport, but also to further develop the ongoing research and academic relationship between the two Universities.
Dr Andy Harland and Dr Sean Mitchell from the University's Sports Technology Institute presented at a Symposium, convened by MIT's Professor Peko Hosoi as part of the exchange, under the umbrella of their Sports Technology Education initiative – STE@M.
The Symposium explored cutting edge technology in tennis and future research direction in this area.
At the same event, Gihan Amarasiriwardena, founder of performance garment company, Ministry of Supply, spoke about his time as an MIT-Loughborough exchange student.
Gihan spent two summers at Loughborough, whilst studying at MIT, and explained how his experience at both institutions had been instrumental in providing the skills to form and grow his business.
Professor David Williams, Dr Alex Lyness and PhD student Becky Grant, from the Centre for Biological Engineering within the Wolfson School met with engineers, researchers and entrepreneurs in bio-technology at the Langer Laboratory within MIT's Koch Institute for Integrative Cancer Research and the Bioinstrumentation Laboratory in the Department of Mechanical Engineering.
The 'Med Tech' delegation represented Loughborough University's capabilities in regenerative medicine, bio-manufacturing, drug delivery and rehabilitation. The trip sought to both maintain existing relationships and establish future opportunities to collaborate in this exciting and growing area of research.
Dr Alex Lyness from the Centre for Biological Engineering said:
"The trip was very productive with all of us actively building on our relationships across multiple points of contact with engineers at MIT.
"The exposure to the learning culture at MIT and many of the contacts made or renewed during this visit stand us in good stead and provide opportunities for future collaboration."
Additional discussions were held with the Martin Trust Centre for Entrepreneurship - an area of mutual interest between the two institutions, particularly with respect to opportunities afforded by Loughborough University London.
Staff and student exchanges between the two institutions are now well established. The value of these exchanges was recognised by all involved and a commitment to build upon what has been achieved to date was made.
Professor Mike Caine, Dean, Loughborough University London and former Visiting Professor at MIT felt the trip had been a great success:
"The Trans-Atlantic sports challenge and academic exchange provide an opportunity for established and prospective collaborations to emerge and be sustained across Loughborough University and MIT - two 'like-minded' institutions with a shared commitment to research excellence and a life-shaping student experience.
"It's also a wonderful opportunity to showcase the best of University sport and to share and discuss academic matters of mutual interest."
Notes for editors
Press release reference number: PR 16/52
Loughborough University is equipped with a live in-house broadcast unit via the Globelynx network. To arrange an interview with one of our experts please contact the press office on 01509 223491. Bookings can be made online via www.globelynx.com
Loughborough is one of the country's leading universities, with an international reputation for research that matters, excellence in teaching, strong links with industry, and unrivalled achievement in sport and its underpinning academic disciplines.

It has been awarded five stars in the independent QS Stars university rating scheme, putting it among the best universities in the world, and was named the best in the country for its student experience in the 2016 THE Student Experience Survey. It was also named University of the Year in the In the What Uni Student Choice Awards 2015 and Sports University of the Year 2013-14 by The Times and Sunday Times.
Loughborough is consistently ranked in the top twenty of UK universities in the Times Higher Education's 'table of tables' and is in the top 10 in England for research intensity. In recognition of its contribution to the sector, Loughborough has been awarded seven Queen's Anniversary Prizes.

In September 2015 the University opened an additional academic campus in London's new innovation quarter. Loughborough University London, based on the Queen Elizabeth Olympic Park, offers postgraduate and executive-level education, as well as research and enterprise opportunities.