Our staff
Dr Keme Ifie BSc (Accounting) Obafemi Awolowo University, Nigeria. MA (Business Management), Northumbria University, UK. PhD (Marketing) Loughborough University, UK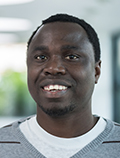 Lecturer in Marketing
+44 (0)1509 228364
BE.2.20 (Sir Richard Morris Building)
Before taking up a Lectureship in Marketing at Loughborough University, Dr Ifie worked as a Lecturer in Marketing at the School of Management, Swansea University. Prior to embarking on postgraduate studies and an academic career he worked with Citibank.
He regularly presents his latest research findings at leading conferences and has published in the Journal of Marketing Management, Service Industries Journal and Journal of Consumer and Retail Services. He is a regular reviewer for Service Industries Journal and the Journal of Consumer and Retail Services
Keme's research interests include services marketing and management as well as sales management. The bulk of his research focuses on the contribution of frontline employees to fulfilling the marketing concept and improving firm performance.
His current projects address the issue of idea generation by frontline employees, employee word-of mouth and the impact of customer satisfaction on employee satisfaction.
Ifie, K. (2014). Customer orientation of frontline employees and organizational commitment. Service Industries Journal, 34, No. 8, 699–714(8), 699-714. doi:10.1080/02642069.2014.886197
Simintiras, A. C., Ifie, K., Watkins, A., & Georgakas, K. (2013). Antecedents of adaptive selling among retail salespeople: A multilevel analysis. Journal of Retailing and Consumer Services, 20(4), 419-428. doi:10.1016/j.jretconser.2013.04.004
Simintiras, A. C., Watkins, A. Ifie, K., &Georgakas, K (2012). Individual and contextual influences on the affective commitment of retail salespeople. Journal of Marketing Management, 28(11-12), 1377-1398. doi:10.1080/0267257X.2012.691529.