5GRC At Global Grand Challenges Summit
12 November 2019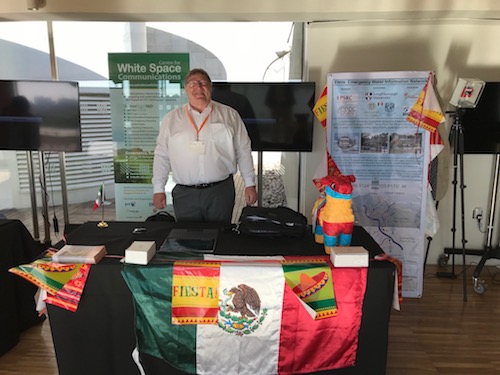 5GRC's Director, Prof Rob Edwards and Prof Victor Rangel from the National Autonomous University of Mexico exhibited the Emergency Water Information Network project at the Global Grand Challenges Summit. (Photo: V Rangel).


‌Researchers from Loughborough joined delegates from around the globe, to exhibit and discuss innovations responding to 14 Global Grand Challenges‌,‌ such as managing the nitrogen cycle, ensuring a growing global population maintains access to clean water and 'engineering the tools of scientific discovery'.

Loughborough's 5G Research Centre into mobile technology exhibited two major projects aimed at dealing with some of the toughest global challenges. In addition, in the student competition and collaboration lab, two of the remaining five teams representing the UK were from Loughborough.
The first of 5GRC's projects displaying at the exhibition, the Emergency Water Information Network project (EWIN), has developed an inexpensive flood monitoring network suitable for use in developing countries which have mobile phone technology infrastructure. A multi-disciplinary team of engineers from three universities has created and tested a novel system of fixed and floating sensors. This array of sensors relays flood-monitoring data in real time, so that emergency services can respond more quickly as dangerous conditions develop. Representing the EWIN project at the Global Grand Challenges event were the project leader, Dr Robert Edwards from Loughborough University and Prof. Victor Rangel from the National Autonomous University of Mexico.



A New Generation of Materials
The second project exhibited from the Wolfson School was SYMETA (SYnthesizing 3D METAmaterials for RF, microwave and THz applications). Loughborough University is leading this project, in conjunction with four other institutions: University of Exeter, University of Sheffield, Oxford University and Queen Mary, University of London, as well as twelve industrial partners from a range of sectors including defence and electronics manufacture.
The SYMETA project has been researching how to deliver a palette of 'meta-atoms' for use in additive manufacturing. Meta-atoms are the building blocks for metamaterials – synthetic composites with properties that you would not normally find in natural materials. These metamaterials will be developed to give end-users the electromagnetic responses they require, for a wide range of communication, electronics, energy and defence applications. Their availability should both improve existing applications and break down barriers to innovation. The SYMETA project team has already made a number of significant advances, including the development of a novel low temperature sinterable ceramic material for additive manufacturing processes and the world's first 3D printed metamaterial filter. Researchers on the project have also developed a unique laser sintering technique that will lead to RF and microwave circuits being able to be 3D printed.
The Student Challenge


Loughborough's first Global Grand Challenges student team was comprised of students from the School of Mechanical, Electrical and Mechanical Engineering and the School of Business and Economics. Their design for a self-sustaining, off-grid toilet block in a shipping container to tackle the lack of sanitation in both rural and urban communities won them a place at the Collaboration Lab and summit. The shipping container loos include a bio digester to use the human waste to generate both a high-quality fertiliser and electricity for local lighting and phone charging. The team's mentor, Dr Mey Goh, said "I'm really glad that we participated in the competition, our students have done well to come top 5 in the UK. They have really engaged with the Global Challenges agenda and the summit was very inspirational with lots of prominent speakers and opportunities for international networking".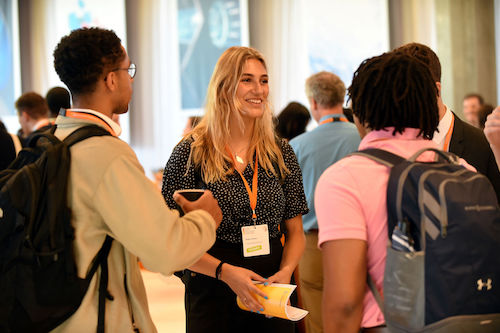 Loughborough Students formed 2 of the 5 top UK teams at the Summit

Our second student team, mentored by Dr Ashraf El-Hamalawi‌ from the School of Architecture, Building and Civil Engineering‌, designed a new type of disaster relief shelter for victims of natural or humanitarian crises. The shelters are modular so they can be adapted easily, to accommodate both private spaces for families and open areas to encourage a sense of community.
The students took part in a Collaboration Lab event in London, ahead of the summit. It brought together around 300 students – comprising the winning 15 in-country teams and additionally selected students – from the UK, USA and China. The Collaboration Lab was intended to encourage the students to work cross-culturally and across disciplines. The event was kicked off with the final of the student competition, where the five champion teams from each country pitched to a panel of senior judges. The Loughborough teams performed well but lost out in the end to Surrey's idea for a post-harvest storage network: the equivalent of Airbnb for grain, aimed at developing countries.
The student teams were then mixed together to create new, international teams, which were challenged to draw on each other's skills and experience to develop solutions to the grand challenges, building on those pitched by the student champion teams. On the final morning of the Collaboration Lab, the international teams presented their proposals at a showcase exhibition event. The judges selected several winning teams to present their proposals at the main Summit.
The next Global Grand Challenges Summit will be held in China, in 2021.