Centre Members and Associates
Dr Suzanne Elayan PhD, MA, BA, AFHEA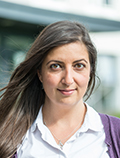 Lecturer in Information Management
Dr Suzanne Elayan is a Lecturer in Information Management (equivalent to Assistant Professor) at the Centre for Information Management. Her research is interdisciplinary and multidisciplinary mainly focused on the role of language in various social media platforms; whether it's in the realm of public health, political discourse, or customer experience management with over twenty publications in these research areas.
Suzanne has obtained funding as a Co-I from the DSTL and is also a Co-I in a mini-CDT (in collaboration with the School of Social Sciences and Humanities) and is a project partner on several projects with colleagues from the Swiss School of Public Health and the Centre for Community Research, Learning and Action at Wilfrid Laurier University, Canada.
Suzanne has supervised three PhD students to completion and is currently supervising one PhD student in a joint supervision with the school of Social Sciences and Humanities.
Social Media Research
Semantic Models
The Behaviour of Automated Social Media Accounts (Bots)
Qualitative and Quantitative Analysis of Social Media Big Data
Sentiment Analysis