Centre Members and Associates
Dr Suzanne Elayan PhD, MA, BA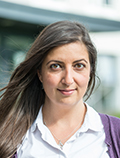 Dr Suzanne Elayan is a research associate in the Centre for Information Management (CIM), School of Business and Economics, at Loughborough University. She designed and built the EMOTIVE ontology based on theories of the psychology of emotions developed by leaders in the field. Her background in discourse analysis and sociolinguistics led to the creation of a comprehensive word map of emotions which currently holds the world's best f-measure for fine grained emotion detection on social media.

Currently Suzanne is designing and building a new ontology for an EU funded project: Novel Empowering Solutions and Technologies for Older People to Retain Everyday Life Activities. Suzanne also designed and built the STRESscapes ontology, for an SSHRC funded project. The project, (a collaboration between Loughborough University, Canadian academics and commercial partners) examined the possibility of making use of social media for measuring stress-levels in urban environments. She also worked as a research associate on an EPSRC institutional sponsorship grant investigating linguistic expressions related to mental health issues on Twitter and has received funding from DHCSTC / DSTL as a co-investigator to fund the study on prevalence of sarcasm and irony in social media communications.

Suzanne teaches subjects related to ontologies and taxonomies at Loughborough University and co-supervises a PhD student whose project explores mental health and social media.
Suzanne is also interested in gender studies and cultural studies, with publications in these areas.