Loughborough Students' Union
Right at the very heart of our award-winning student experience sits Loughborough Students' Union (LSU) which is run entirely by our students, for our students.
The Union exists to ensure that life at Loughborough remains vibrant, rewarding and brimming with opportunity.
During the day, the Union is a bustling venue of social activities and is a popular meeting place for students. The Union comes complete with a Chinese restaurant, a hair salon, an opticians, a dental practice, a taxi rank, a pharmacy, and a handy convenience shop selling a wide selection of groceries, beverages and household goods. By night, the Union transforms into a 4,000-capacity nightclub with three separate rooms that host different events across the week.
Your university experience
By the time you graduate, you'll be moving on with so much more than just a degree. Loughborough Students' Union exists to ensure all students have equal opportunities to progress and develop personally, socially and academically through getting involved in a wide range of activities, clubs, societies and services.
Whether you're volunteering, fundraising or being entrepreneurial, you'll be gaining valuable and transferable skills – all while having the time of your life. Take a look at our Union sections and start planning how you might like to get involved:
Action
The Action section of the Students' Union provides volunteering opportunities in the local and wider community. Students can get involved in a variety of projects, from working in a local care home or soup kitchen to cooking Sunday dinner for elderly people and running sports events for disadvantaged children. There are also a variety of overseas projects in locations including Thailand, Uganda, Nepal and India. Volunteering with Action is an incredibly rewarding way to gain valuable experience outside of your degree.
Athletic Union
The Athletic Union ensures sport is accessible to all students – regardless of skill, ability or experience. They organise, promote and run sporting activities for Loughborough students and wit 58 different clubs, there really is something for everyone! See here for a full list.
Enterprise
Providing activities and events for entrepreneurial students, the Enterprise section of the Union supports and empowers business minded individuals with their ideas. With guest speakers, networking events and a whole lot more, the Enterprise team can help you to realise the full potential of your ideas.
Media
LSU Media offers the training, facilities and platform to develop skills and promote the work of our most creative students. From journalism and photography to radio, television and more, there's so much you can get involved in regardless of skill level or experience. You can work alone or in teams with our state-of-the-art equipment, gaining real industry experience that will be an invaluable addition to your CV after graduation.
RAG
Students can get involved in a variety of fundraising opportunities with LSU RAG (Raising and Giving), who raise over £1 million every year for local, national and international charities. Have the time of your life whilst raising money for a huge variety of excellent causes - you can do anything from trekking Kilimanjaro and dog sledding in Norway to skydiving or the 3 Peaks challenge. RAG also run a variety of events across the year, including fireworks displays and outdoor cinema screenings.
Our Welfare and Diversity section are committed to providing a voice to under-represented student groups, while promoting positive health and wellbeing across campus. The Welfare strand supports students with a wide range of matters such as homesickness, stress, and financial concerns or accommodation issues. It also offers friendly and supportive peer-to-peer services such as Nightline and the Ethnic Minorities Network, helping all students to feel a sense of community, belonging and safety. Diversity focuses on empowering diverse groups, including our international, LGBT+, and disabled student communities, to ensure they feel encouraged and inspired during their time at Loughborough.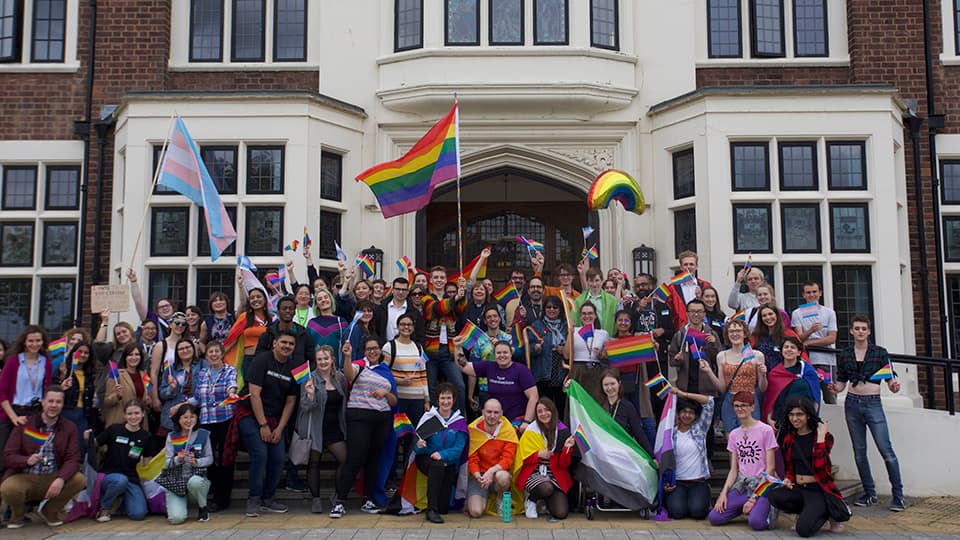 At Loughborough, we have societies to suit everyone – you can even start your own! These student-run groups are a fantastic way to immerse yourself in the student experience on campus and with their strong sense of community, there is no better way to make new friends who have similar interests to you.
Take a look at this small sample of what is on offer, before viewing our full range of societies to find the one that is right for you.