Jo Simpson. Commercial and Sports Facilities Director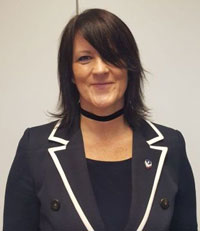 Jo is a highly experienced CEO and Director with over 20 years of success across private, public and not for profit organisations.
She combines a unique skillset of exceptional financial knowledge, commercial acumen and a passion for people development, whilst being highly competent at navigating change within organisations. In addition to her Executive roles Jo has significant NED experience and is currently a Board member of British Wheelchair Basketball and Chair of their Finance and Risk Committee.
Jo qualified as an FCCA accountant, starting her career as an auditor in a medium sized firm before leaving to join a 3I investment team where she led a successful management buyout of a client from Vickers Tanks plc and a pioneering a new one stop shop financial services function for retail branches within Next Retail Ltd.
Jo later moved into the public sector as a Finance Director before stepping in to her first CEO role to transition the organisation into a new government successor body with funding of over £150m. This role gained Jo a public note from KPMG for the successful transition whilst retaining positive reserves. She then spent 10 years as Group Financial Director of a medium sized charity, Youth Sport Trust a role which also saw her take responsibility for creating and leading a subsidiary trading entity to achieve unrestricted revenues for the main body. This entity achieved above sector average profit levels within 3 years.
In 2016 Jo stepped into the world of British Triathlon, leading the Commercial team and driving engagement in the sport from corporates and the general public through membership and sponsorship.
In 2017 she joined Loughborough in the newly created role of Commercial Director, driving revenue to sustain the investment in sport, recently she has taken the management of sports facilities into her role.
Throughout her career, Jo has led the implementation of several significant IT projects, from Material Resource Planning systems (MRP) through to Client Management systems (CRM/CMS) all of c£1m project value and has worked internationally helping to establish a start-up company in India. In addition, Jo has a passion for agile organisational processes combined with strong leadership to develop motivated teams and thriving organisational cultures.