Introduction
With over 56,000 voluntary hours logged this year, by over 421 volunteers this year, Loughborough University once again cements itself as one of the best Higher Education institutions for workforce development within sport.
This report is shared with you to demonstrate the impact the CVA has had on Loughborough Sport's workforce this year. We are immensely proud of the students we are privileged to work with and want to share with you their successes and highlights.
A year in review
56,069 hours logged
421 volunteers logging hours
6 new milestones after the launch of a new recognition package
Over 35 volunteers trained in mental health first aid
Shortlisted for the Sport and Recreation Alliance's National Volunteering Award
10 student volunteers invited to the Vice-Chancellor's house for dinner
Coaching
This academic year the coaching strand focused on recruiting, training and deploying coaches to support the whole Loughborough Sport offer. We've worked much closer with the performance programmes and the Head of Coaching to provide shared learning opportunities; such as a bi-weekly coaches breakfast, conferences and mentoring opportunities.
We have continued to build our strong relationship with the Athletic Union, supporting 127 coaches, and have begun to significantly improve the data management of coaches. This will provide crucial insight into the structure of coaching and lay foundations to build a coaching family.
Over £11,000 provided in coach bursaries
164 student coaches qualified this year
Officiating
Officiating at Loughborough saw a noteably increased quality of experience during 18/19. In total, we recruited, qualified and deployed over 50 officials across all sports that supported IMS, AU, local schools and the community.
The impact of this has been improved structure and fair playing opportunities for every player involved. Key developments have been two-fold. Firstly, implementing the volunteer role of Female Football Officiating Hub Manager which has provided a central point of support for female officials. And secondly, building a bespoke package for our elite football referees, including gym access and top-level mentoring.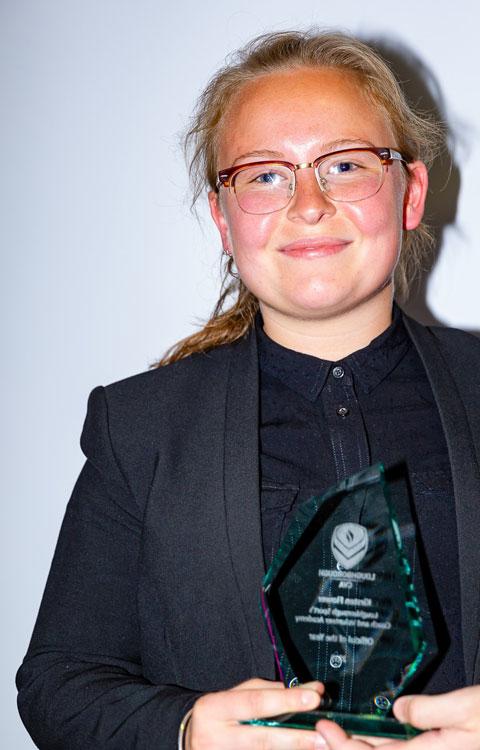 64 students completed officiating qualifications
1 student went on to officiate at Wimbledon
Performance support
Over 120 student volunteers gained significant applied experience within our performance programmes this year across six areas (Performance Analysis, Nutrition, Physiology, Strength & Conditioning, Performance Lifestyle and Sport Psychology).
The impact of having students volunteering alongside our professional leads, is the exposure to world class expertise from the very start of their journey as a practitioner. This enables Loughborough to build a strong workforce of practitioners who will go on to influence the sports science of the future.
10 students completed practice interviews with leading sports science experts
14 sports hosted performance support volunteers
Gym, health and fitness
This strand allowed a focused number of students to gain access to their Gym Instructor Level 2 qualification, as well as giving them the opportunity to complete over 100 hours of applied experience within Holywell Fitness centre. The hard work of a number of the student volunteers from within our pathway was rewarded with the offer of paid work upon completion of their voluntary role within our gyms and fitness programmes.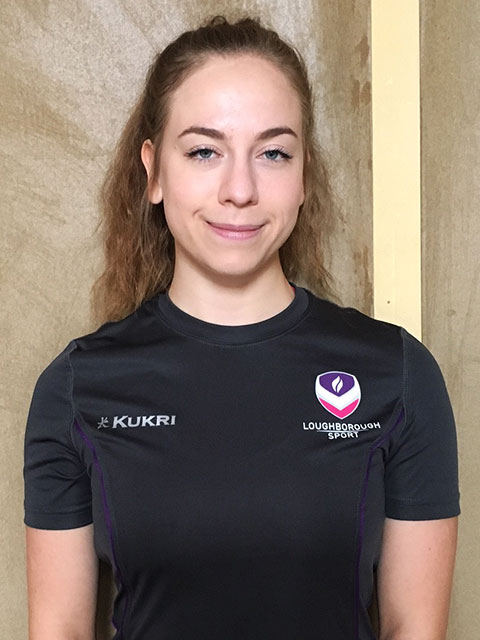 5 students fully funded through their Gym Instructor Level 2 qualification
22 bootcamp sessions delivered as part of the MyLifestyle programme.
Media, marketing and communications
Our Media, marketing and communications volunteers have played a pivotal role in promoting the vast array of sporting opportunities the University has to offer; including our world-class performance programmes, high profile events and Athletic Union clubs.
A brand-new Sport & Communications module was incorporated into the School of Social Sciences for students to learn both the theory and practical elements of the industry. They applied this knowledge, practicing their new skills within our performance sport programmes and major events on campus.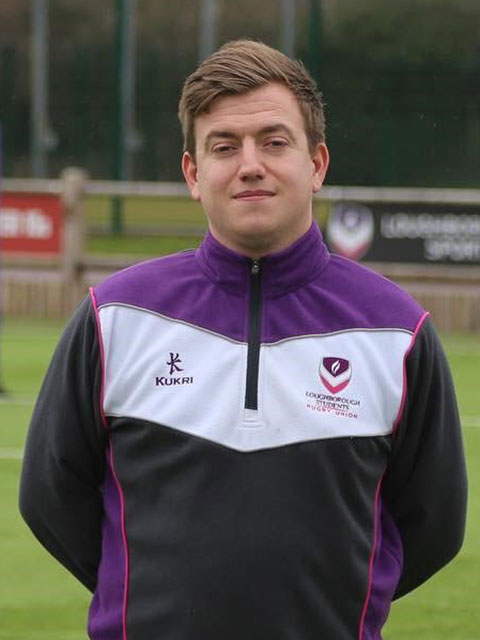 15 rugby match reports written by volunteers were published in national newspapers
5 masterclasses delivered by industry experts including the BBC Sport's Ben Croucher
Event management
The events team hosted a number of world class events over 2018/19 such as the Loughborough International Athletics competitions and KIA super league, collectively allowing over 150 student and community volunteers to get involved in this strand.
We also offered invaluable opportunities for students to gain expert knowledge from key individuals such as Darren Booth (Wembley Stadium Event Manager) and Guy Richardson (Director of Operations for British & Irish Lions). The events volunteers not only allow the events to run in marshalling and registration roles, but also greatly enhance events through lighting, sound, commentary and fan interaction/engagements.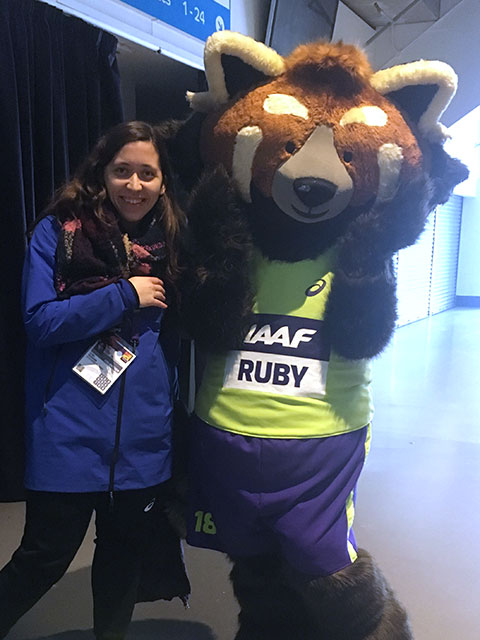 Over 2,200 events hours logged
36 students volunteering at events externally
Volunteer Zambia
This summer, 6 Loughborough students each spent 6 weeks in Zambia as part of the Wallace Group's long standing international sport development project 'Volunteer Zambia'.
Based in Lusaka and working alongside Sport in Action (the largest Zambia sporting NGO) the students volunteered as Sport Development Officers within one the 4 key sports of netball, basketball, football and volleyball. This was all through the community led sports hubs whereby the students helped to build capacity and sustainability by upskilling local sport leaders, coaches and volunteers.
3 new Community Sport Hubs established
Over 20 new Zambian volunteers upskilled and supported
Leadership programme
The CVA Leadership programme is designed to develop the skills of high performing students to use in their sports leadership roles in a practical and applied way.
This year, we continued to work alongside IF Development to deliver a brand new, bespoke package of workshops designed to enable the students to identify and understand their own strengths and weaknesses and apply leadership tools to the situations they are currently facing in their leadership positions before completing a 3-day residential weekend, pushing the students out of their comfort zones and delving into their skills and qualities.
Networking opportunities for 20 students across 5 programmes
Students received over 30 hours of specialist CPD
CVA Alumni Engagement
Whilst students are at Loughborough, they have the opportunity to enhance their personal and professional development through being part of the CVA. When they leave Loughborough, we keep in touch to see how this development has helped them to gain employment. We are continuously blown away by the successes of the students and this is reflected in the graduate destination survey.
CVA graduates who studied a sports related degree (including joint honours):

71%

CVA graduates who are in some form of further education or employment:

96%

CVA graduates in full time employment:

76%

CVA graduates in full time employment in SPORT:

55%
We will continue to keep in touch with those who have been involved in the CVA to track their journeys. In turn, we can then set up opportunities for the graduates to 'give back' to the current Loughborough students, now that they have begun to build professional networks.
Supported programmes
In addition to the strands that we directly deliver, we also support other programmes within the Loughborough Sport offer to recruit, train and deploy an appropriate workforce that then goes on to deliver an exceptional student experience.
This year in conjunction with the Athletic Union, we supported their committee training by developing a brand-new committee conference full of workshops and masterclasses. We helped organise the registration and the management of the day operations. We also hosted a workshop to specifically support the Athletic Union coaches by providing information on how to be a better coach, how to receive funding support and receive feedback from their experiences for us to improve.
IMS volunteering team shortlisted for Team of the Year at the Loughborough Experience Awards
Over 15,600 hours logged by committee members on the CVA Portal
Looking forward to 2019/20
19/20 sees a new staff team within the CVA with the addition of Sally Morrison and Matt Leonard looking after the volunteering strands. Nat Marshall and Alexander Themis will continue to drive forward the coaching and officiating strands.
As a team, we have built an action plan for next year, highlighting 5 key areas of our work:
Quality of experience

Ensure every experience is meaningful, engaging and developmental.

Recruitment

Identify and recruit a high-quality workforce that responds to the demands and needs of the sporting ecosystem.

Training and development

To develop and provide the workforce with the tools and support they need to succeed within their role and achieve their potential.

Evaluation and feedback

Building a culture where we can continuously check and challenge our work, providing mechanisms for engaged individuals to input into the development of the CVA.

Reputation and profile

Raising awareness of the CVA's activities and how it impacts the Loughborough Sport ecosystem, whilst celebrating our successes more widely.
We are excited to use this framework to drive our success in 2019/20 and hope you will join us in recognising the incredible achievements of the Loughborough Sport workforce.