The Science of Wheelchair Rugby
22 September 2021

13:00 – 18:30 BST

Online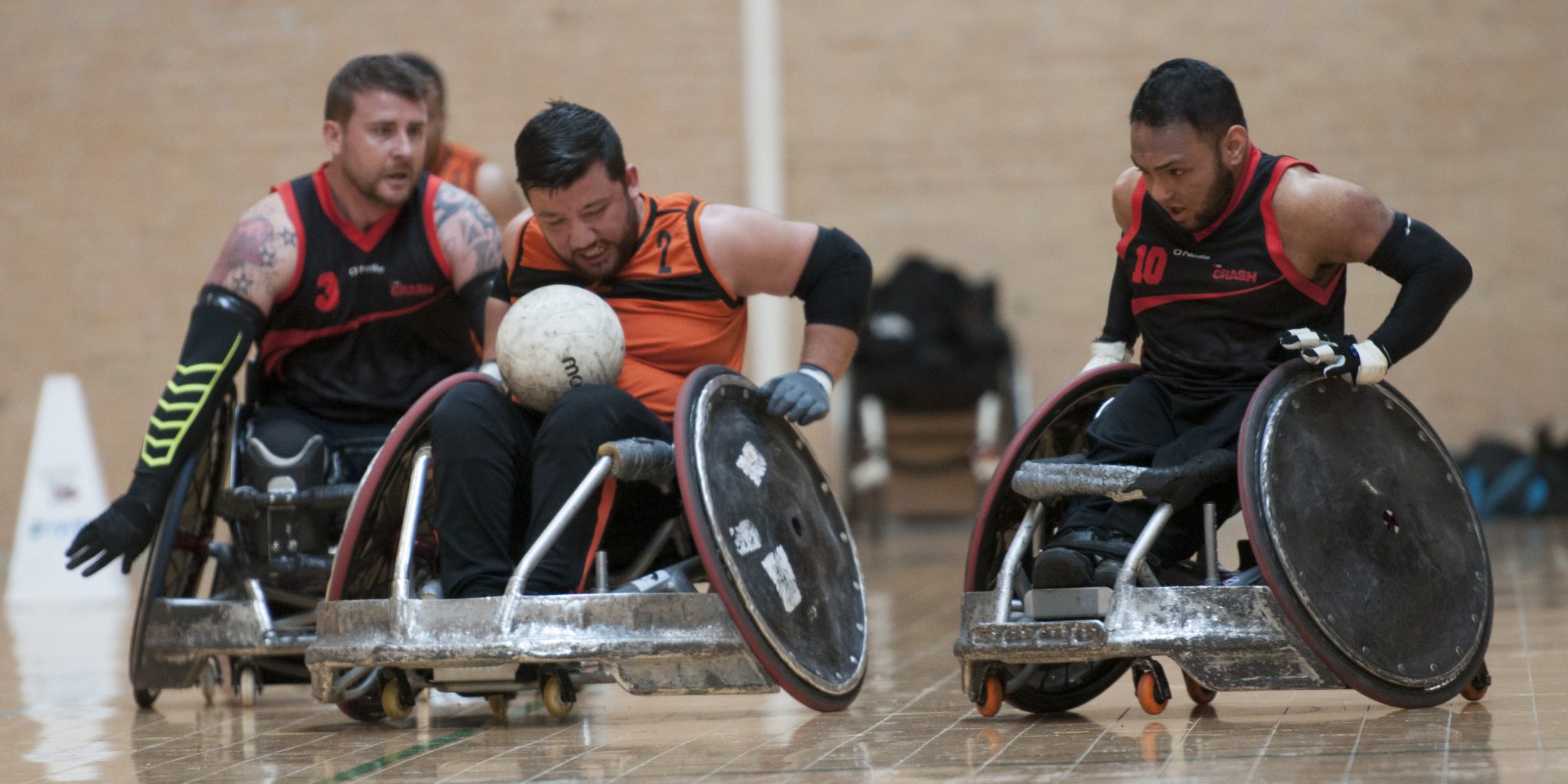 The Inaugural World Wheelchair Rugby Sports Science and Sports Medicine Conference 2021 in partnership with the Peter Harrison Centre for Disability Sport (Loughborough University) – will bring together practitioners, coaches, medical staff and students interested in sports science, medicine, physiotherapy, strength and conditioning and coaching.
About this event:
This virtual event will cover the historical insights in sports science and medicine by experts from the world of wheelchair rugby covering topics on:
Classification, thermoregulation, autonomic dysreflexia, shoulder health, nutrition and much more, which will provide a platform for future study.
The event is delivered by:
Prof Vicky Goosey-Tolfrey, Director of the Peter Harrison Centre for Disability Sport (PHC), Loughborough University, and IPC Paralympic Scientific Award recipient 2017
Dr Viola Altman, one of the most experienced WWR Classifiers in the sport and Honorary Clinical Lecturer in Rehabilitation at Loughborough University
In collaboration with WWR:
Steve Griffiths, WWR CEO.
Dr Ken Lee, WWR Chief Medical Officer and Associate Professor of Physical Medicine and Rehabilitation at the Medical College of Wisconsin in Milwaukee, Wisconsin (USA)
Supported by Dr Sven Hoekstra, Research Assistant of the PHC at Loughborough University.
Programme:
13:00 – 13:15
INTRODUCTION

Richard Allcroft – President of World Wheelchair Rugby

Vicky Goosey-Tolfrey – The Peter Harrison Centre for Disability Sport; Loughborough University (UK)

13:15 – 14:00
CLASSIFICATION AND SCIENCE (SPORT) – Chairperson Vicky Goosey-Tolfrey
13:15 – 13:45

Viola Altmann – Rehabilitation Medical Center Groot Klimmendaal (NL)

Classification in wheelchair rugby (on-demand video)

13:45 – 14:00
Ingrid Kouwijzer – Faculty of Health, Nutrition and Sport; The Hague University of Applied Sciences (NL)
Effects of trunk muscle activation in wheelchair rugby players with a spinal cord injury
14:00 – 15:00
WHEELCHAIR RUGBY PERFORMANCE (SPORT) – Chairperson Sven Hoekstra (The Peter Harrison Centre for Disability Sport; Loughborough University (UK))
14:00 – 14:15
Sonja de Groot – Amsterdam Rehabilitation Research Center Reade and Department of Human Movement Sciences; VU University (NL)
Field testing for wheelchair rugby
14:15 – 14:30
Riemer Vegter – Center for Human Movement Sciences; University of Groningen (NL) and The Peter Harrison Centre for Disability Sport; Loughborough University (UK)
Sprint performance and asymmetries in wheelchair rugby
14:30 – 14:45

Rienk van de Slikke – The Hague University of Applied Sciences / PHCDS (NL) and The Peter Harrison Centre for Disability Sport; Loughborough University (UK)
From research subject to athlete; the need for individual sport performance support

BREAK
15:30 – 17:30
PHYSIOLOGY AND HEALTH (MEDICINE) – Chairperson Ken Lee (International Wheelchair Rugby Federation)
15:30 – 15:50
Cameron Gee – ICORD and Department of Orthopaedics; University of British Columbia, and Athletics Canada (CAN)
Cardiovascular determinants of performance in athletes with tetraplegia
15:50 – 16:05
Claudio Perret – Institute of Sports Medicine; Swiss Paraplegic Centre (CH)
Just try it! - Respiratory muscle training for wheelchair rugby players
16:05 – 16:35
Katy Griggs – Department of Engineering; Nottingham Trent University (UK)
Keeping your cool - Heat related issues and practical applications for wheelchair rugby players
16:35 – 17:05
Joelle Flueck – Institute of Sports Medicine; Swiss Paraplegic Centre (CH)
Nutritional considerations for wheelchair rugby
17:05 – 17:35
Fransiska Bossuyt – Human Performance Lab; University of Calgary (CAN) and Shoulder Health and Mobility Group; Swiss Paraplegic Research (CH)
Shoulder tendon health in wheelchair rugby athletes
17:45 – 18:15
PANEL DISCUSSION – Chairperson Viola Altman
17:45 -18:15

Jens Sauerbier (national player team Germany, sports scientist & WWR athlete representative)/ Viola Altmann – Wrap up and discussion about future research needs

18:15
Ken Lee and Vicky Tolfrey – Close
Contact and booking details
Booking required?

Yes
A draft programme for the event
13:00 – 13:15

INTRODUCTION

Richard Allcroft – WWR
Vicky Goosey-Tolfrey – overview

13:15 – 14:00

CLASSIFICATION AND SCIENCE (SPORT)

–

Chairperson Vicky Goosey-Tolfrey

13:15 – 13:45
Viola Altmann – Classification (on-demand video)
13:45 – 14:00
Ingrid Kouwijzer – Trunk muscle activation/ trunk stability in wheelchair rugby

14:00 – 15:00

WHEELCHAIR RUGBY PERFORMANCE (SPORT)

–

Chairperson Sven Hoekstra

14:00 – 14:15
Sonja de Groot – Field testing for wheelchair rugby
14:15 – 14:30
Riemer Vegter – Sprint performance and asymmetries in wheelchair rugby
14:30 – 14:45
Rienk van de Slikke – Wearable technologies – mobility performance

BREAK

15:30 – 17:30

PHYSIOLOGY AND HEALTH (MEDICINE)

–

Chairperson Ken Lee (WWR)

15:30 – 15:50
Cameron Gee – Cardiovascular capacity and AD in wheelchair rugby players
15:50 – 16:05
Claudio Perret – Respiratory function
16:05 – 16:35
Katy Griggs – Thermoregulation
16:35 – 17:05
Joelle Flueck – Nutrition
17:05 – 17:35
Fransiska Bossuyt – Shoulder health in wheelchair rugby

17:45 – 18:15

PANEL DISCUSSION

–

Chairperson Viola Altman

17:45 -18:15
Jens Sauerbier/ Viola Altmann – Wrap up and discussion about future research needs
18:15
Ken Lee and Vicky Tolfrey – Close