Up to that point no European nation had ever won a medal before. This has to be my most memorable moment of the Tokyo Games as it's been a journey of '14 years'. Up to this point, wheelchair rugby had won the European Championships in 2015, 2017 and 2019 – but unfortunately just five years ago, the sport was deprived of all UK Sport funding, after the team recorded a fifth-place finish in Rio. An appeal to overturn the decision, with input from myself and Dr Barry Mason was rejected but Great Britain Wheelchair Rugby (GBWR) CEO David Pond was able to secure some emergency funding to help support the final preparations leading into Tokyo. I am pleased that we have been a small but significant part of this journey.
I moved to Loughborough during the Beijing 2008 cycle, and ever since 2007 wheelchair rugby is one of the sports that has engaged with the PHCs research agenda enthusiastically. We (the PHC) have had wonderful working relationships between GBWR staff, players, Research Associates (RA) and PhD students. Players would attend the PHC lab and participate in the PhD work of many of our students, while we also merged applied sport science support to players to ensure what we offered had a performance focus. Dr Barry Mason led international classification research and player tracking research to further our understanding of the sport. Models of best practise using an embedded scientist approach have been adopted for the benefits of the sport. This model has also furthered the vocational skill sets of young academics at all levels (e.g. undergraduate, doctoral students and RAs). A prime example of this was the PHC Research Associate post of Dr Tom Paulson who now holds a leadership role for the English Institute of Sport (EIS) and ParalympicsGB.
More recently, PhD student Tom O'Brien has stepped up and taken on more applied sports science support responsibilities during his part-time PhD academic studies. As noted in the August update, Tom was asked to support the players in Tokyo, all quite last minute due to the unfortunate positive COVID test of one of the Assistant coaches. Having embarked on supporting athletes at the Paralympics myself then I knew what this involved – 'long hard-working days', but with rewards of lasting memories and sporting friendships. Obviously, the results speak for themselves 'a fantastic memory for Tom' and all involved.
I am immensely proud of Tom's input; being a team player and going that extra mile. Tom O'Brien said: "I'm extremely grateful for the opportunity to contribute to a very small part of the journey and success over the last 3 years or so".
Thanks for all the current GBWR staff and players for making him so welcome. Hope you enjoy the timeline of a few select photos below.
Written by Prof Vicky Tolfrey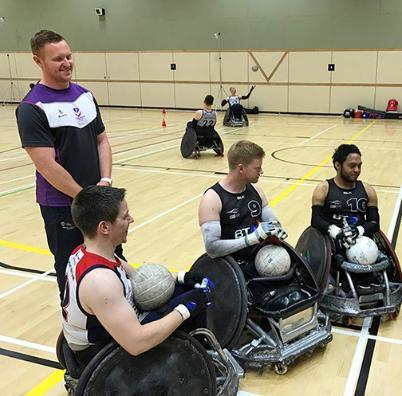 Loughborough University – (left) Masters and (right) PhD work of Tom O'Brien.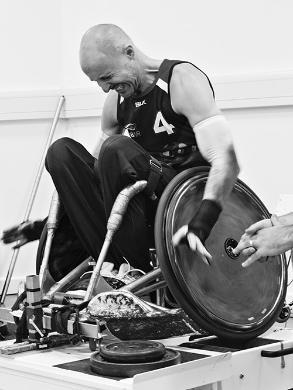 Gavin Walker (co-captain at Tokyo) assisting us with some work to understand shoulder pain during wheelchair propulsion and performing an all-out effort sprint for performance analysis.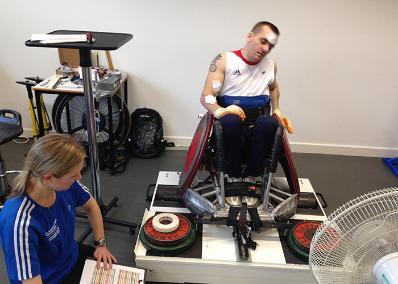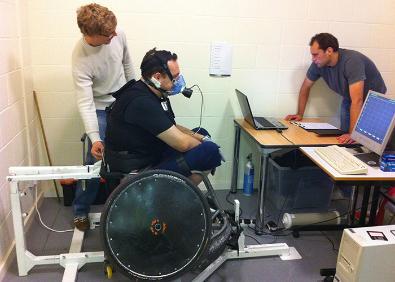 (left) Andy Barrow undertaking testing as part of Katy's PhD and (right) Ross Morrison undertaking testing as part of Christof's PhD with a helping hand of Tom Paulson.