Externally Awarded Fellowship Opportunities
Externally awarded Fellowships for international applicants affiliated with the Institute of Advanced Studies.
In addition to our own Fellowship opportunities there are also a number of externally awarded Fellowship schemes you could apply to, to be held at Loughborough University. As an externally awarded Fellow you would be affiliated with the IAS and be an integral part of our vibrant international research community. The Fellowships below are targeted at international applicants – if you are based at Loughborough these are also excellent ways to strengthen collaborations and build networks.
If you have any queries regarding the below please contact Dr Katy Wing – k.wing@lboro.ac.uk
Newton International Fellowships
Newton International Fellowships are for non-UK researchers who are at an early stage of their research career and wish to conduct research in the UK.
The scheme provides funding for 2 years, and applicants will need to identify a co-applicant based at Loughborough University.
To be eligible to apply you must:
have a PhD, or will have a PhD by the time the funding starts
have no more than 7 years of active full time postdoctoral experience at the time of application (discounting career breaks, but including teaching experience and/or time spent in industry)
be working outside the UK
not hold UK citizenship
be competent in oral and written English
have a clearly defined and mutually-beneficial research proposal agreed with a UK host scientist
Applications for the humanities and social sciences should be made to the British Academy.
Applications for clinical and patient oriented research should be made to the Academy of Medical Sciences.
Applications for the sciences, maths and engineering should be made to the Royal Society.
This is an annual scheme, with a deadline expected in mid-March.
Leverhulme Visiting Professorships
These awards are for UK institutions to invite an eminent researcher from overseas to enhance the skills and knowledge of the academic staff and/or students. Applications must be made by a member of academic staff, based in a UK university or other higher education institution, who will be responsible for coordinating the visit.
A Visiting Professorship may last for between 3 and 12 months, and tenures of 6 months or more can be spread over 2 or more visits.
The selection criteria are:
the academic standing and achievements of the visitors in terms of their research and/or teaching
their potential for making a substantial contribution to skills in the host institution
the specific and systematic nature of the proposed programme while in the UK
In special circumstances, the Trust Board is prepared to consider candidates who do not hold a university post.
Collaborative research alone will not be a sufficient justification for a grant. The emphasis should be on the diffusion of skills and expertise. Priority will be given to new or recent collaborative ventures. Where a visit builds on an existing collaboration, the host should explain what the visit(s) will achieve over and above past outcomes.
Applications will be considered in all subject areas except:
studies of disease, illness and disabilities in humans and animals
research that is intended to inform clinical practice or the development of medical applications
There are 2 rounds of the scheme a year, with typically May and October deadlines.
Fulbright Scholar Awards
Fulbright Scholar Awards offer American researchers opportunities to research at recognised UK higher education institutions, as part of a transformative cultural experience. Awards last from 3 – 9 months and provide a stipend for living costs.
To be eligible, applicants must:
Be a US citizen
Not currently reside in the UK
Hold or expect to attain a PhD or equivalent professional training/experience in a relevant field before departure to the UK
The US-UK Fulbright programme aims to foster cultural understanding between our two countries. Preference is therefore given to applicants who do not have extensive experience (six months or longer) in the UK. Applicants with extensive UK experience should explain in detail how further experience in the UK will fulfil the Fulbright mission in ways that their prior visits did not.
The deadline for applications is August annually.
Royal Academy of Engineering Distinguished Visiting Fellowships
The Distinguished Visiting Fellowships programme is a prestigious mobility programme which enables UK universities to host visits from world leading internationally-based researchers from an overseas academic centre of excellence, for visits lasting up to one month. Applications are submitted by an academic based at a UK University
Proposed visitors under this programme must be of high international standing and must be able to illustrate a personal contribution to achievements and global leadership in their field.
The programme aims to help UK universities to build capacity and promote collaborations by facilitating visits by distinguished international experts.
Up to £4,000 is available through the scheme, which may be spent on multiple visits of up to one month's duration.
The call will open for applications in late 2021.
Current IAS Externally Awarded Fellows
Dr Elliott Hoey - 2021 Fulbright Scholar
Elliott Hoey is an assistant professor of language and communication at the Vrije Universiteit Amsterdam. He joins Loughborough as a 2021 Fulbright Scholar to work with Prof. Ruth Parry and colleagues in the Centre for Research in Communication and Culture. In his research, he uses video recordings of actual interactions to unearth the recurrent practices that people use to assemble their everyday activities. He's examined extended silences in conversation, forms of breathing like sniffing and sighing, and the coordination of construction site activities. In his Fulbright research, he will undertake studies on palliative care consultations, aiming to improve communication between healthcare professionals and the patients and families that they serve.
Twitter: https://twitter.com/elliotthoey
Dr Aswin Punathambekar - British Academy Global Professor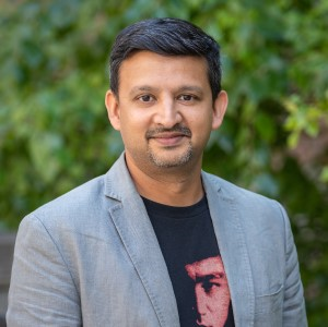 Aswin Punathambekar is a British Academy Global Professor in the Department of Communication and Media. He also holds an appointment as Associate Professor of Media Studies at the University of Virginia. Dr. Punathambekar's research and teaching focus on the impact that globalization and technological change have on the workings of media industries, formations of audiences and publics, and cultural identity and politics. He is the author of From Bombay to Bollywood: The Making of a Global Media Industry (NYU Press, 2013), co-author of Media Industry Studies (Polity, 2020), and co-editor of Global Bollywood (2008), Television at Large in South Asia (2013), and most recently, Global Digital Cultures: Perspectives from South Asia (2019). He is currently working on a co-authored book, provisionally titled The Digital Popular: Media, Culture, and Politics in Networked India (forthcoming, NYU Press). He serves as an editor of the peer-reviewed journal Media, Culture and Society and co-edits the Critical Cultural Communication book series for NYU Press. He also currently serves on the Board of Jurors for the Peabody Awards.
Dr. Punathambekar is currently working on a collaborative project that analyzes the unfolding impact of television and social media platforms on the production of racial and ethnic identities in the U.K. With a focus on the figure of the South Asian woman, this project explores how an interlocking set of shifts involving media technologies, media industry logics, and techniques of self-making has led to the curation of ethnicities that unsettle both conceptions of home and nation.
Twitter: @aswinp
Dr Zhiqiang Niu - Newton International Fellow
Dr Zhiqiang Niu received his Bachelor and PhD degree in Power and Machinery Engineering from Tianjin University in 2014 and 2020, respectively. He visited the University of California, Irvine as a joint PhD student from 2017 to 2018. He served as a research associate in the department of Mechanical Engineering, University of Hong Kong in September 2020, supported by a Royal Society – KC Wong International Fellowship, he moved to Loughborough University and worked as a research fellow.
Dr Niu is interested in modelling multi-scale, multi-component and multi-physics transport and flow dynamics in the porous components of energy devices such as fuel cells and batteries. His recent research involves microstructures design by integrating physically numerical models and AI techniques.