News
Exploring migrant decision-making in West Africa
A Loughborough University academic is part of a new £1.4m research project that will explore migration decision-making and development in West Africa.
Dr Christina Oelgemöller, of the School of Social Sciences and Humanities, is the Co-Investigator of the 'MIGCHOICE' project, which has been funded by the International Organization for Migration (IOM).
It will see a team of researchers investigate the connection between development interventions and migration in and from three countries in West Africa: Senegal, Gambia and Guinea.
The project, which is being led by the University of Birmingham, will explore how interventions in areas such as agriculture, youth employment and training influence individual and household decisions around migration.
It will use a novel combination of ethnography, discourse analysis and computer modelling, and involves co-creation of research to influence development practice.‌
The research project will be delivered by a consortium of universities in West Africa, the UK and other European countries and explore a number of themes.
Dr Oelgemöller, supported by Dr Audrey Lenoel, of Collège de France, will lead the research on the history and development of policy on migration.
The coastline of Gambia. The project will investigate the connection between development interventions and migration in and from Senegal, Gambia and Guinea. Image courtesy of Getty Images.
Other work strands include:
Ethnographic research in Senegal, led by Professor Pap Sahko, Université Cheikh Anta Diop de Dakar and Professor Bruno Riccio, University of Bologna;
Ethnographic research in Guinea, led by Dr Ester Botta and Dr Abdoulaye Wotom Sompare from the Université de Kankan and Dr Michelle Engeler, University of Basel;
Ethnographic research in The Gambia, led by Professor Alice Bellagamba from the University of Milan-Bicocca and Dr Ebrima Ceesay;
Development of an agent-based model, led by Professor David Hudson at the University of Birmingham, Dr Miranda Simon, University of Essex and Dr Cassilde Schwartz, Royal Holloway University London.
Of the project, Dr Oelgemöller said: "Most migration in Africa is regional or to other destinations within the continent.
"As ECOWAS [the Economic Community of West African States] marks the 40th year of its agreements on freedom of movement, this project will explore whether development actors need a new discourse around mobility in the continent, one better informed by the choices that people actually make."
Principal Investigator Professor Richard Black, of the University of Birmingham, added: "Over recent years, European governments have spent huge sums across West Africa in the expectation that this will reduce levels of migration to Europe, despite a lack of research evidence on whether such spending is effective, or indeed how such interventions are understood locally.
"This new project aims to engage with this area of policy-making and help to ensure that development aid widens people's options, enabling them to make their own choices, regardless of whether or where they migrate."
Notes for editors
Press release reference number: 19/202
Loughborough University is equipped with a live in-house broadcast unit via the Globelynx network. To arrange an interview with one of our experts please contact the press office on 01509 223491. Bookings can be made online via www.globelynx.com
Loughborough is one of the country's leading universities, with an international reputation for research that matters, excellence in teaching, strong links with industry, and unrivalled achievement in sport and its underpinning academic disciplines.
It has been awarded five stars in the independent QS Stars university rating scheme, named the best university in the world for sports-related subjects in the 2019 QS World University Rankings, University of the Year by The Times and Sunday Times University Guide 2019 and top in the country for its student experience in the 2018 THE Student Experience Survey.
Loughborough is in the top 10 of every national league table, being ranked 4th in the Guardian University League Table 2020, 5th in the Times and Sunday Times Good University Guide 2019 and 8th in The UK Complete University Guide 2020.
Loughborough is consistently ranked in the top twenty of UK universities in the Times Higher Education's 'table of tables' and is in the top 10 in England for research intensity. In recognition of its contribution to the sector, Loughborough has been awarded seven Queen's Anniversary Prizes.
The Loughborough University London campus is based on the Queen Elizabeth Olympic Park and offers postgraduate and executive-level education, as well as research and enterprise opportunities. It is home to influential thought leaders, pioneering researchers and creative innovators who provide students with the highest quality of teaching and the very latest in modern thinking.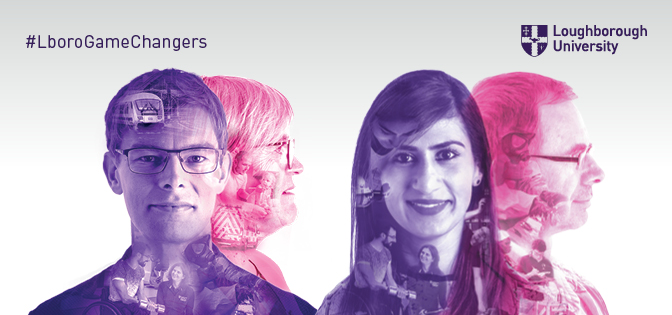 Loughborough staff, students and alumni make a real difference. They challenge convention, think creatively and find solutions to some of the biggest challenges facing society today and in the future.
Meet the #LboroGameChangers at lboro.ac.uk/lborogamechangers