News
Experts in Sport: A look into sporting injury and rehabilitation
In the latest 'Experts in Sport' podcast, we delve into the importance of athlete development and how to work with individuals going through an injury.
Loughborough University's Al Stewart, Head of Performance Support / Strength & Conditioning Lead at the new National Tennis Academy, is joined by Enda King, Head of Performance Rehabilitation at SSC Sports Medicine, Dublin, to talk through some of the hottest topics in their fields.
Hosted by Martin Foster (Applied Sport Management Lead), both experts discuss technical modes of excellence and how to prevent and cope with time on the sidelines.
One such area discussed is 'change of direction', as Al Stewart explains:
"People tend to talk about agility when they mean a change of direction…I think the key difference is that the agility is in response to a stimulus, or a number of stimuli. If it's in the reaction…whether that's an opponent, a ball, or whatever, that's agility. If you just change direction, with no cues at all, that's exactly that.
"If you look at certain sports, such as football, you have over 700 changes of direction in the game, per player, so when you consider that it is hugely important…we need to make sure we get a good understanding of the main biomechanics of that movement, and the stresses that go along with it. We also need to put the right context in place for training so that we can train appropriately to prepare for those movements, but also, not just to reduce risk of injury, but also to improve performance."
As Enda explains, it is this area in sport performance where injury regularly appears; "almost 50% of ACL (anterior cruciate ligament) injuries happen during a change of direction. So, how can we analyse how these athletes changed direction and how can we calculate that in a closed setting? Does that differ from the more chaotic and agility driven scenario?
"The common mistakes are focusing on the performance outcomes, looking only at the time, and not appreciating how the test influences what you're going to you calculate."
During the episode, Enda and Al also discuss ideas around coping with injury and how to deliver bespoke programmes and rehab for squads and individuals.
Listeners can subscribe to the podcast and download the latest episode by visiting Buzzsprout, with all subscribers receiving an alert once new episodes are published.
Loughborough University's 'Experts in Sport' podcast is a regular series, that brings together experts from across Loughborough University with external thought leaders to discuss the latest research and hot topics in sport and academia.
Notes for editors
Press release reference number: 19/237
Loughborough University is equipped with a live in-house broadcast unit via the Globelynx network. To arrange an interview with one of our experts please contact the press office on 01509 223491. Bookings can be made online via www.globelynx.com
Loughborough is one of the country's leading universities, with an international reputation for research that matters, excellence in teaching, strong links with industry, and unrivalled achievement in sport and its underpinning academic disciplines.
It has been awarded five stars in the independent QS Stars university rating scheme, named the best university in the world for sports-related subjects in the 2019 QS World University Rankings, University of the Year by The Times and Sunday Times University Guide 2019 and top in the country for its student experience in the 2018 THE Student Experience Survey.
Loughborough is in the top 10 of every national league table, being ranked 4th in the Guardian University League Table 2020, 5th in the Times and Sunday Times Good University Guide 2019 and 8th in The UK Complete University Guide 2020.
Loughborough is consistently ranked in the top twenty of UK universities in the Times Higher Education's 'table of tables' and is in the top 10 in England for research intensity. In recognition of its contribution to the sector, Loughborough has been awarded seven Queen's Anniversary Prizes.
The Loughborough University London campus is based on the Queen Elizabeth Olympic Park and offers postgraduate and executive-level education, as well as research and enterprise opportunities. It is home to influential thought leaders, pioneering researchers and creative innovators who provide students with the highest quality of teaching and the very latest in modern thinking.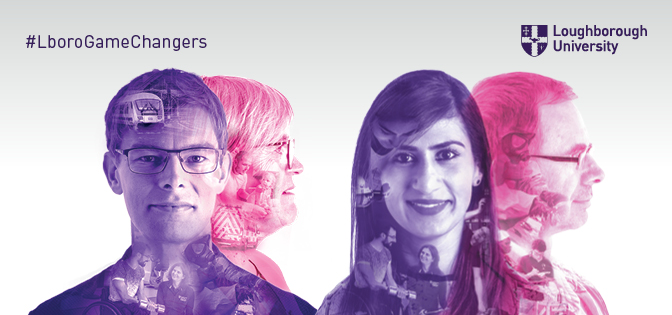 Loughborough staff, students and alumni make a real difference. They challenge convention, think creatively and find solutions to some of the biggest challenges facing society today and in the future.
Meet the #LboroGameChangers at lboro.ac.uk/lborogamechangers