For activities that have made the University significantly more equitable, diverse and inclusive.
Winner: Making Loughborough Great
For International Women's Day 2021, Dr Pooja Goddard and Dr Eugénie Hunsicker produced a wonderful video on the diversity of international women at Loughborough University in collaboration with the filmmaker Dr Irina Linke.
The 11 minute film features 60 women working as professional services and academic staff across the University. All women are introducing themselves in a language of their choice, followed by a statement that their work is contributing to the success of the University, mostly by saying a version of the slogan 'my work makes Loughborough great'.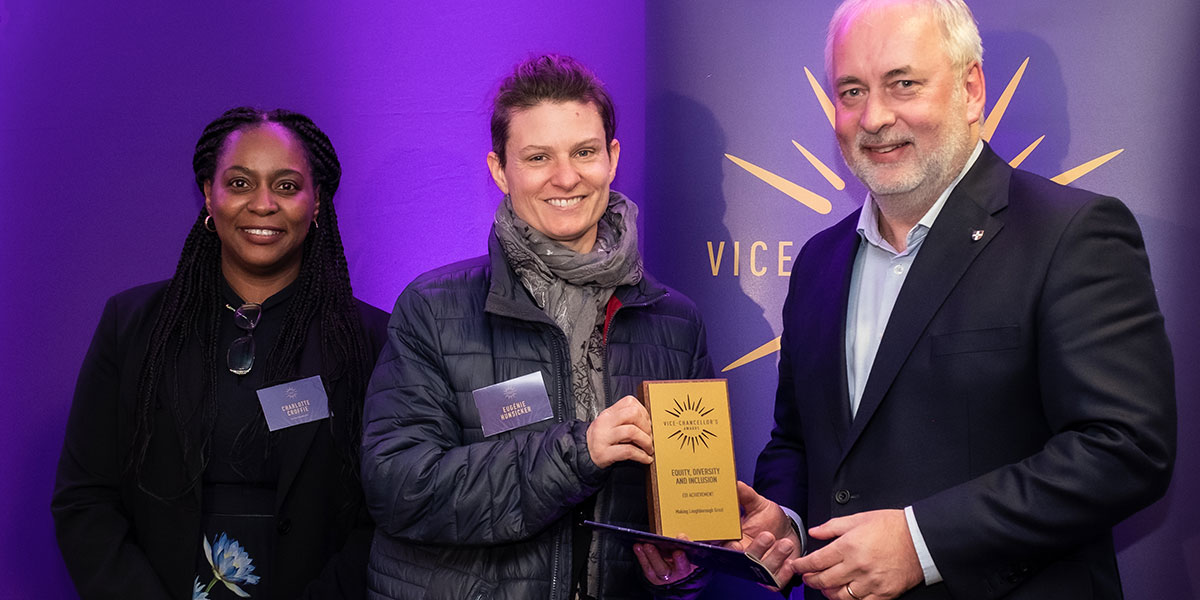 Nominees
Chris McLeod
Chris has been an outstanding leader of the LGBT+ community, representing staff in the highest fora, including in the development of the University's EDI action plan. Chris has shown foresight and awareness through his co-design and delivery of a guidance document for university panels to assess potential breaches of Academic Freedom on grounds of gender and sexuality discrimination. Chris took the initiative on this project off the back of incidents involving academics at other universities, recognising that Loughborough did not have appropriate measures in place to take steps should similar incidents occur.
BAME Staff Network Leads
The University has come a long way over the last 20 years in creating an anti-racist community and this is a direct result of the activities of the BAME staff network which is led by the team nominated for this award. One of the greatest strengths of this team is the broad mix of colleagues from different areas across the University and campuses, this allows the team to capture an expansive and diverse lived experiences which influences the focus and drive of the network group.
Niladri Banerjee
As part of Niladri's Juno activities (Institute of Physics, EDI award), he has actively supported development of minority members of staff. This led to direct impact. For example, Niladri encouraged one of our excellent postdoc from a BAME background to apply for a Turing Fellowship which he received last year. This enables him to diversify his research portfolio significantly working at physics and computer science interface. Similarly, he supported a female minority postdoc with training and development which was a key driver for her success as an independent faculty at an Indian Institute.
Emma Nadin
I am nominating Emma Nadin in her voluntary role as Staff Inclusivity Group Chair for staff with or impacted by any form of disability or neurodiversity, including carers. Emma has developed the group over the last three years from a dormant state into an active, collaborative, vibrant and supportive network. Her commitment and determination has brought together colleagues, of all grades, from across the University to create a proactive, friendly and supportive community.
James Esson
Nominated for his continuous service to both the School and the University as an EDI Champion. James is simultaneously constructive, realistic and challenging. He has made a significant and valuable and ongoing contribution to the University's work on the REC and is a measured and valuable contribution to EDI more generally via the University's EDI-Subcommittee. He is particularly valued by all who work with him for his calm, reasoned and thoughtful approach to EDI. James personally is making a significant impact on the whole institution via his work and indeed makes a contribution to EDI in his disciplinary area via his roles in the Royal Geographic Society and beyond.