The group have been announced as the winners of an LU Arts competition which was launched last November, which was made possible thanks to the generosity of donors Barry and Valerie Eccleston. Students were provided with a brief to design a sculptural work for the hall of residence, and in recognition of Claudia Parsons being the first hall on campus to be named after a woman, were required to have at least one female student in each team.
'Flux' will be a functional and striking installation that creates cohesion and contrast with the existing landscape, hoping to welcome interaction and engagement from passers-by. Its dark wood timber sculpture interacts with the landscape and viewers in multiple ways: the physical presence, the interplay of landscape and shadows, and the positive and negative space utilised to frame aspects of the surroundings.
It is inspired by the student journey, showing the highs and lows of university life, and representing the impact the experience has on the rest of their lives. A circular cut-out in the sculpture represents the globe, which Claudia Parsons circumnavigated by car and was the first woman in the world to do so.
The team will receive an £8,000 production fee as well as a £2,000 fee for producing the design. They met with the Ecclestons last week at the site to discuss the sculpture in more detail.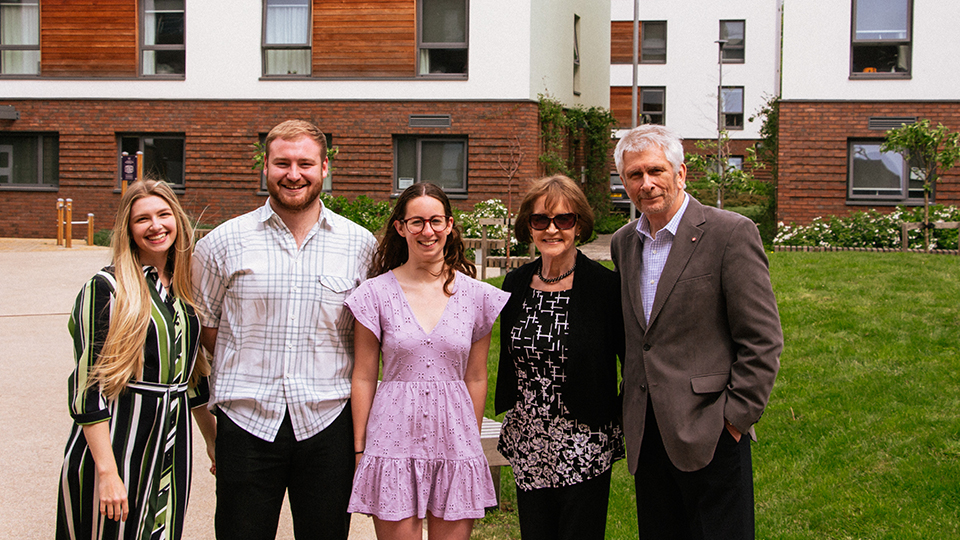 More information about the team members can be read below:
Fred Hendry Briars – Currently in his final year of Architecture, Fred is interested in producing work that explores the notion of creating experiential spaces, tells a story and provokes a personal and emotional response through narrative-led design.

Chiara Brown – Chiara is in her final year of studying an MSc in Civil Engineering and aspires to improve the quality of life of people around the world through the design and innovation of the built environment in a sustainable manner. She has a particular interest in structural analysis and the design of structures and bridges.

Andrea Pocock – Having graduated with a BA in Fine Art from the University last year, Andrea is part of the University's Graduate Artist Scheme. As a transdisciplinary artist, her practice revolves primarily around the capabilities and materiality of light. She is driven by a passion for creating breath-taking spectacles that can be appreciated both within galleries and in the public sphere.