Venture Crawl traditionally involves students touring across London to visit some of the city's most successful high growth companies, as well as the accelerators, incubators and investors.
However, this year was hosted with a twist. The event presented opportunities for students to virtually engage with content from 30 universities, live stream workshops and attend an in-person Pitch Off, which was hosted in Europe's biggest innovation space – Plexal. The Pitch Off saw universities putting forward a pitch champion to compete for Venture Crawl champion.

Jack Vernon who represented Loughborough University said: "It was an honour to represent Loughborough. Even though it was nerve-racking to pitch my business in front of a large audience, the experience itself was highly valuable in building my confidence and getting the word out about my business – Fitness By Science.
"The event itself was an amazing opportunity to network with like-minded people which is extremely important as starting your own business can feel like a lonely place at times. I would definitely recommend it to student entrepreneurs as it provides you with so many opportunities."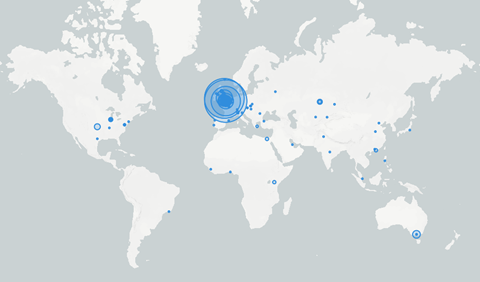 Venture Crawl map of engagement
Students also had the opportunity to hear from a panel of Here East CEOs on how their businesses are responding to the climate emergency and test out Evolve's electrified skateboards.
Ben Cole Head of Loughborough University London's Future Space said:
"For Loughborough, this year's crawl had to focus around the Here East eco-system. When we first started Venture Crawl in 2018 the only way to see the diversity of London's eco-system was to jump on a bus and travel.
"The rapid development of Here East and Plexal means that we now have some of London's most innovative companies, accelerators and incubators, as well as investors that supported them to scale, right on our doorstep. We are so excited to once again be showcasing this to our students with our in-person events, but also with the global partners who now contribute to making Venture Crawl the biggest practical entrepreneurship event of its kind."
30 Universities were involved in this year's London #VentureCrawl – including: Nazarbayev University, British Council Kazakhstan, University of Surrey, DePaul University, University of Melbourne, Oxford Brookes University, University of East London, University of Edinburgh, Monash University, University of Sydney, University of Greenwich, London Metropolitan University, Birkbeck, University of London, De Montfort University, London College of Fashion, Durham University and King's College London.
More information on Venture Crawl is available here.