All students were invited to take part, and the team were looking for imaginative and powerful designs that celebrated marginalised groups and their campaigns for social justice.
The overall winner of the competition is Kelsey Bebbington, a final-year Graphic Communication and Illustration student. All of Us is about the hope in inclusivity and sending a strong yet positive message that the future of the university involves all of the communities across the institution. Her work incorporates various symbols of different marginalised groups and movements.
‌

Image: All of Us by Kelsey Bebbington
Kelsey explained further: "As an LGBTQ+ person, I often find myself upset about the negative incidents my community face. It can be hard to celebrate and feel pride when hate incidents are on the rise. This design has the intention of celebrating not only my community and our fight, but also those of other marginalised communities.
"The colours and shapes are playful and happy, with the aim of celebrating both the progress that these groups have made but also the possibilities of their future. Although I could not include everyone, I hope this design goes someway to increasing representation for these groups and leading them to feel proud of who they are."
Kelsey will receive £500 and see her design printed onto aluminium panels and permanently displayed under the bridge on Sir David Davies building. This will be installed before the end of this term.
In second place was Art and Design Foundation Studies student Winny Obee. Winny – who has explored digital media in more recent years – created Visibility, which uses colours and symbols associated with the LGBT+ Rainbow flag and the Black Lives Matter movement to create an eye, representing the need for visibility of marginalised groups.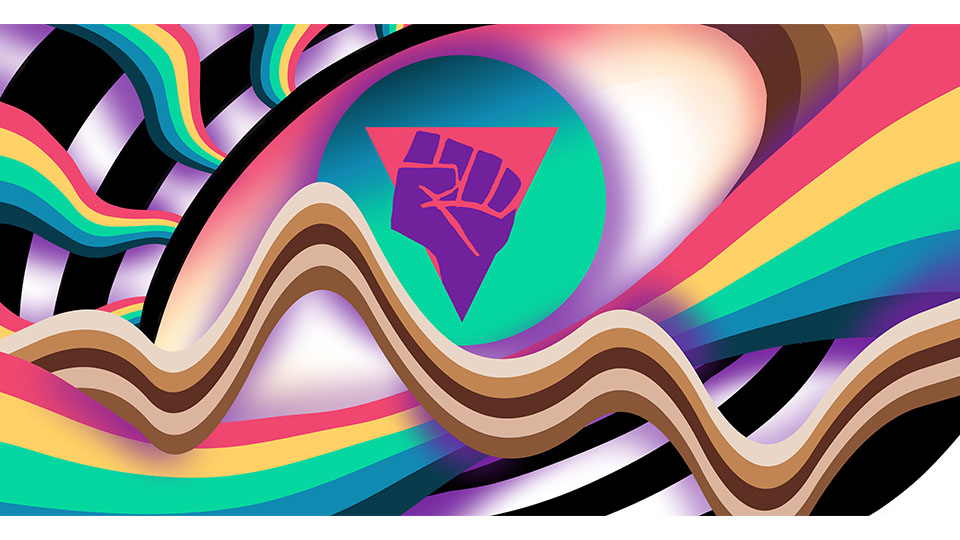 Image: Visibility by Winnie Obee

Furthermore, she has included a shadow of purple – the colour that is synonymous with Loughborough University's brand and identity – to reflect the inclusive community at Loughborough and how it supports social justice.
Third place went to Amina Pagliari for Lord knows there's a war to be won, an illustration representing the dynamic and diverse student body of Loughborough that incorporates the support of worldwide movements, and a special commendation went to Kher Shin Goh for Be Kind – a design that places sign language at the centre of the piece.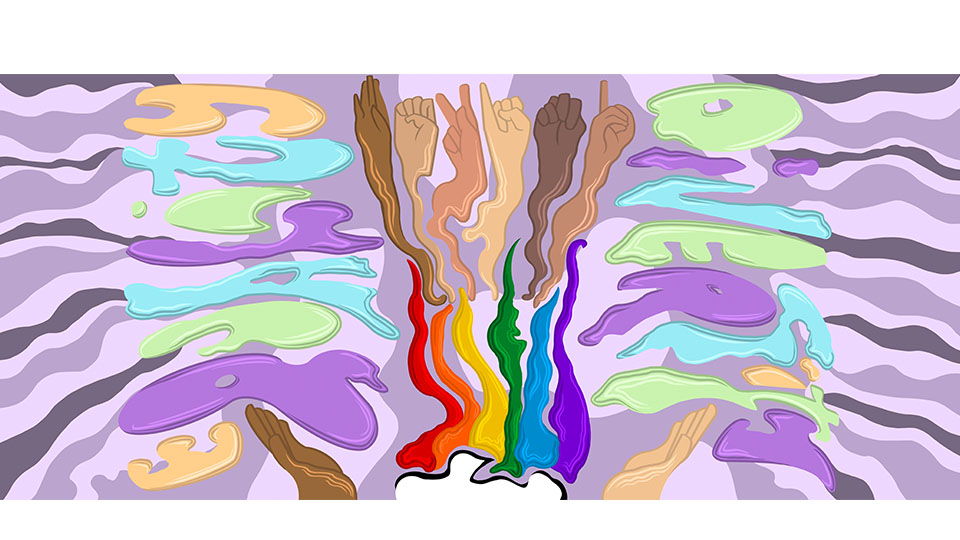 Image: Be Kind by Kher Shin Goh
Amina commented: "As shown in my design, I have produced the individuals interacting by leaning on each other and holding hands to demonstrate a sense of unity and togetherness. Being a woman of colour and hijabi myself, I have learnt that allowing a conversation encourages education and education guides people to understand differences, creating an accepting and hopeful present and future. I hope that my mural design encourages this conversation."


Image: Lord knows there's a war to be won by Amina Pagliari
The runners-up will receive cash prizes as well as having their designs featured on the LU Arts website. You can also see the winning designs displayed in the bus shelters on campus over the next two weeks. The third place and special commendation designs will be on display from 17-23 January with the first and second place designs on show from 24-30 January. The bus shelters are located on University Road, near the Student's Union and by Campus Living.
David Wilson, an EDI Projects Lead at Loughborough University commented: "Recognition of the importance of Equity, Diversity and Inclusion at Loughborough has significantly accelerated in recent years thanks to the dedication of our staff and students to the cause. The University has undertaken this project to make a bold public statement of our commitments to both our internal and external communities, as we continue to make significant investments of time and money to do the complex work of addressing real-world issues.  The winning designs express with joy, passion and hope our shared values and the inclusive culture we continue to build.
"The high quality of the competition entries is a testament to the creativity and conscientiousness of our students, and we thank all of the entrants for their contributions."