The 6'5" cruiserweight has been with the University's Boxing Centre of Excellence since last year, after joining up with coach Angel Fernandez.
Now, the Riakporhe and Fernandez are preparing for eight-rounds against 25-year-old Twardowski (nine wins and two losses) on the Chris Eubank Jr vs Sven Elbir undercard, live on Sky Sports, on October 2.
"I know he's going to feel a lot of pain," says Riakporhe, 31, who remains undefeated in his 11 pro fights.
"I'm feeling good. I'm excited to get back in the ring.
"It's been a while due to COVID, but we're really happy and positive that we're going to get a really good victory and put on a spectacle on October 2."
Riakporhe is well into his eight-week training camp and sits on the side of the ring following a morning sparring session.
He is lean and talks excitedly about his future with Loughborough Sport and the Boxing Centre of Excellence.
"They have put an amazing team in place," he says.
"We're talking about nutritionist, we're talking about analysts, we're talking about strength and conditioning.
"All of them are top class and know exactly what they're doing.
"They've done a hell of a job and I've got nothing but gratitude – and we're here to stay for a long time."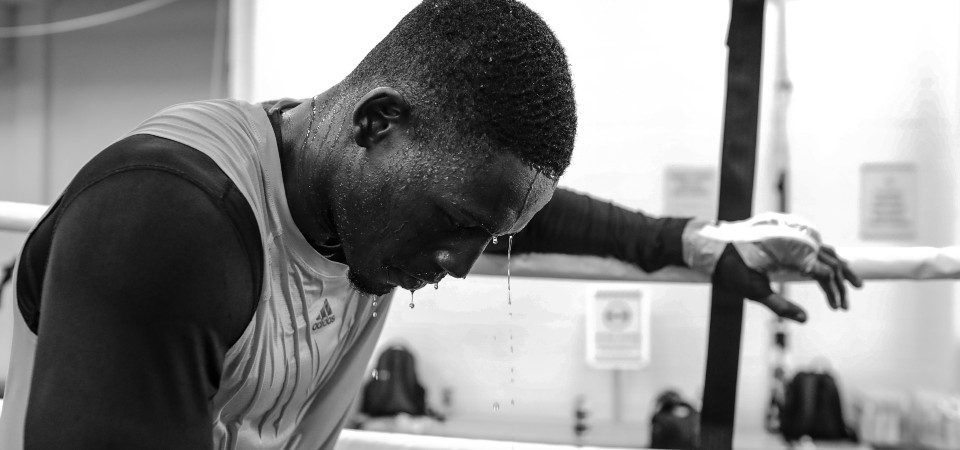 ‌Credit: Ernest Simons
He has been working with a team of specialists including strength and conditioning coaches, physio, nutritionists, psychologists and performance analysists.
Heavyweight Dillion Whyte trained at Loughborough for three years and had a 100%-win record when he left in 2019, beating the likes of Lucas Browne, Joseph Parker and Dereck Chisora.
"That's one of the reasons why I really wanted to come and train here," says Riakporhe. "Because I believe his best performances came out of this institution – and I know a lot of people who would agree with that.
"Being at this institution has really made me fulfil the best of my potential and I believe that when we include more things into our package things are going to improve."
Loughborough-based athletes recently claimed 14 Olympic and 21 Paralympic medals in Tokyo.
Riakporhe says training in such an elite sporting environment has a huge impact on his motivation and confidence.
"Me and Angel will go to the gym and do some work and we'll have Adam Peaty, we'll have some of the rugby girls, we'll have some Paralympians – this type of environment only breeds success.
"You look to the left and you have people who have achieved great things, you look to the right and you see the exact same thing.
"Then you look at yourself in the mirror and you think what have I done? I need to do more."
ENDS