Loughborough continues to work hard to embed environmentally-friendly practices into its policies and procedures, and various teams from across the University – including researchers and staff within Professional Services – all contribute to this ongoing work.
Whilst Covid-19 has caused devastation in many ways, the outcomes of it have also offered potential opportunities to benefit the environment for the future. This includes initiatives such as flexible working, enhanced technical capabilities for teaching and working, as well as saving space across the campus.
Below we delve into more detail about some of our sustainability successes and overall performance from the last year, as well as the University's plan going forwards.
The United Nations Sustainable Development Goals (SDG)
The University signed the SDG Accord in 2019 as a commitment to be an institution that is helping to deliver the 17 goals. Loughborough has taken a proactive approach by signing up and is at the start of its journey in aligning policies, procedures and research. The goals the University has had the highest impact with in the last 12 months are:
- Sustainable cities and communities (11)
- Responsible consumption and production (12)
- Climate Action (13)
To find out more about how our work aligns with the goals, you can read the full report here.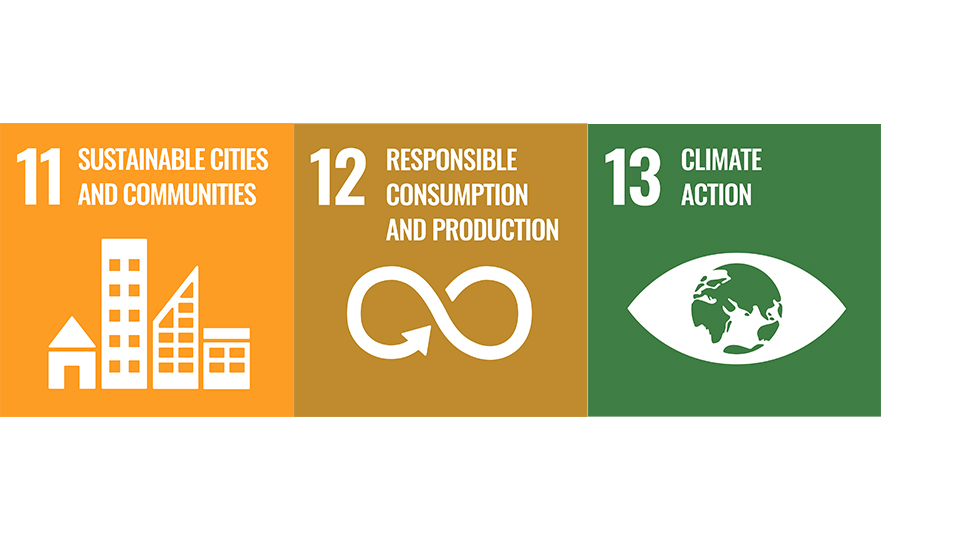 Teaching, Research and Enterprise
The campus has continued to be used as a 'living laboratory' where students can learn and conduct research. Examples of locations and projects include the Holywell Research Forest, the Fruit Routes Project, and the Forest School. Academic Departments and Schools such as the Department of Geography and Environment, the School of Sport, Exercise and Health Sciences, and the School of Architecture, Building and Civil Engineering have all regularly conducted fieldwork and projects for students with live challenges set to combat real issues onsite.
Significant research projects such as Modern Energy Cooking Services, TOXI-Triage, and the Climate Compatible Growth Consortium are just some examples of the great work being undertaken at the University to provide solutions to low carbon development, affordable and sustainable energy, as well as saving casualties in life-threatening incidents. The Science and Enterprise Park (LUSEP), also continues to prosper with a growing cluster of businesses with interests in energy and sustainability.
Waste & Recycling
Although the data has been impacted because of the pandemic, there are still some successes in this area to be acknowledged:
77.96% of overall waste was recycled, compared to 28.53% in 2009/10
17.1% of waste was converted to energy, compared to 0% in 2009/10
Only 4.95% of the University waste in 2019/20 went to landfill, compared to 71% in 2009/10
Carbon Management
In November 2020, the University Energy Strategy 2020-2050 was approved. The purpose of this strategy is to set out a development framework covering a 30-year period to decarbonise the estate. This will also align with the Government's targets of achieving net-zero greenhouse gas emissions by 2050, as well as safeguarding the institution against escalating energy costs.
Biodiversity and Sustainable Travel
Loughborough has maintained its Green Flag status, which recognises well-managed parks and green spaces. A new Gardens Strategy was produced in 2020, and the campus apiary has continued to be a great success, with 350lbs of Loughborough Gold honey being produced last year (which is still available to be purchase here).
Due to the pandemic, travelling to and from the University has decreased dramatically. As more people gradually return to campus, the Travel Plan will be monitored and reviewed to reflect any new working patterns.
Sustainability Leadership Score (SLS)
The SLS is a management and development tool that prioritises four areas: Leadership and Governance, Estates and Operations, Partnership and Engagement, and Learning, Teaching & Research. The University currently has an overall rating of 'Silver', with a 'Gold' in Estates and Operations.
Online presence
The University's Sustainability team has also launched a brand-new website, which is available to view here.
After working on it for a number of months, the website is an adaption of their previous microsite but with a brighter homepage showcasing their achievements and ongoing projects as well as much easier navigation to finding out more about what you can do.
From visiting the pages, you can expect to see insightful statistics; the team's priority campaigns; dedicated pages on travel, utilities, biodiversity and waste and recycling; as well as a link to their well-loved blog, Sustainably Speaking.
Sustainability Manager Jo Shields commented: "After a very different and at times difficult year for us all it is good to reflect on how much we have still achieved as we work towards a more sustainable University. The pandemic has provided opportunities for our agenda; we have been able to reflect on how we travel, a more flexible approach to working, how we interact and what is feasible in a virtual world and what is not. We have all probably learnt something new in the last year, done something differently or taken a moment to think about what really matters. Priorities will have changed.
"The launch of our new website comes at a pivotal moment as a new University Strategy is underway. Post-pandemic Climate Change and Ecological Breakdown are still a priority, and never before have the great outdoors and our environment become so important, appealing and enjoyed. We hope this site becomes the platform for us to communicate about what Loughborough is doing, what you can do and what the University hopes to achieve in this space. What I do know as a passionate environmentalist, is that our time is now, and I and my team are ready to make a difference. We would love it if you all come on the journey with us."
If you'd like to contact the team, please email environment@lboro.ac.uk. You can also keep up to date with their work by following their Instagram and Twitter pages.