Most robots used in industry are highly specialised, making them expensive and difficult to quickly respond to new tasks.
This has limited their adoption, especially in small and medium-sized enterprises (SMEs) who depend on their agility to be competitive in a dynamic global market.
The UK has also seen significantly less use of robots compared to other industrial nations, only catching up to the global average of 85 robots per 10,000 employees in 2019.
This is less than one-tenth of the adoption of other leading nations, such as Korea and Singapore, and one quarter as much as other European nations such as Germany based on the International Federation of Robotics (2020).
In response, a new business model known as Robotics-as-a-Service (RaaS) is emerging that allows companies to pay a small fee to lease robotic devices – and services such as maintenance – rather than having to pay large upfront capital costs to buy systems outright.
The RaaS business model will give organizations the capability to scale up and down quickly and easily in response to changing market conditions and client needs.
However, for the model – which emerged in the early 2010s for service robots – to be applicable for industrial automation systems, a number of issues still need to be addressed such as slow deployment, resilience and the ability to detect objects and people.
Now, a new £1.4m project from Loughborough University, funded by the EPSRC, is aiming to significantly improve the ease with which robots are hired, deployed, maintained, and adapted.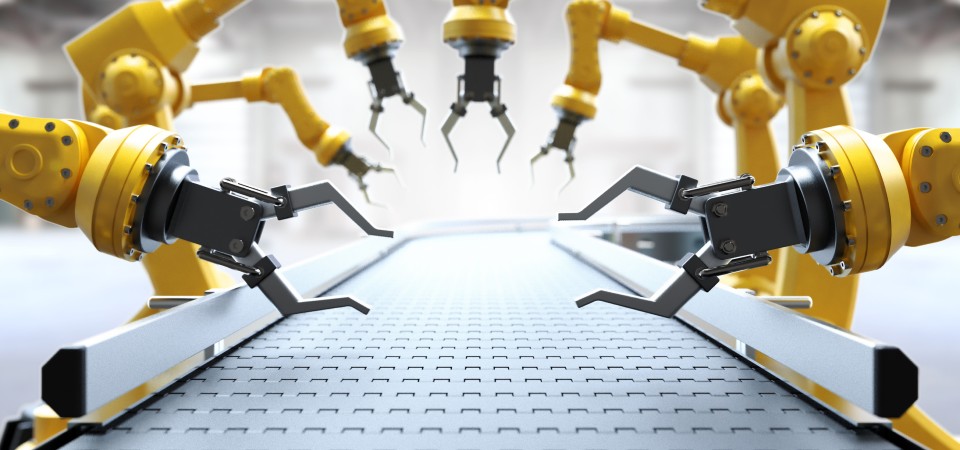 ‌Image: Getty
Dr Niels Lohse, director of Loughborough Intelligent Automation Centre, will lead the three-year initiative, called Industrial Robots-as-a-Service (IRaaS) – Resilient and responsive manufacturing systems enabled by rapidly deployable mobile robots.
He said: "Covid-19 has highlighted how recent large-scale disruptions can de-stabilise workforces and damage productivity.
"Automation will have a key role in safeguarding UK manufacturing. More responsive automation will provide better adaptability to both changing consumer needs and resource availability, maintaining the viability of onshore production, protecting jobs, and securing UK supply chains. Despite these benefits, the upfront cost of automated systems is a barrier for adoption.
"Robots-as-a-Service (RaaS) is an emerging business model where robots are provided on-loan, with much of the operating responsibility (programming, monitoring and maintenance) undertaken by the RaaS provider.
"This makes adoption of automation more viable for SMEs and for manufacturers working in dynamic markets. However, RaaS has primarily seen adoption in logistics and warehouse applications where robots are easiest to deploy.
"By comparison, manufacturing equipment is highly specialised and integrated to enable high throughput and efficiency. This results in long commissioning times, high investment levels and the long-term burden of maintaining complicated bespoke equipment, all of which make RaaS more challenging.
"For IRaaS to be achievable it must be both affordable, capable, and sustainable. This is most easily achieved by replacing dedicated and static industrial robots with flexible, low-cost robots that are simple to deploy and repurpose, while collaborating to achieve the same goals."
The project will be delivered by a multidisciplinary team from three individually excellent research groups: The Intelligent Automation Centre (LU-IAC), the Centre for Autonomous Systems (LU-CAS) and the Engineering Systems of Systems group (LU-ESoS), all based at Loughborough University.
The research objectives are:
To significantly reduce the effort required to deploy, redeploy and changeover automation systems in different workplaces; from days to just minutes.
To enable mixed human-robot teams to jointly carry out complex collaborative tasks with efficiency and quality exceeding those of monolithic dedicated systems.
To improve the contextual awareness of robotic systems in detecting people, objects, and key features in real-time with sub-millimetre accuracy.
To improve the responsiveness (time to respond to changes) and resilience (time to recover from disturbances; impact of disturbance) of manufacturing systems.
To test and validate the responsiveness and resilience of lightweight, rapidly deployable mobile robots in representative industry like settings.
To disseminate the results of the project to a wide industrial and academic communities.
To write high quality scientific publications and impact documents.
To engage with the industrial community to prepare relevant best practice examples, guidelines, and standards.
To capture and accelerate opportunities for industrialising emerging project results.
To identify follow on projects towards achieving more responsive manufacturing systems.
ENDS