The Student Starpack Awards – which began in 1964 – challenges design students from across the world with a set of briefs all with the theme of finding a solution to a problem, set by leading design organisations, agencies, and manufacturers.
The judging panel looked for students who can express creativity and conventional thinking in their ideas. Those who met the criteria and produced outstanding concepts were rewarded with cash prizes and opportunities to undertake work experience with a sponsor.
Altogether, five Loughborough students received gold – with two receiving the Sponsor Award and another the runner-up sponsor award in their categories – five more were awarded silver, 10 bronze and 21 highly commended at the awards ceremony which took place virtually last month.
The gold winners were as follows:
Alfie Watson's Sweet Rock Gin Co design, a novel take on seaside rock confectionery that won him the Sponsor's Award
Jonah Pollard, who designed a gift pack for a gin named Hiker
Bryn Couser and Jacob Barbour, who were acknowledged in the 'Social at home' brief for their packaging designs that aimed to enhance a social experience with food or drink
Mauricio Rocktaeschel, for their take on sustainable aluminium packaging for a personal grooming product.
The University has been entering the Student Starpack Awards since 2014, and every year has seen promising results. Many of this year's award recipients were first-year students.
In addition, the School is delighted to announce that they were also crowned the winners of the Eric Dickens Memorial Award for the fifth year, alongside City of Glasgow College.
The judge's believed Loughborough was deserving of the award for its 'outstanding contribution and standard of entries – particularly in a year where teaching has been impacted by the pandemic and remote teaching became the norm'.
The 36 of the 42 winning entries were Part A students and their submissions were in response to a chosen Starpack brief as part of their first-year Industrial Design Studies module led by Dr George Torrens, who commented: "I am delighted to see so many of our students showing their talents on an international stage and very happy for the work of my colleagues in supporting our students to be again recognised by the Starpack judges."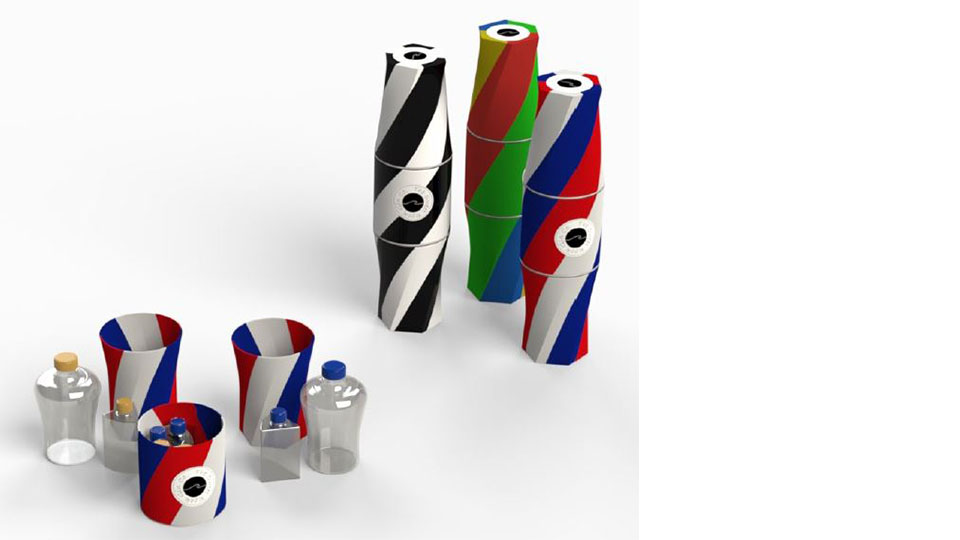 Image: Alfie Watson's Sweet Rock Gin Co design
To view the full winners' guide of the 2021 Starpack Student Competition, click here.