Anyone can be affected by the condition and there are up to 6,000 cases in the UK each year. Despite this, it is believed that a large proportion of the public do not know what encephalitis is.
To raise awareness, the University fountain located outside of the Hazlerigg and Rutland buildings will be lit up red throughout the week (22-28 February).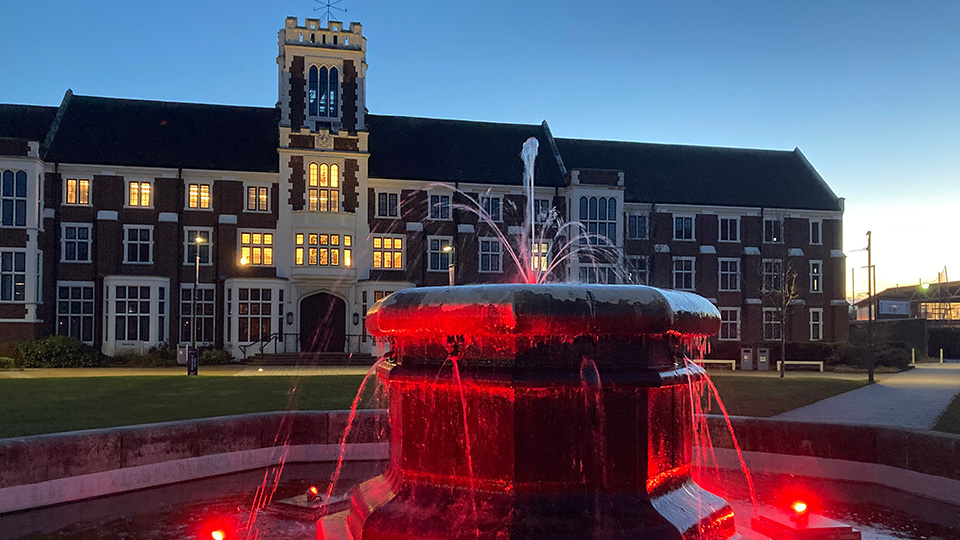 Members of the University community have also taken part in the BrainWalk challenge throughout February as part of 'TeamLboro'. The challenge encourages users to get outside and exercise whilst taking part in brain teaser puzzles.
Overall, TeamLboro – which consisted of 19 active team members – came 5th this year, with 'LizzieLou' as the top scorer who was ranked 39th in the world at the end of the challenge.
Jan Short, who works in the Marketing and Advancement team, is supporting the initiative because of her own personal experience:
"In September 2011, just before my daughter was starting her second year at university, I got a call from her – "My boyfriend is trying to kill me", she said. This was our introduction to NMDA Autoimmune Encephalitis.
"Lauren came home and was deteriorating rapidly into violent psychosis. She tested drugs clean so the hospitals had no idea what the cause might be. "She was sectioned to a mental institute and scheduled for electric shock therapy. Then she was transferred to A&E with double pneumonia and given just three hours to live. She survived – and tests showed she had encephalitis.
"After many months on life support, we were given back a 19-year-old infant mentally and emotionally, who had to learn to read, write, walk and talk again from scratch. Lauren worked very hard and with chemotherapy and epilepsy medication, four years later she returned to university, gained a 1st, studied a Masters, and now she is working in a frontline specialist role within the NHS."
"Lauren does have life-changing fatigue and being immune compromised normal colds could result in her being admitted to hospital. But we know just how fortunate we are; she's in the top two percent of survivors – a third of people die and most survivors have limited short term memory."
Find out more about the condition by visiting the Encephalitis Society website.